A recently published report by IMARC Group, titled "Isopropyl Alcohol Market – Industry Trends, Prices, Manufacturing Process, Applications, Raw Materials, Manufacturers, Regional Breakup and Mass Balance", gives a statistical, analytical and technical insight into the global isopropyl alcohol market. Isopropyl alcohol, commonly referred to as rubbing alcohol, is a structural isomer of propanol with chemical formulae C3H8O or C3H7OH. It is a highly volatile, flammable, clear and colourless liquid with a strong alcoholic odour. Although immiscible in salt solutions, isopropyl alcohol is completely miscible in water, other alcohols, ethers and chloroform. It is commercially manufactured by either direct or indirect hydration of propylene or by catalytic hydrogenation of acetone. According to the report, the production of isopropyl alcohol has grown at a CAGR of 2.5% during 2008-2015 reaching a volume of around 2 Million Tons in 2015. The key drivers for the growth of its market have been its diverse uses in various industries such as chemicals and materials, pharmaceuticals, cosmetics, etc.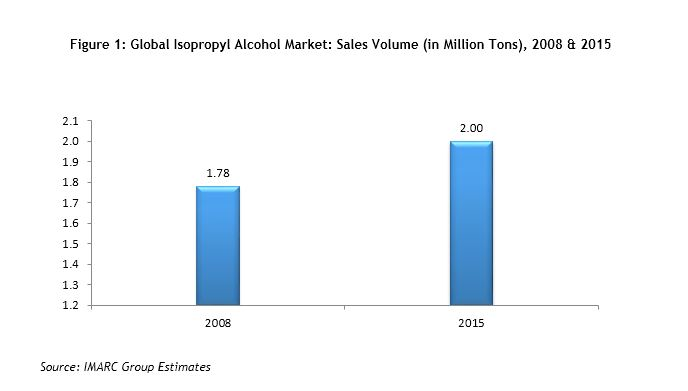 The report has segmented the market on the basis of end-use. Solvent production represents the biggest end use market for isopropyl alcohol accounting for the majority of its global consumption. Other applications are in pharmaceuticals, surface coatings, inks, pesticides, cosmetics and personal care products, household products, etc. The report also provides a regional segmentation of the isopropyl alcohol market on the basis of production, consumption, exports and imports. Currently, Asia represents the largest market accounting for more than 40% of the total global production. Asia is followed by North America, Europe and South America. Based on consumption levels, Asia represents the biggest consumer of isopropyl alcohol.
Analysing the export and import data, the report finds the United States as both the largest exporter and importer accounting for more than one-fifth of the total global export volumes and nearly one-tenth of the total global import volumes, respectively. The report has also covered the competitive landscape of this market with analysis of the key players operating in this market which include Shell Chemicals, DOW Chemicals, Exxon Mobil Chemical Company, Chang Chun Plastics Co Ltd, Sasol Olefins, Deepak Fertilizers, CNPC Jinzhou Petrochemical Corp., Mitsui Chemicals Inc., Novapex, Lyondell Basell and LG Chem. Ltd.
This report further provides a thorough analysis of volume trends, value trends, price trends, key success factors, key risk factors, feedstock market trends, import trends, export trends, etc. Apart from the market analysis, the report also provides an exhaustive technical insight on isopropyl alcohol. This includes chemical information, manufacturing process, chemical reactions involved, raw material requirements, mass balance, conversion rate of feedstocks, etc.
About Us
IMARC Group is a leading market research company that offers management strategy and market research worldwide. We partner with clients in all sectors and regions to identify their highest-value opportunities, address their most critical challenges, and transform their businesses.
IMARC's information products include major market, scientific, economic and technological developments for business leaders in pharmaceutical, industrial, and high technology organizations. Market forecasts and industry analysis for biotechnology, advanced materials, pharmaceuticals, food and beverage, travel and tourism, nanotechnology and novel processing methods are at the top of the company's expertise.
Contact Us
IMARC Group
USA: +1-631-791-1145
Email: sales@imarcgroup.com
Website: http://www.imarcgroup.com
Follow us on twitter: @imarcglobal