Samarium cobalt (SmCo) magnets are a type of rare earth magnets made from an alloy of samarium, cobalt and iron. Developed in the early 1960s, these magnets are strong permanent magnets which exhibit excellent thermal stability, and have higher temperature ratings and coercivity as compared to neodymium (NdFeB) magnets. Since SmCo magnets are brittle in nature, these magnets need to be handled carefully. Moreover, owing to their high susceptibility to chilling and cracking, they should be stored under mild temperatures in less humid atmosphere. According to the latest report by IMARC Group titled, "Samarium Cobalt Magnets Market: Global Industry Trends, Share, Size, Growth, Forecast and Opportunity 2017-2022", the global samarium cobalt magnets market has grown at a CAGR of around 2.8% during 2009-2016, reaching a volume of around 3,762 Metric Tons in 2016.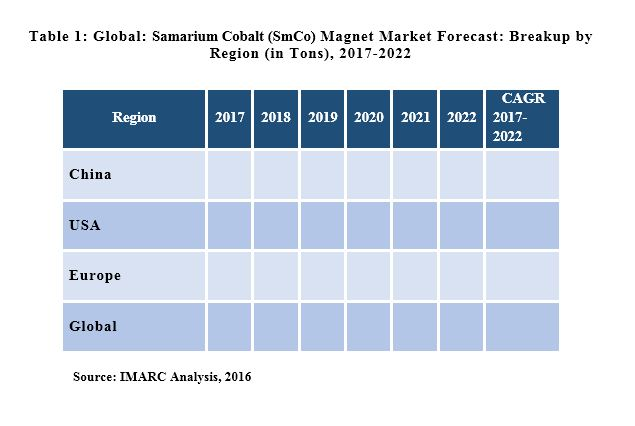 Highlights of the Global Samarium Cobalt (SmCo) Magnet market:
SmCo magnets offer high thermal stability and coercivity facilitating operation in the high temperature environments.
Their end-use sectors range from defence, aerospace and motors to electronics and medical.
China represents the largest producer of SmCo magnets.
SmCo magnets are used in several industries due to their functional properties. Some of the industries where these magnets play an essential role include defence, aerospace, automobile, medical, electronics, motor, etc. In the defence sector, these magnets are extremely useful as a result of their higher curie temperatures which are required for applications necessitating high-field strength while operating in high temperatures. Some of the devices where these magnets are utilised in the defence sector include the manufacturing of equipment and ammunitions such as optical equipment, rangefinders, lasers in target designators, target interrogators, radar systems, etc. Similarly, in the aerospace sector, SmCo magnets assist the manufacturing of equipment which are designed to be used in extreme environment under high working temperatures. Some of the other instruments where SmCo magnets are used include smartphones, sensors, watches, printers, electrodynamic speakers, prosthetics, implants and drug delivery systems, advanced diagnostic, laboratory & surgical equipment, etc.
An analysis of the regional segmentation of the market finds that China is the largest producer of SmCo magnets followed by USA and China. The competitive landscape includes the major players operative in the market. Some of players are Ningbo NGYC (Ninggang Permanent Magnetic) Materials Co. Ltd., Arnold Magnetic Technologies, Ningbo Ketian, ADAMS Magnetic Products, Eclipse Magnetics, Thomas & Skinner Inc., Bunting and Hangzhou Permanent Magnet Group (HPMG).
The report by IMARC Group has examined the global samarium cobalt magnets market on the basis of:
Applications:
Defence
Aerospace
Motors and Actutors
Electronics
Medical Devices
Region:
Major manufacturers:
Ningbo NGYC (Ninggang Permanent Magnetic) Materials Co. Ltd.
Ningbo Ketian
Arnold Magnetic Technologies
ADAMS Magnetic Products
Bunting
Eclipse Magnetics
Hangzhou Permanent Magnet Group (HPMG)
Thomas & Skinner Inc.
About Us
IMARC Group is a leading market research company that offers management strategy and market research worldwide. We partner with clients in all sectors and regions to identify their highest-value opportunities, address their most critical challenges, and transform their businesses.
IMARC's information products include major market, scientific, economic and technological developments for business leaders in pharmaceutical, industrial, and high technology organizations. Market forecasts and industry analysis for biotechnology, advanced materials, pharmaceuticals, food and beverage, travel and tourism, nanotechnology and novel processing methods are at the top of the company's expertise.
Contact Us
IMARC Group
USA: +1-631-791-1145
Email: sales@imarcgroup.com
Website: http://www.imarcgroup.com
Follow us on twitter: @imarcglobal