Vinegar is a pungent and sour liquid made by fermenting the ethanol present in wine, champagne, brew, cider, etc. It contains around 5-20% acetic acid, certain trace chemicals such as gallic acid, catechin, epicatechin and caffeic acid, and flavourings such as sugar, fruit juices, spices and herb infusions. Vinegar has antimicrobial, antioxidant and antidiabetic properties and offers a number of health benefits. It helps in weight-loss, improves heart health and increases nutrient absorption. The latest report by IMARC Group titled, "Vinegar Market: Global Industry Trends, Share, Size, Growth, Opportunity and Forecast 2017-2022", finds that the global vinegar market has reached values of around US$ 1.25 Billion in 2016, growing at a CAGR of 2.1% during 2009-2016.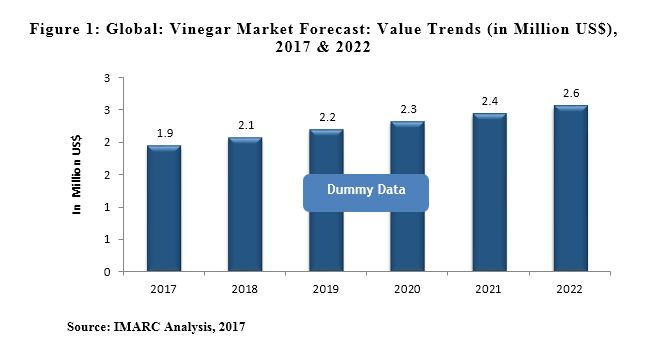 Highlights of the Global Vinegar Market:
As a result of its versatile properties, vinegar finds applications in several food and non-food applications.
Balsamic vinegar represents the largest product type.
Europe accounts for around half of the total global share, representing the biggest vinegar market.
Vinegar is used all over the world in a number of food and non-food applications as a result of its various functional properties. Apart from providing a sour taste and balancing other flavours, vinegar is used in marinades to soften meat, in baking for activating baking powder, and as a disinfectant, stain remover, antiperspirant, hair conditioner, etc. Vinegar is also used in a number of industries such as healthcare, cleaning and hygiene, agriculture, etc. Some of the products made using vinegar include plastics, textures, photographic materials, dyes, medicines and household items. According to the report, the global vinegar market is further projected to reach a value of around US$ 1.4 Billion by 2022.
On the basis of type, balsamic vinegar has a larger share in global vinegar sales followed by red wine vinegar, cider vinegar and white vinegar. On a regional basis, Europe dominates the vinegar market, accounting for about 50% of the total global share. Other major regions include North America and Asia Pacific. Some of the top players which are operating in the market are Acetificio Acetum SRL, Australian Vinegar, Aspall Cyder, Burg Groep BV, Bizen Chemical Co. Ltd, Castelo Alimentos SA, Fleischmann's Vinegar Company, Inc., Heinrich Frings GmbH & CO KG and Kraft Heinz.
The report by IMARC Group has examined the global vinegar market on the basis of:
Type:
Balsamic vinegar
Red wine vinegar
Cider vinegar
Rice vinegar
White vinegar
Region:
Europe
North America
Asia Pacific
Latin America
Middle East and Africa
Major manufacturers:
Acetificio Acetum S.R.L
Australian Vinegar
Aspall Cyder
Bizen Chemical Co. Ltd
Burg Groep B.V
Castelo Alimentos S/A
Fleischmann's Vinegar Company, Inc.
Heinrich Frings GmbH & CO KG
Kraft Heinz
Mizkan
Shuita
About Us
IMARC Group is a leading market research company that offers management strategy and market research worldwide. We partner with clients in all sectors and regions to identify their highest-value opportunities, address their most critical challenges, and transform their businesses.
IMARC's information products include major market, scientific, economic and technological developments for business leaders in pharmaceutical, industrial, and high technology organizations. Market forecasts and industry analysis for biotechnology, advanced materials, pharmaceuticals, food and beverage, travel and tourism, nanotechnology and novel processing methods are at the top of the company's expertise.
Contact Us
IMARC Group
USA: +1-631-791-1145
Email: sales@imarcgroup.com
Website: http://www.imarcgroup.com
Follow us on twitter: @imarcglobal