According to the latest report by IMARC Group, titled "Benzene Market: Global Industry Trends, Share, Size, Growth, Opportunity and Forecast 2019-2024", the global benzene market experienced stable growth in 2018. Benzene is a clear, colorless liquid aromatic hydrocarbon with a gasoline-like odor. It is highly flammable and is slightly soluble in water. This compound, with the chemical formula C6H6, is formed from natural processes, such as forest and volcano fires, in oil refineries and steam crackers or as a by-product of p-xylene production. It is highly toxic and is known to be carcinogenic in nature. Exposure to this liquid is associated with high risks of developing acute myelogenous leukemia, lymphatic and hematopoietic cancers, and chronic lymphocytic leukemia. However, it is widely utilized for an array of industrial purposes. Ethylbenzene, cyclohexane, cumene and nitrobenzene are some of the most common chemicals produced from this hydrocarbon.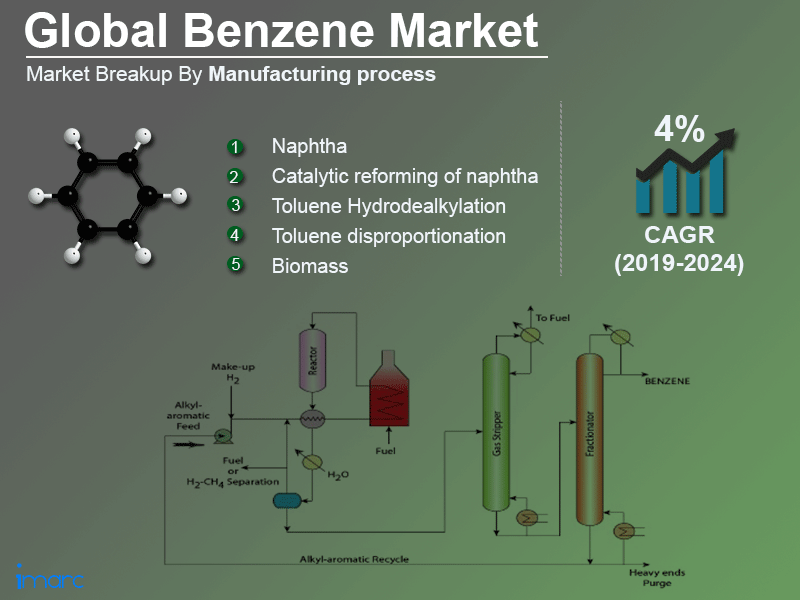 Global Benzene Market Trends:
One of the major factors contributing to the market growth is the increasing demand for ethylbenzene from a vast array of industries. Ethylbenzene, a derivative of benzene, is extensively utilized for the production of styrene that is used to manufacture polystyrene plastics and resins. These polymers form an essential component of consumer electronics, disposable medical equipment, food packaging and numerous automotive parts, which is driving their demand across the globe. In line with this, lightweight polystyrene foam is widely used as a thermal insulator as it is inert, durable and resistant to water damage. Apart from being used in freezers, refrigerators, roofing, and industrial cold storage facilities, it is also utilized as an insulation material in the construction industry. Moreover, this compound also serves as a key solvent across commercial, industrial and research operations. On account of the aforementioned factors, the market is anticipated to grow at a CAGR of around 4% during 2019-2024.
Market Summary:
On the basis of the derivative, the market has been divided into ethylbenzene, cumene, cyclohexane, nitrobenzene, linear alkylbenzene, maleic anhydride and others.
Based on the manufacturing process, the market has been categorized into pyrolysis steam cracking of naphtha, catalytic reforming of naphtha, toluene hydrodealkylation, toluene disproportionation and from biomass.
On the basis of the application, the market has been segregated into plastics, resins, synthetic fibers, rubber lubricants and others.
On the geographical front, the market has been classified into Asia Pacific (China, India, Japan and South Korea), Europe (Germany, the UK, France and Italy), North America (the US and Canada), Middle East and Africa (Saudi Arabia and South Africa) and Latin America (Brazil and Argentina).
The competitive landscape of the market has also been examined in the report. Some of the key players operating in the market include BASF SE, China Petroleum & Chemical Corporation (Sinopec), Shell International B.V., China National Petroleum Corporation (CNPC), DuPont de Nemours, Inc., Saudi Basic Industries Corporation (SABIC), Exxon Mobil Corporation, JXTG Holdings, Inc., BP plc, Borealis AG, Braskem S.A., Repsol S.A. and Arsol Aromatics GmbH & Co. KG.
About Us
IMARC Group is a leading market research company that offers management strategy and market research worldwide. We partner with clients in all sectors and regions to identify their highest-value opportunities, address their most critical challenges, and transform their businesses.
IMARC's information products include major market, scientific, economic and technological developments for business leaders in pharmaceutical, industrial, and high technology organizations. Market forecasts and industry analysis for biotechnology, advanced materials, pharmaceuticals, food and beverage, travel and tourism, nanotechnology and novel processing methods are at the top of the company's expertise.
Contact US
IMARC Group
Email: Sales@imarcgroup.com
Tel No:(D) +91 120 433 0800 | https://www.imarcgroup.com