The global non-invasive prenatal testing market reached a value of US$ 2.9 Billion in 2021. Looking forward, IMARC Group expects the market to reach US$ 7.4 Billion by 2027, exhibiting a CAGR of 17.4% during 2022-2027. The leading players operating in the non-invasive prenatal testing market are experiencing lucrative opportunities on account of technological advancements in life sciences and the healthcare industry. Besides this, the increasing maternal age, which is associated with fatal pregnancy complications, including the high risk of miscarriage, in confluence with the increasing preferences for non-invasive methods, is positively influencing the demand for non-invasive prenatal testing worldwide.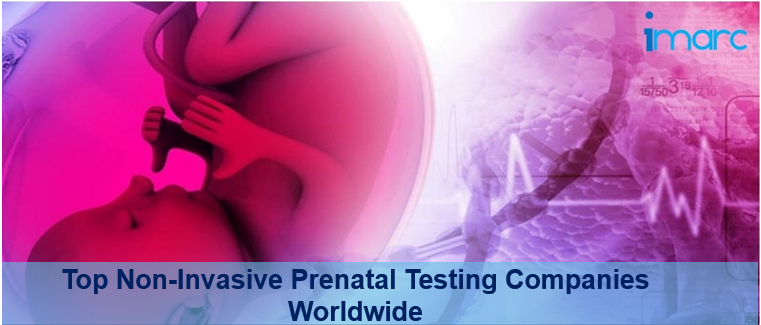 Request Free Sample Report: https://www.imarcgroup.com/non-invasive-prenatal-testing-market/requestsample
Top Manufacturers in the Non- Invassive Prenatal Testing Industry:
Agilent Technologies, Inc.
Establishment: 1999
Headquarters: California, United States
Agilent Technologies, Inc. is one of the leading companies in life sciences, diagnostics and applied chemical markets. The company offers instruments, services, consumables, applications, and expertise in laboratories worldwide, thereby enabling customers to gain insightful information they seek. It offers expertise in six major markets, including food, environmental and forensics, pharmaceutical, diagnostics, chemical and energy, and research.
Berry [BD1] Genomics Co. Ltd.
Establishment: 2010
Headquarters: China
Berry Genomics Co. Ltd. is one of the leading companies in clinical genomics and life science. The company is mainly focusing on the research, development and commercialization of genetic test technologies in clinical applications. It focuses on improving human health and helping accurate diagnosis of diseases throughout the full human life circle. It offers NGS- based tests for many genetic diseases and cancers from preconception to adulthood.
BGI Genomics Co., Ltd.
Establishment: 1999
Headquarters: China
BGI Genomics Co., Ltd. is a leading provider of genomic sequencing services and proteomic services. The company provides academic institutions, pharmaceutical companies, health care providers and other organizations with integrated genomic sequencing and proteomic services and solutions across more than 66 countries. It also recently offered 'Huo-Yan' laboratory solution that allowed rapid detection and diagnosis of patients suspected of COVID-19.
Eurofins LifeCodexx GmbH
Establishment: 2010
Headquarters: Germany
Eurofins LifeCodexx GmbH is developing innovative and clinically validated non-invasive diagnostic tests on the basis of the newest molecular analytical methods. The company has been relying on PrenaTest®, Europe's first non-invasive prenatal test (NIPT), for determining the most common chromosomal disorders in unborn children. This test is performed in Germany following strict conformity of the highest quality standards as per the European Directive on In-vitro Diagnostic Medical Devices.
F. Hoffmann-La Roche Ltd.
Establishment: 1896
Headquarters: Switzerland
F. Hoffmann-La Roche Ltd. Introduces innovative medicines and diagnostic tests that help patients across the globe. Using its strength in pharmaceuticals and diagnostics, the company focuses on offering personalized healthcare facilities. Moreover, around two-thirds of the research and development (R&D) projects are developed with companion diagnostics.
GE Healthcare (General Electric Company)
Establishment: 1892
Headquarters: United States
GE Healthcare is one of the leading global medical technology and life sciences companies. It offers enterprise imaging solutions that generate actionable insights across the healthcare system, which helps to enhance clinical, operational, and financial outcomes. It also provides a broad portfolio of products, solutions and services that are employed in the diagnosis, treatment and monitoring of patients, and in the development and manufacturing of biopharmaceuticals.
Igenomix
Establishment:
Headquarters:
Igenomix operates as a medical testing laboratory specializing in reproductive genetic services. The company offers services, including Non-Invasive Prenatal Test, Carrier Genetic Test, Preimplantation Genetic Diagnosis, and Endometrial Receptivity Array. It also offers pioneering tests to aid reproductive health professionals to diagnose as well as treat their patients.
Illumina, Inc.
Establishment: 1998
Headquarters: United States
Illumina, Inc. is one of the leaders in genomics that strives to make our solutions increasingly simple, more accessible, and reliable. The objective of the company is to employ innovative technologies for the analysis of genetic variation and function, thereby making studies possible that were unimaginable earlier. It focuses on delivering innovative, flexible, and scalable solutions to meet the needs of the customers.
Laboratory Corporation of America Holdings
Establishment: 1978
Headquarters: United States
Laboratory Corporation of America Holdings has one of the world's most advanced testing potential. The company primarily operates with the objective of improving the health and lives of individuals around the world. It is managing to support clinical trial research efforts in more than 100 countries.
Natera, Inc.
Establishment: 2004
Headquarters: United States
Natera, Inc. is a global leader in cell-free DNA (cfDNA) testing with a prime focus on the health, oncology, and organ health of women. The company has pioneered non-invasive blood-based testing in the fields of women's health, oncology, and organ health. It is also focusing on building an entirely different way of managing genetic testing.
PerkinElmer, Inc.
Establishment: 1937
Headquarters: United States
PerkinElmer, Inc. helps scientists, researchers, and clinicians to address their most critical challenges across science and healthcare. The company is engaged in delivering unique solutions for serving the diagnostics, life sciences, food, and applied markets. It strategically partners with customers to enable earlier and more accurate insights, which are supported by deep market knowledge and technical expertise.
Thermo Fisher Scientific Inc.
Establishment: 1956
Headquarters: United States
Thermo Fisher Scientific Inc. represents one of the leading companies in serving science. The mission of the company is to enable customers to make the world healthier, cleaner and safer. With a global team of more than 80,000 colleagues, the company delivers an unrivaled combination of innovative technologies, purchasing convenience and pharmaceutical services through industry-leading brands, such as Invitrogen, Patheon, Fisher Scientific, Thermo Scientific, Unity Lab Services and Applied Biosystems.
Yourgene Health Plc
Establishment: 2000
Headquarters: United Kingdom
Yourgene Health Plc is an international molecular diagnostics company that develops and commercializes genetic products and services. The company works in partnership with global leaders in DNA technology to advance diagnostic science. It mainly develops, manufactures, and commercializes simple and accurate molecular diagnostic solutions.
About IMARC Group: IMARC Group is a leading market research and consulting company that offers management strategy and market research worldwide. The company has done multiple projects on the global non-invasive prenatal testing market, which has enabled the clients to set up and expand their businesses successfully. Some of the company's offerings include:
Market Research
Plant setup
Plant Expansion
Marketing and sales
Procurement and Distribution
Innovation and Product Development