Market Overview:
The global 3D animation software market exhibited strong growth during 2015-2020. Looking forward, IMARC Group expects the market to grow at a CAGR of around 11% during 2021-2026. Keeping in mind the uncertainties of COVID-19, we are continuously tracking and evaluating the direct as well as the indirect influence of the pandemic on different end use industries. These insights are included in the report as a major market contributor.
The 3D animation software refers to computer-generated imagery (CGI) application that is used for visualizing, developing and modifying static and dynamic 3D images and animations. The software integrates video footage and artificial images to create realistic objects and scenes through various technologies, such as visual effects (VFX), 3D modeling, motion graphics and 3D rendering. The software consists of customizable characters, libraries of animations, automatic lip-syncing and pre-defined sets. It is widely used for developing creative effects in brand advertisements and product promotions, visualization of scientific, product and system information, and visual analytics. It finds extensive applications across various industries, including media & entertainment, architecture, healthcare and life sciences.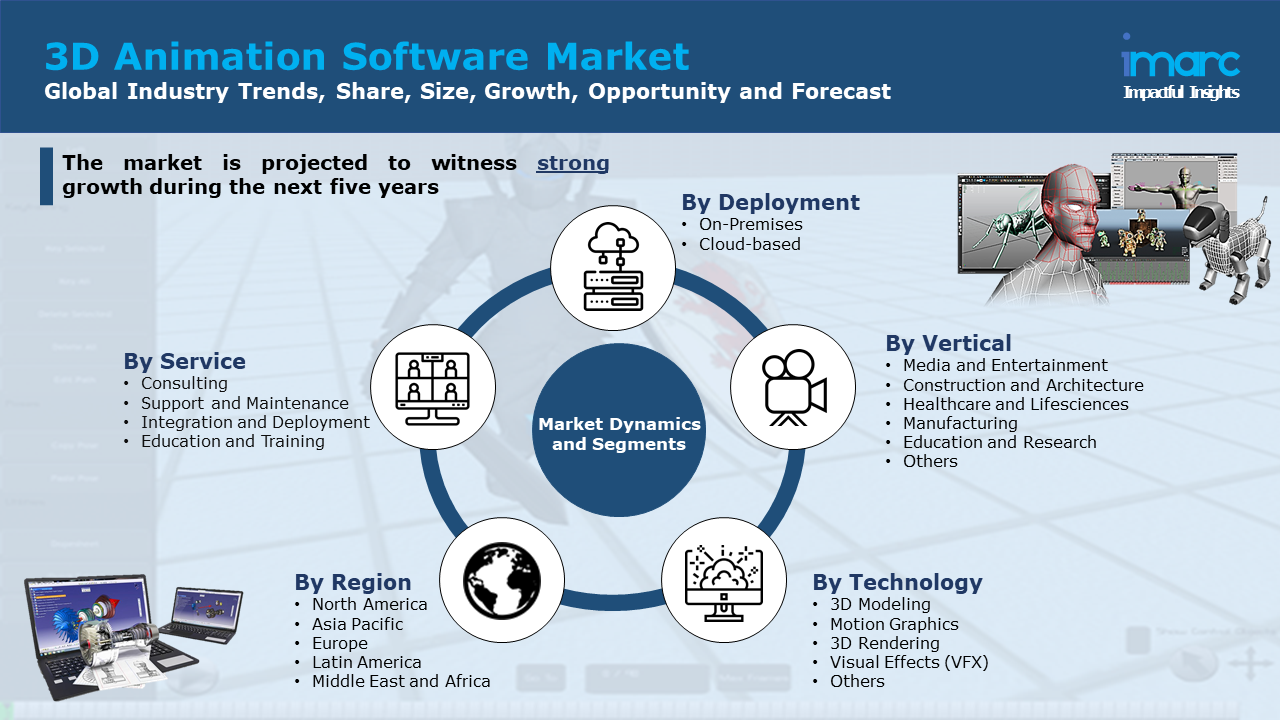 3D Animation Software Market Trends:
The emerging trend of virtual reality (VR) and artificial intelligence (AI), along with the increasing demand for 3D mobile applications and games, is one of the key factors driving the growth of the 3D animation software market. In line with this, there is widespread adoption of animation software and stereoscopic 3D gaming platforms to create visually enhanced and immersive animations, along with life-like characters and scenarios, which is contributing to the market growth. Furthermore, various technological advancements and increasing utilization of the animation software for educational and academic applications are also providing a boost to the market growth. Educational content and e-learning platform developers are incorporating 3D animated videos in their curriculum to create an effective and engaging learning environment. Additionally, increasing utilization of this software for 3D mapping and laser screening for geospatial, geological, geophysical and mining applications is projected to drive the market further.
Key Market Segmentation:
IMARC Group provides an analysis of the key trends in each sub-segment of the global 3D animation software market, along with forecasts at the global, regional and country level from 2021-2026. Our report has categorized the market based on technology, service, deployment and vertical.
Breakup by Technology:
3D Modeling
Motion Graphics
3D Rendering
Visual Effects (VFX)
Others

Breakup by Service:
Consulting
Support and Maintenance
Integration and Deployment
Education and Training

Breakup by Deployment:

Breakup by Vertical:
Media and Entertainment
Construction and Architecture
Healthcare and Lifesciences
Manufacturing
Education and Research
Others

Breakup by Region:
North America
Asia Pacific

China
Japan
India
South Korea
Australia
Indonesia
Others

Europe

Germany
France
United Kingdom
Italy
Spain
Russia
Others

Latin America
Middle East and Africa

Competitive Landscape:
The report has also analysed the competitive landscape of the market with some of the key players being Adobe Systems Inc., Autodesk Inc., Autodessys Inc., Corel Corporation, Maxon Computer, Newtek Inc., Nvidia Corporation, Pixologic Inc., Sidefx Software, The Foundry Visionmongers Ltd., Toon Boom Animation Inc., Trimble Navigation Ltd., Zco Corporation, etc.
Report Coverage:
Report Features
Details
Base Year of the Analysis
2020
Historical Period
2015-2020
Forecast Period
2021-2026
Units
US$ Billion
Segment Coverage
Technology, Service, Deployment, Vertical, Region
Region Covered
Asia Pacific, Europe, North America, Latin America, Middle East and Africa
Countries Covered
United States, Canada, Germany, France, United Kingdom, Italy, Spain, Russia, China, Japan, India, South Korea, Australia, Indonesia, Brazil, Mexico
Companies Covered
Adobe Systems Inc., Autodesk Inc., Autodessys Inc., Corel Corporation, Maxon Computer, Newtek Inc., Nvidia Corporation, Pixologic Inc., Sidefx Software, The Foundry Visionmongers Ltd., Toon Boom Animation Inc., Trimble Navigation Ltd. and Zco Corporation
Customization Scope
10% Free Customization
Report Price and Purchase Option
Single User License: US$ 2299
Five User License: US$ 3399
Corporate License: US$ 4499
Post-Sale Analyst Support
10-12 Weeks
Delivery Format
PDF and Excel through Email (We can also provide the editable version of the report in PPT/Word format on special request)