Market Overview:
The Asia Pacific exterior sheathing market is currently witnessing moderate growth. Exterior sheathing refers to panels or board materials that are used to strengthen walls, roofs, and floors of buildings. These boards are attached to external frames as an underlayment of exterior siding materials like wood, vinyl, metal, masonry, shingles, and stucco. Exterior sheathing offers strength, rigidity, shear resistance and also forms a nailing base for siding. With the advancements in technology, the demand for advanced sheathing materials has escalated as it protects the building from severe weather conditions and maximizes space for cavity insulation.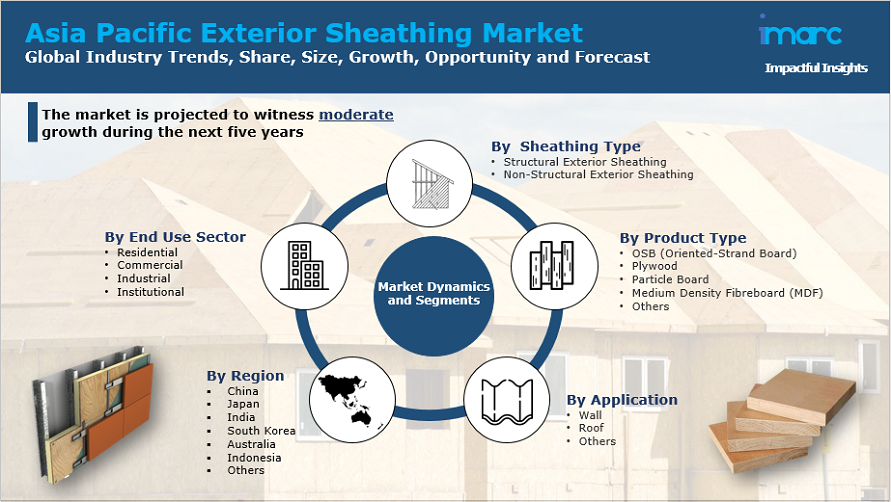 The Asia Pacific represents one of the leading exterior sheathing markets, which is primarily driven by the rising construction activities in the region. As exterior sheathing materials, such as foam and wood fiber panels, are durable, cost-efficient and meet the energy code requirements, they are increasingly being used in the construction industry for commercial and aesthetic purposes. As a result, governments of various countries are taking initiatives to promote green or environment-friendly exterior sheathing products to ensure sustainability and reduce carbon footprint. Moreover, the development of efficient building technologies, such as automated production and installation processes, has directly impacted the exterior sheathing market. Looking forward, IMARC Group expects the market to continue its moderate growth during the forecast period (2020-2025).
Key Market Segmentation:
IMARC Group provides an analysis of the key trends in each sub-segment of the Asia Pacific exterior sheathing market report, along with forecasts for growth at the region level from 2020-2025. Our report has categorized the market based on region, sheathing type, product type, application and end use sector.
Breakup by Sheathing Type:
Structural Exterior Sheathing
Non-Structural Exterior Sheathing

Breakup by Product Type:
OSB (Oriented-Strand Board)
Plywood
Particle Board
Medium Density Fibreboard (MDF)
Others

Breakup by Application:
Breakup by End Use Sector:
Residential
Commercial
Industrial
Institutional

Breakup by Country:
China
Japan
India
South Korea
Australia
Indonesia
Others

Competitive Landscape:
The competitive landscape of the industry has also been examined along with the profiles of the key players.
Key Questions Answered in This Report:
How has the Asia Pacific exterior sheathing market performed so far and how will it perform in the coming years?
What has been the impact of COVID-19 on the Asia Pacific exterior sheathing market?
What are the key regional markets?
What is the breakup of the market based on the sheathing type?
What is the breakup of the market based on the product type?
What is the breakup of the market based on the application?
What is the breakup of the market based on the end use sector?
What are the various stages in the value chain of the industry?
What are the key driving factors and challenges in the industry?
What is the structure of the Asia Pacific exterior sheathing market and who are the key players?
What is the degree of competition in the industry?