The global avocado oil market reached a value of US$ 461 Million in 2018. Avocado oil is the natural oil extracted from avocado's pulp. Around 70% of avocado oil is made up of heart-healthy oleic acid, a monounsaturated fatty acid of omega-9. Avocado is high in fiber, potassium, rich in texture and has good flavor. Because of its health benefits, the health-conscious population represents a major consumer base for avocado oil, especially those who are struggling with obesity and heart problems. Apart from the food and beverage industry, avocado oil also finds wide applications in pharmaceutical and cosmetic products. It has moisturizing, antioxidant, emollient and toning effect that keeps the skin glowing and helps in reducing blemishes, dry skin, wrinkles and acne.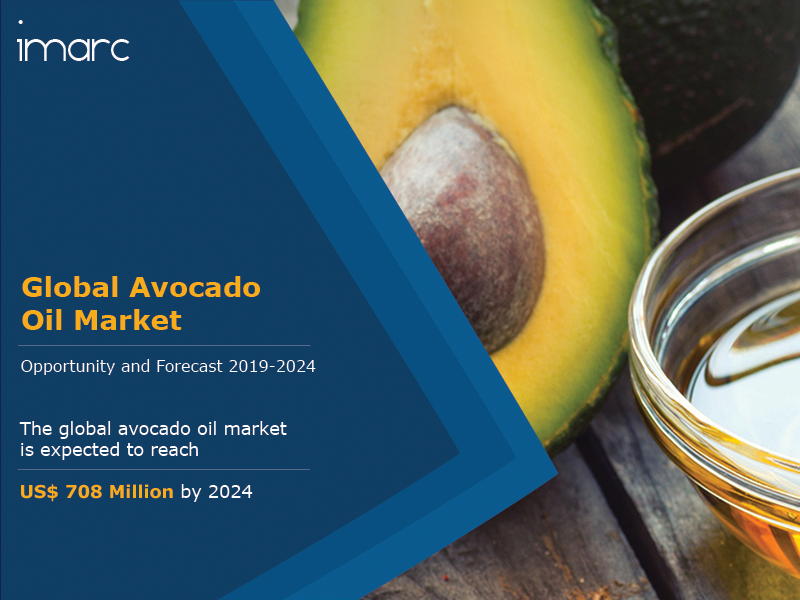 The avocado oil industry is currently exhibiting healthy growth rates. The market has been primarily driven by the growing awareness of the nutritional and health benefits associated with avocado oil. Apart from this, driven by an increasing prevalence of various lifestyle disorders such as diabetes, obesity, cardiovascular disorders, etc. resulting from an increasing consumption of high fat butter and oils is further expected to increase the demand for healthy oils such as avocado oil. Moreover, rising demand of avocado oil in the healthcare industry is also expected to create a positive impact on the growth of the market. Looking forward, IMARC expects the market to reach US$ 708 Million by 2024, growing at a CAGR of around 7% during 2019-2024.
Report Scope
Market Breakup by Product Type:
Extra Virgin Oil
Refined Oil
Blends
Others

Regional Insights:
North America
Europe
Asia Pacific
Middle East and Africa
Latin America.

Application Insights:
Food and Beverages
Cosmetics
Pharmaceuticals
Others

Distribution Channel:
Business to Business
Business to Consumer

Supermarkets/Hypermarkets
Convenience Stores
Online Stores
Others

Competitive Landscape:
The competitive landscape of the global avocado oil market has also been analyzed. Some of the leading players operating in the market are:
Olivado Group
Sesajal
Grupo Industrial Batellero
The Village Press
Spectrum organics
Bella Vado
Chosen Foods LLC

Key Questions Answered in This Report:
How has the global avocado oil market performed so far and how will it perform in the coming years?
What are the key regions in the global avocado oil market?
Which are the popular product types in the global avocado oil market?
What are the key application segments in the global avocado oil market?
What are the major distribution channels in the global avocado oil market?
What are the various stages in the value chain of the avocado oil market?
What are the key driving factors and challenges in the global avocado oil market?
What is the structure of the global avocado oil market and who are the key players?
What is the degree of competition in the global avocado oil market?