The global bakery fats market grew at a CAGR of around 5% during 2014-2019. Bakery fats refer to various specialty fat- and oil-based products that are used for improving the texture, aroma and flavor of the baked and confectionery products. Some of the most commonly used bakery fats include margarine, vegetable oil, butter blends, shortening and functional fats. They are primarily used in the production of pastries, short pastries, cakes, bread and croissants. These fats aid in enhancing the chemical, physical and nutritional properties of the products and are also used for improving batter aeration, dough elasticity and resistance against staling in bakery products.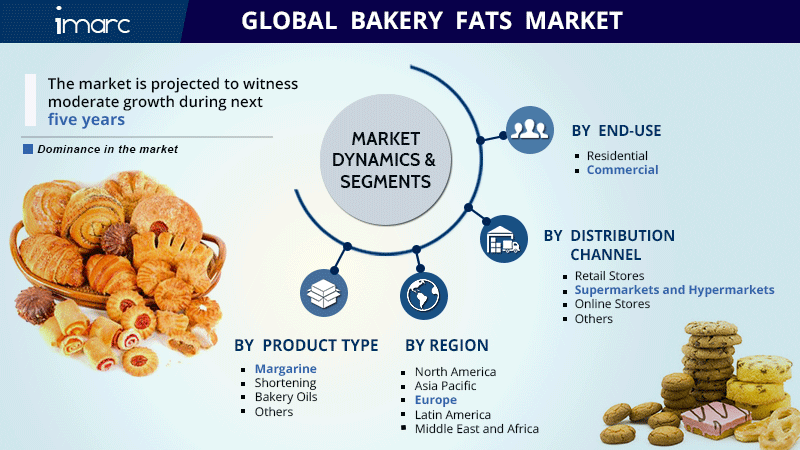 The growing food and beverage industry across the globe is one of the key factors driving the growth of the market. Furthermore, due to changing lifestyles, dietary patterns and hectic schedules, consumers are increasingly opting for ready-to-eat (RTE) food items, owing to their associated convenience, which is increasing the demand for baked products and consequently providing a boost to the market growth. Additionally, the growing number of quick-service restaurants (QSRs) and the emerging café culture across the globe, coupled with the increasing consumer expenditure capacities, are also impacting the market growth positively. Product manufacturers are developing innovative variants that are rich in nutritional content and can aid in manufacturing premium-quality baked products. Other factors, including the development of online retailing networks and aggressive promotional activities by vendors, along with the increasing inclination of the masses toward baking at home, are projected to drive the market further. Looking forward, IMARC Group expects the global bakery fats market to exhibit moderate growth during 2020-2025.

Breakup by Product Type:
Margarine
Shortening
Bakery Oils
Others

Breakup by Distribution:
Direct Sales
Supermarkets and Hypermarkets
Online Stores
Retail Stores
Others

Breakup by End-Use:
Breakup by Region:
North America
Asia Pacific

China
Japan
India
South Korea
Australia
Indonesia
Others

Europe

Germany
France
United Kingdom
Italy
Spain
Russia
Others

Latin America
Middle East and Africa

Competitive Landscape:
The competitive landscape of the industry has also been examined with some of the key players being AAK (UK) Limited, Cargill, ConAgra, CSM Bakery Solutions, Fuji Oil Co. Ltd., Goodman Fielder, Premium Vegetable Oils Sdn Bhd, Unilever, Wilmar International, etc.
Key Questions Answered in This Report:
How has the global bakery fats market performed so far and how will it perform in the coming years?
What are the key regional markets?
What has been the impact of COVID-19 on the global bakery fats market?
What is the breakup of the market based on the product type?
What is the breakup of the market based on the distribution?
What is the breakup of the market based on the end-use?
What are the various stages in the value chain of the industry?
What are the key driving factors and challenges in the industry?
What is the structure of the global bakery fats market and who are the key players?
What is the degree of competition in the industry?