Market Overview:
The global cassava starch market size reached a production volume of 8.8 Million Tons in 2020. Looking forward, IMARC Group expects the market to reach a volume of 11.0 Million Tons by 2026. Keeping in mind the uncertainties of COVID-19, we are continuously tracking and evaluating the direct as well as the indirect influence of the pandemic on different end use industries. These insights are included in the report as a major market contributor.
Cassava starch, or tapioca, is procured from cassava roots through the process of washing and pulping. It is rich in iron, folate, manganese, carbohydrates and calcium. In comparison with its alternatives, cassava is a relatively cheap raw material containing a high concentration of starch. Moreover, cassava starch offers numerous advantages such as neutral taste, high level of purity and excellent thickening characteristics. It also has a high paste clarity, freeze-thaw stability and paste viscosity. Owing to this, cassava starch finds applications in diverse industries like food, beverage, fuel, textile, sweeteners and paper.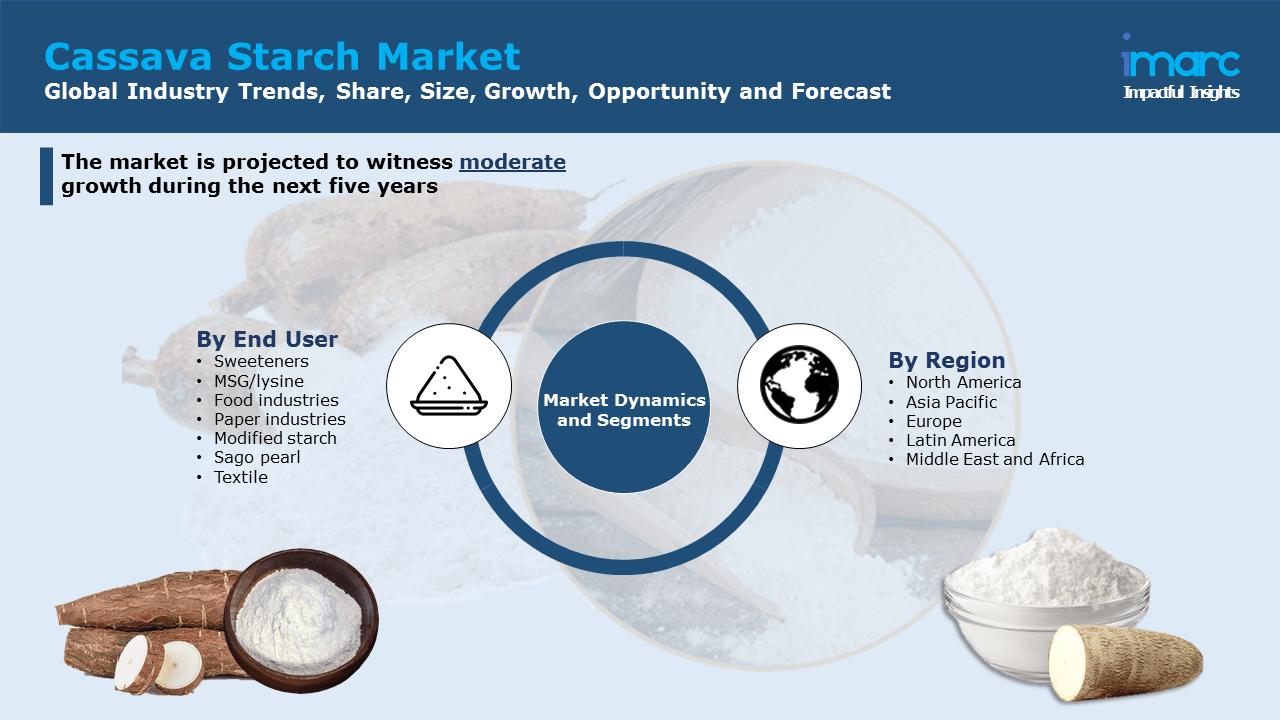 Global Cassava Starch Industry Drivers:
Being a rich source of carbohydrates, cassava starch is used as a major ingredient in a number of food products. The global food industry is currently growing at a rapid pace due to urbanization, expanding working population and rising household incomes, especially in the emerging nations like India and China. This is has led to an increase in the demand for ready-to-eat food products which has stimulated the growth of the cassava starch industry.
Earlier, the usage of cassava starch was largely confined to food applications, however, owing to its easy availability, it is also being utilized for non-food applications like manufacturing pharmaceuticals, adhesives, papers, etc. Growth in these end-use industries is providing a thrust to the market growth.
In the textile industry, cassava starch is used for sizing, finishing and printing due to its flexibility, resistance to abrasion and the ability to form a bond with the fiber. In finishing, cassava starch is utilized to cover blemishes or defects and provide a finishing look to the end product. Increasing westernization is fueling the growth of the textile industry, in turn, boosting the cassava starch market.
The growing health consciousness along with the rising cases of diabetes have stimulated the demand for artificial sweeteners across the globe. The increasing demand for these sweeteners is expected to drive the cassava starch market growth in the coming years.

Key Market Segmentation:
IMARC Group provides an analysis of the key trends in each sub-segment of the global cassava starch market report, along with forecasts for growth at the global, regional and country level from 2021-2026. Our report has categorized the market based on end-use.

Breakup by End-Use: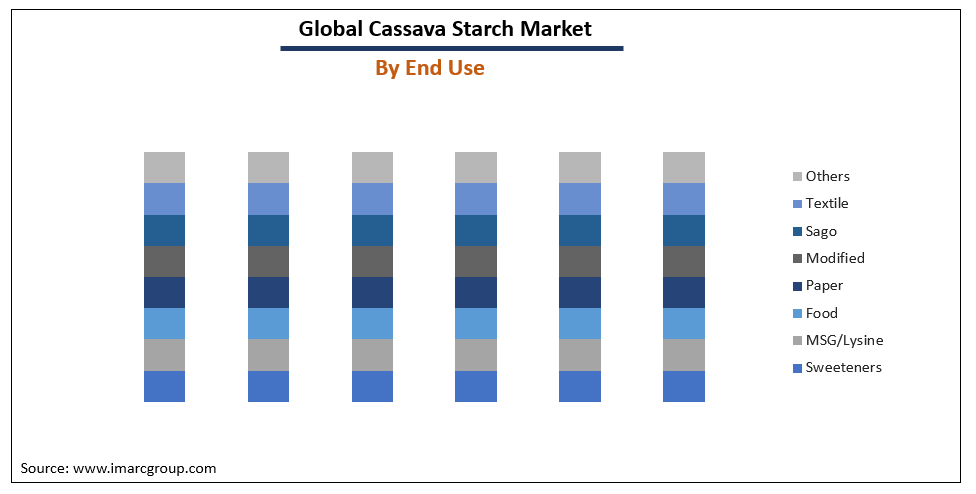 Sweeteners
MSG/Lysine
Food Industries
Paper Industries
Modified Starch
Sago Pearl
Textile
Others

Based on end-use, the report finds that the sweeteners industry accounts for the majority of the total market share. Cassava starch is highly preferred for the production of sweeteners as a result of its high level of purity, excellent texture, thickening properties and neutral taste. It is followed by MSG/lysine, food industries, paper industries, modified starch, sago pearl and textile.
Regional Insights:
Production

Asia
Africa
Latin America
Others

Consumption

China
Indonesia
Malaysia
Japan
Philippines
Others

On a geographical front, Asia represents the largest producer of cassava starch, holding around three-fourths of the total share. Cassava starch is comparatively cheaper and occupies agriculturally marginal areas due to which economically backward farmers are able to cultivate the crop. Asia is followed by Africa, Latin America and Others.
Competitive Landscape:
The competitive landscape of the cassava starch industry is fragmented in nature due to the presence of numerous small and large players. Some of the leading players operating in the market are:
TCS Tapioca
Eiamehang Tapioca
Sunrise International
PT Buda Starch & Sweetener
SPAC Tapioca

This report provides a deep insight into the global cassava starch industry covering all its essential aspects. This ranges from macro overview of the market to micro details of the industry performance, recent trends, key market drivers and challenges, SWOT analysis, Porter's five forces analysis, value chain analysis, etc. The report also provides a comprehensive analysis for setting up a cassava starch manufacturing plant. The study analyses the processing and manufacturing requirements, project cost, project funding, project economics, expected returns on investment, profit margins, etc. This report is a must-read for entrepreneurs, investors, researchers, consultants, business strategists, and all those who have any kind of stake or are planning to foray into the cassava starch industry in any manner.
Report Coverage:
Report Features
Details
Base Year of the Analysis
2020
Historical Period
2015-2020
Forecast Period
2021-2026
Units
Million Tons, US$ Million
Segment Coverage
End-Use, Region
Region Covered
Production (Asia, Africa, Latin America, Others), Consumption (China, Indonesia, Malaysia, Japan, Philippines, Others)
Companies Covered
TCS Tapioca, Eiamehang Tapioca, Sunrise International, PT Buda Starch & Sweetener, and SPAC Tapioca
Customization Scope
10% Free Customization
Report Price and Purchase Option
Single User License $ 1999
Five User License $ 2499
Corporate License $ 2999
Post-Sale Analyst Support
10-12 Weeks
Delivery Format
PDF and Excel through Email (We can also provide the editable version of the report in PPT/Word format on special request)