The global corn starch market reached a volume of 78.8 Million Tons in 2020. As per the analysis by the IMARC Group, the top manufacturers in the corn starch market are considerably investing in research and development (R&D) activities to expand the product use as an essential raw material for various applications, such as food and beverage, animal feed, textile, pharmaceutical and chemicals, and paper and corrugates. For instance, in the semiconductor industry, researchers from the Korea Institute of Science and Technology (KIST) in South Korea have developed a method of employing waste corn starch to produce silicon-carbon (Si-C) hybrid composite anodes. As compared to conventional graphite anode batteries, these batteries exhibit larger charge capacity, lower costs, and reduced strain on materials during the charge-discharge cycles. This, in turn, is facilitating the product demand in electric vehicles (EVs) across the globe. Additionally, key players are using emerging technologies to modify corn starch in order to achieve new properties and applications, thus enhancing their performance. Some of these technologies include ozone, ultrasound, high-pressure processing, high homogenization processing, pulsed electric field, and cold plasma. This has led to the introduction of various by-products, such as nutrient-rich steep liquor, corn germ, corn bran, and gluten, that are considered appropriate for non-starch industrial processes, especially in an increasingly resource-constraint market. Apart from this, the growing replacement of nanotechnology with corn starch as a biodegradable natural polymer due to the rising environmental concerns and production costs are further creating a positive outlook for the market. Moreover, vendors are extensively utilizing corn starch-based foam in compostable and thermal insulation for shipping temperature-sensitive products, which is providing a competitive edge to the market. Looking forward, the market is expected to reach a volume of around 96 Million Tons by 2026, growing at a CAGR of 3.3 % during 2021-2026.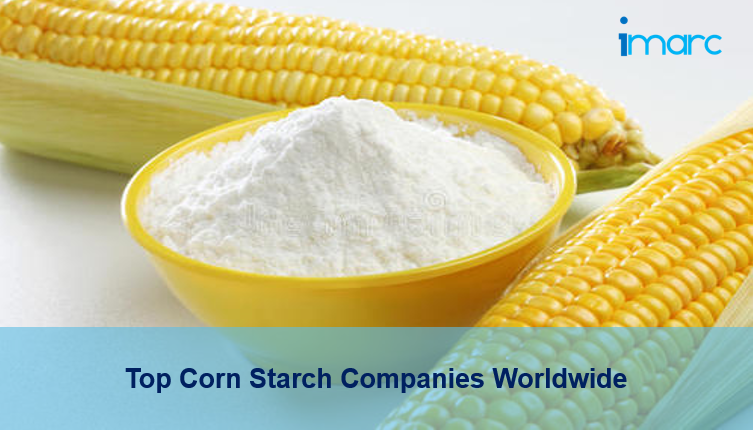 Request Free Sample Report: https://www.imarcgroup.com/corn-starch-manufacturing-plant/requestsample
Top Corn Starch Manufactures and Companies in the World:
Cargill, Incorporated
Establishment:1865
Headquarter: Minnesota, United States
Website: https://www.cargill.co.in
Cargill, Inc. is a privately held producer and marketer of food and agricultural, financial, and industrial goods and services. The company operates through animal nutrition and protein, food ingredients and applications, origination and processing, and industrial and financial services segments. Some of Cargill's major businesses are trading, purchasing, and distributing energy, feed, and agricultural commodities. Cargill markets these products under Nature Fresh, Gemini, Sweeker, Rath, Sunflower, Provimi, Purina, Citura, and Cargill brands. Apart from this, the company provides farmer services, risk management solutions, animal nutrition, biofuels, and other industrial products.
Archer Daniels Midland Company
Establishment: 1902
Headquarter: Illinois, United States
Website: https://www.adm.com
ADM is a US-based multinational food processing and commodities trading corporation that procures, processes, and merchandises agricultural goods worldwide. The company's operations are organized into three business segments, namely Ag Services and Oilseeds, Carbohydrate Solutions, and Nutrition. It also provides agricultural storage and transportation services for raw materials, such as ginger, oilseeds, corn, wheat, oats, barley, starch, glucose, citric acid, canola, sunflower seeds, and milo.
Ingredion Incorporated
Establishment: 1906
Headquarter: Illinois, United States
Website: https://www.ingredion.com
Ingredion Incorporated is one of the leading global ingredients solutions companies. It manufactures and markets sweeteners, starches, nutrition ingredients, and biomaterial solutions that are derived from the wet milling and processing of corn and other starch-based materials. The company's activity involves converting corn, potatoes, tapioca, and other fruits and vegetables into value added ingredients and biomaterials for the paper and corrugating, brewing, food and beverage, personal care, and other industries. Ingredion operates through four geographical segments, such as North America, South America, Asia Pacific, and Europe, Middle East, and Africa. It is innovative company that combines technology with nature to achieve highest standards of ethics, safety, quality, and sustainability. Apart from this, the organization has company-owned operations, joint ventures, alliances, and technical licenses worldwide.
Roquette Frères S.A
Establishment: 1933
Headquarter: France
Website: https://www.roquette.com
Roquette Frères S.A. is a family-owned enterprise that produces and sells plant-based ingredients and pharmaceutical excipients for food and health applications. It specializes in processing corn, wheat, potatoes, and peas into starch, cereal sugars, polyols, fibers, proteins, bioethanol, and derivates. The resulting starches and sugars are further turned into industrial ingredients for use in the textile, animal feed, pharmaceutical, food, plastics, chemicals, and fermentation industries. The company also produces artificial sweeteners, such as sorbitol, dextrose, maltose, maltitol, and xylitol, which are employed as thickeners, drug delivery enhancers, and sugar substitutes in toothpaste, medicines, and cardboard manufacturing.
Tate & Lyle PLC
Establishment: 1921
Headquarter: London, United Kingdom
Website: https://www.tateandlyle.com
Tata & Lyle PLC is a global supplier of specialty ingredients and solutions used by the food and beverage (F&B) and other industries. It operates through three segments, namely food and beverage solutions, sucralose, and primary products. Some of the products offered by the company includes syrups and sweeteners, texturants, stabilizers, and savory items. These products are marketed under the Splenda, Promitor, Claria, and Krystar brands.
About IMARC Group: IMARC Group is a leading market research and consulting company that offers management strategy and market research worldwide. The company has done multiple projects on the Citric acid market, which has enabled clients to set up and expand their businesses successfully. Some of the company's offerings include:
Market Research
Plant setup
Plant Expansion
Marketing and sales
Procurement and Distribution
Innovation and Product Development