The global crane market size reached US$ 46.80 Billion in 2020. As per the analysis by IMARC Group, the top crane companies are focusing on designing cranes that can efficiently fulfill various industrial needs, such as performing complex lifting and lowering tasks in hazardous environments. They are also making continuous improvements and enhancing the fuel efficiency of cranes, which helps reduce their operational costs. Looking forward, the market value is projected to reach US$ 59.82 Billion by 2026, exhibiting a CAGR of 4.57% during the forecast period (2021-2026).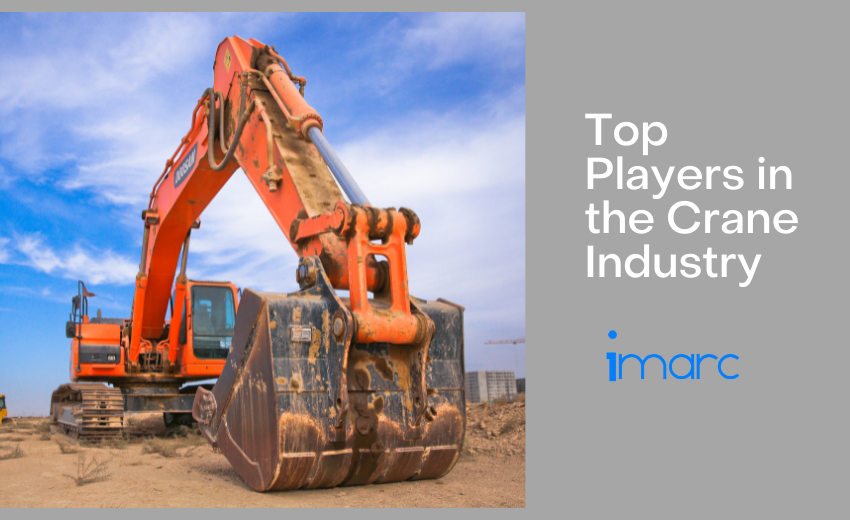 Request Free Sample Report: https://www.imarcgroup.com/crane-market/requestsample
Top Worldwide Manufacturers in the Crane Industry
Cargotec Oyj
Establishment: 2005
Headquarter: Helsinki, Finland
Cargotec Oyj provides material handling equipment for loading and unloading goods through core brands Kalmar, Hiab, and MacGregor. Kalmar offers ship-to-shore cranes, shuttle carriers, container handlers, and other equipment to port/terminal, distribution, industrial, and defense hubs. Hiab's on-road load handling lineup, including truck-mounted forklifts, is used by manufacturers and transportation, waste-handling, and rental companies. MacGregor specializes in cargo handling equipment (hatch covers and offshore cranes) for marine transports and offshore activities. Europe, the Middle East and Africa account for about 50% of Cargotec's sales.
Konecranes Oyj
Establishment: 1994
Headquarter: Hyvinkää, Finland
Konecranes is a global manufacturer of cranes, forklifts, trucks, load manipulators, and other heavy-duty and light lifting equipment under its own name and brands such as SWF, Sanma, R&M, and Verlinde. It is also a global leader in maintenance, inspection, and repair services for cranes and machine tools. It serves a wide range of industries, including automotive, general manufacturing, intermodal and rail, mining, nuclear, oil and gas, paper, ports, power, and steel. In 2016, the company agreed to sell its German business, Stahl, to US company Columbus McKinnon for around US$240 million.
Liebherr-International Deutschland GmbH
Establishment: 1949
Headquarter: Kirchdorf, Switzerland
Liebherr-International Deutschland GmbH designs, manufactures and supplies construction machinery globally. The company's products include tower cranes, wheeled loaders, truck cranes, hydraulic rope excavators, hydraulic excavators, pipe-laying machines, dumper trucks, crawler tractors and loaders, concrete mixing plants and truck mixer models. The company also provides services such as the supply of spare parts and components, logistics, rental and hospitality. It operates production plants in Austria, Brazil, Bulgaria, China, France, Germany, the UK, India, Ireland, Mexico, the Russian Federation, Spain, Switzerland, Thailand and the US. Moreover, Liebherr has hotels across Ireland, Austria and Germany.
The Manitowoc Company, Inc.
Establishment: 1902
Headquarter: Milwaukee, United States
The Manitowoc Company (MTW) manufactures lifting equipment such as tower cranes, mobile telescopic cranes, lattice-boom crawler cranes, and boom trucks. They are used in construction and mining operations, petrochemicals, utilities, and energy projects. The company operates through about 20 facilities spanning 20 countries. In early 2016, MTW spun off its former foodservice segment, which supplied a slate of ice-making and beverage-dispensing machines, as well as food prep and heating equipment.
Terex Corporation
Establishment: 1970
Headquarter: Westport, United States
Terex Corporation makes a variety of cranes, aerial platforms, and materials processing equipment. The company makes aerial lifts, from articulating to telescopic booms, used in industrial and construction overhead jobs. It also makes cranes and specialty equipment such as wood processing, biomass, and recycling equipment. Terex products are sold in more than 100 countries worldwide to the construction, forestry, recycling, and utility industries under the Terex, Genie, and Powerscreen brands. About 55% of Terex's sales come from North America.
XCMG Group
Establishment: 1989
Headquarter: Xuzhou, China
XCMG Construction Machinery Co., Ltd. is primarily engaged in manufacturing heavy machinery and equipment used mainly by the construction industry. These equipment and machinery include bulldozers; concrete mixers; cranes, except industrial plant overhead and truck-type cranes; dredging machinery; pavers; and power shovels. The company also offers manufacturing forestry equipment and specialized equipment similar to those used by the construction industry, such as elevating platforms, ship cranes and capstans, aerial work platforms, and automobiles wrecker hoists.
American Crane and Equipment Co.
Establishment: 1972
Headquarter: Eastern PA, United States
American Crane & Equipment Co. is primarily engaged in the wholesale distribution of construction or mining cranes, excavating machinery and equipment, power shovels, road construction and maintenance machinery, tractor-mounting equipment and specialized machinery and equipment used in the construction, mining, and logging industries. It has one of the largest floor-type horizontal boring mills in the Northeastern United States and an onsite 200-ton load testing tower. The company's three plants feature a 226,000 sq ft combined manufacturing space capacity and 150-ton lifting capacity.
Badger Equipment Company (Manitex International, Inc.)
Establishment: 1945
Headquarter: Winona, United States
Badger Equipment Company is a leading provider of engineered lifting solutions. The manufacturing units of the company are located in several facilities in North America and Europe. The Company serves a broad range of customers, including commercial, military and governmental, across the world, through a dealer network. In 2009, Manitex International Inc. acquired Badger Equipment Company for US$ 3 Million.
Broderson Manufacturing Corp.
Establishment: 1973
Headquarter: Lenexa, United States
Broderson Manufacturing Corp. designs, manufactures, and markets industrial and rough terrain cranes. The company manufactures cranes of different carrying capacities, as well as renders parts and maintenance services. Broderson Manufacturing sells its products worldwide. Today, Broderson offers cranes for plant, facility and project site requirements in a wide range of industries such as oil refineries, petrochemical plants, mining (domestic and offshore), pulp/paper mills, large mechanical contractors, auto manufacturing and power plants.
IHI Construction Machinery
Establishment: 1952
Headquarter: Tokyo, Japan
IHI Construction Machinery, a Japanese manufacturer, manufactures and sells mini excavators, cranes, crawler carriers, and other construction machinery, offering top-notch products and services in Japan and abroad. The company (formerly Ishikawajima-Harima Heavy Industries) generates 49% of its revenue from medium-sized operations. It specializes in making items for energy and resources (boilers, engines, gas turbines, nuclear power plant parts, radioactive waste management) and aero engine and space (jet engines, rocket and satellite systems). Other businesses include logistics, shipbuilding, agricultural machinery, and real estate. IHI, which altogether boasts more than 140 subsidiaries, operates in Japan through manufacturing centers, branches, and sales offices. IHI Construction machinery is a subsidiary of IHI Corporation. In 2016, IHI Corporation (IHI) agreed to transfer all the shares in its wholly-owned IHI Construction Machinery Limited to Kato Works Co., Ltd.
Link-Belt Cranes
Establishment: 1880
Headquarter: Lexington, United States
Link-Belt Cranes is a leader in the design, manufacture and sales of telescopic and lattice boom cranes. The company's core production base and center for worldwide operations is its 770,000 sq. ft. manufacturing facility in Kentucky. With major expansion plans over the last ten years, along with the continuous improvement philosophies, this facility has emerged as the most modern crane facility in North America.
Kobelco Construction Machinery Co., Ltd.
Establishment: 1999
Headquarter: Tokyo, Japan
Kobelco Construction Machinery Co., Ltd. is primarily engaged in manufacturing hydraulic truck cranes, excavators and fracturing nibblers. The company aims to build construction machinery that is friendly to both people and the planet while featuring outstanding environmental performance. Today, Kobelco excavators are built at Kobelco's state-of-the-art factory in Hiroshima, Japan. Their advanced technology and features include superior fuel efficiency, an integrated Noise and Dust reduction cooling system (iNDr) and advanced hydraulics for powerful, high performance.
About IMARC Group: IMARC Group is a leading market research and consulting company that offers management strategy and market research worldwide. The company has done multiple projects on the crane industry, which has enabled clients to set up and expand their businesses successfully. Some of the company's offerings include:
Market Research

Plant setup

Plant Expansion

Marketing and sales

Procurement and Distribution

Innovation and Product Development