IMARC Group's latest report, titled "Dairy Industry in Bihar: Industry Trends, Share, Size, Growth, Opportunity and Forecast 2019-2024", offers an in-depth analysis of the Bihar dairy market. In 2018, the milk production in Bihar reached a volume of XX Billion Litres, growing at a CAGR of XX% during 2011-2018. The state currently represents the tenth largest dairy market in India. The milk production in Bihar mainly consists of cow milk and buffalo milk. The report's analysis concludes that cow milk dominates the total milk production, accounting for around 60% of the total share. According to the report, the Bihar dairy market is further expected to grow at a CAGR of around 4.9% during 2019-2024, reaching a volume of more than 6 Million Tons in 2024.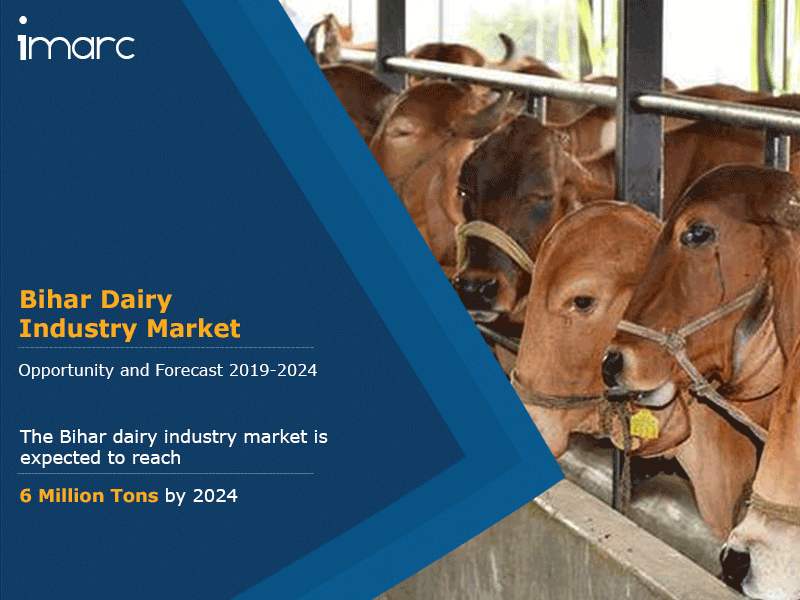 Based on the product type, this report has categorized the Bihar dairy market into 18 major product segments:
Liquid milk
Ghee
Curd
Paneer
Ice-cream
Table butter
Skimmed milk powder
Frozen/flavoured yoghurt
Fresh cream
Lassi
Butter milk
Cheese
Flavoured milk
UHT milk
Dairy whitener
Sweet condensed milk
Infant food
Malt based beverages
For each of the product segments, the report provides a thorough analysis of the current and historical value and volume trends, market share of key players and market forecast. Currently, liquid milk represents the biggest product segment in Bihar, accounting for nearly 67% of the total market share. Some of the fastest growing segments include frozen/flavoured yoghurt, cheese, UHT milk, flavoured milk and butter milk. The competitive landscape of Bihar's dairy market has also been examined in this report. Some of the major players covered in the report include Sudha, Anuj Dairy, Ganga Dairy and Amul.
The study provides a detailed evaluation of the dairy market landscape in Bihar, covering the current, historical and future trends for milk production, milk production by cattle, milk procurement prices, etc. The report also offers SWOT, Value Chain and Porter's Five Forces analysis of Bihar dairy market along with market segmentation by product type and an analysis of the competitive landscape. The study is based on both desk research and multiple waves of qualitative primary research. This report is a must-read for entrepreneurs, investors, researchers, consultants, business strategists, and all those who have any kind of stake or are planning to foray into the Bihar dairy market in any manner.