Market Overview:
The East Africa generic drug market is currently witnessing moderate growth. Generic drugs are medications that contain the same active ingredients and have the same therapeutic effect as their branded counterparts. These drugs may differ in packaging but are identical in quality, strength, dosage, performance, and efficiency. As they are cost-efficient, the demand for generic drugs is escalating in the East African region.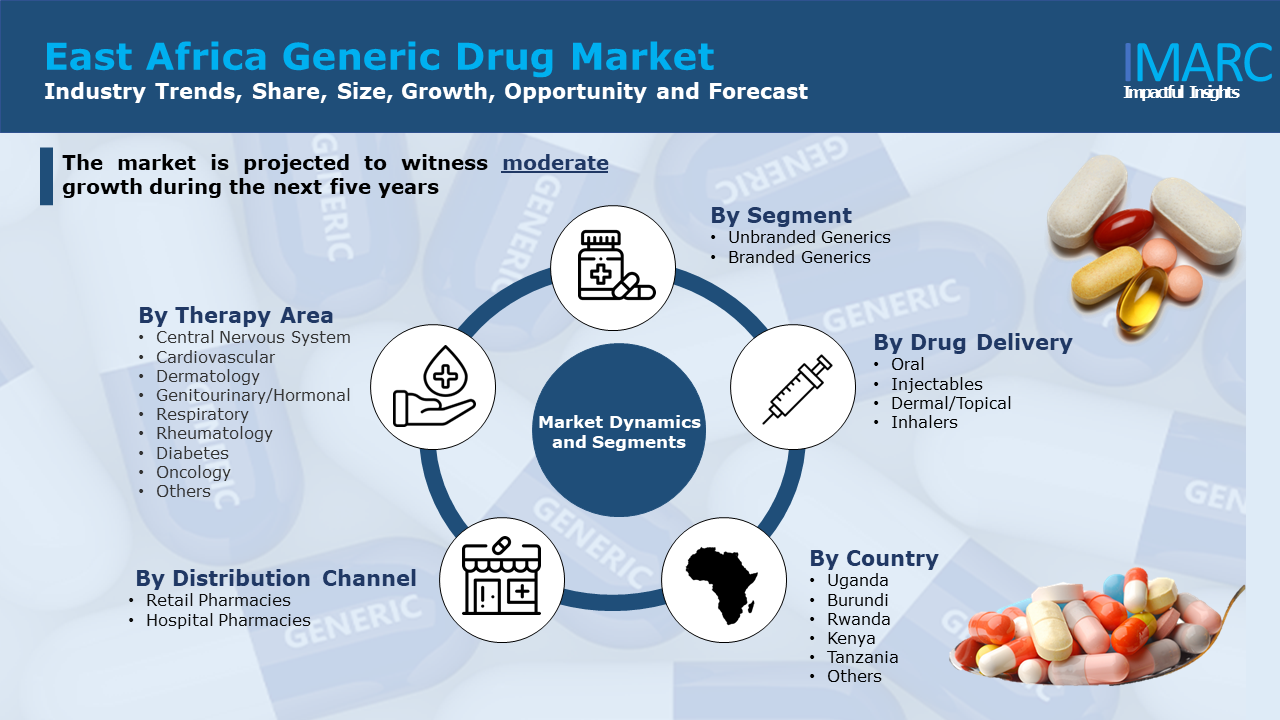 The market is primarily driven by rapid urbanization, along with improving infrastructure and healthcare facilities in the East African region. Apart from this, governments of different countries in the region are introducing price control policies and import restrictions to encourage domestic drug manufacturing. This, in turn, is propelling the growth of the generic drugs market. However, the market experienced a negative impact on account of the sudden outbreak of the coronavirus disease (COVID-19), the imposition of lockdown restrictions, hindrances in international trade and a temporary halt in the operations of several manufacturing units. The market will witness growth once COVID-19 cases reduce, operations at these manufacturing units resume and lockdown relaxations are uplifted in the region. Looking forward, the market is expected to continue its moderate growth during the forecast period (2021-2026).
Key Market Segmentation:
IMARC Group provides an analysis of the key trends in each sub-segment of the East Africa generic drug market report, along with forecasts for growth at the region level from 2021-2026. Our report has categorized the market based on region, segment, therapy area, drug delivery and distribution channel.
Breakup by Segment:
Unbranded Generics
Branded Generics

Breakup by Therapy Area:
Central Nervous System
Cardiovascular
Dermatology
Genitourinary/Hormonal
Respiratory
Rheumatology
Diabetes
Oncology
Others

Breakup by Drug Delivery:
Oral
Injectables
Dermal/Topical
Inhalers

Breakup by Distribution Channel:
Retail Pharmacies
Hospital Pharmacies

Breakup by Country:
Uganda
Burundi
Rwanda
Kenya
Tanzania
Others

Competitive Landscape:
The competitive landscape of the industry has also been examined along with the profiles of the key players.
Key Questions Answered in This Report:
How has the East Africa generic drug market performed so far and how will it perform in the coming years?
What has been the impact of COVID-19 on the East Africa generic drug market?
What are the key regional markets?
What is the breakup of the market based on the segment?
What is the breakup of the market based on the therapy area?
What is the breakup of the market based on the drug delivery?
What is the breakup of the market based on the distribution channel?
What are the various stages in the value chain of the industry?
What are the key driving factors and challenges in the market?
What is the structure of the East Africa generic drug market and who are the key players?
What is the degree of competition in the market?