Market Overview:
The Egypt LED lighting market exhibited strong growth during 2015-2020. Light emission diode (LED) lighting system includes a semiconductor device that emits light when the electric current is passed through a microchip. LED lighting products offer numerous advantages, including compact size, high durability, low heat output, minimum radiation emissions, and lesser power consumption. Furthermore, LED lights exhibit higher efficiency in comparison to conventional light bulbs, owing to which incandescent and fluorescent lights are being replaced by LED lighting systems. In Egypt, these lighting systems are widely installed across residential buildings, retail centers, hospitals, education institutions, etc.
The increasing demand for energy-efficient lighting systems along with a significant decline in the price of LEDs is primarily augmenting the market growth in the country. Additionally, the elevating levels of urbanization and the rising number of modern housing projects are also propelling the adoption of LED lighting systems. Furthermore, improving consumer living standards in Egypt have led to the increasing expenditures of high-end home decor items, including LED-based table lamps, pendant lights, floor lights, etc. Besides this, the growing installations of LED lighting systems in commercial spaces for reflectors, downlights, projectors, etc., are also catalyzing the market growth in the country. Additionally, the implementation of favorable government regulations for reducing carbon emissions has led to the replacement of incandescent bulbs with LED lighting systems. Furthermore, the Egyptian government is continuously focusing on standardization programs for proper illumination in mills and warehouses to ensure workforce safety, thereby augmenting the demand for LED lights in the industrial sector. In the coming years, the rising investments by the government to lessen the peak power demand and overall power consumption will continue to further drive the market for LED lighting systems in Egypt. Looking forward, IMARC Group expects the Egypt LED lighting market to continue its strong growth during the next five years.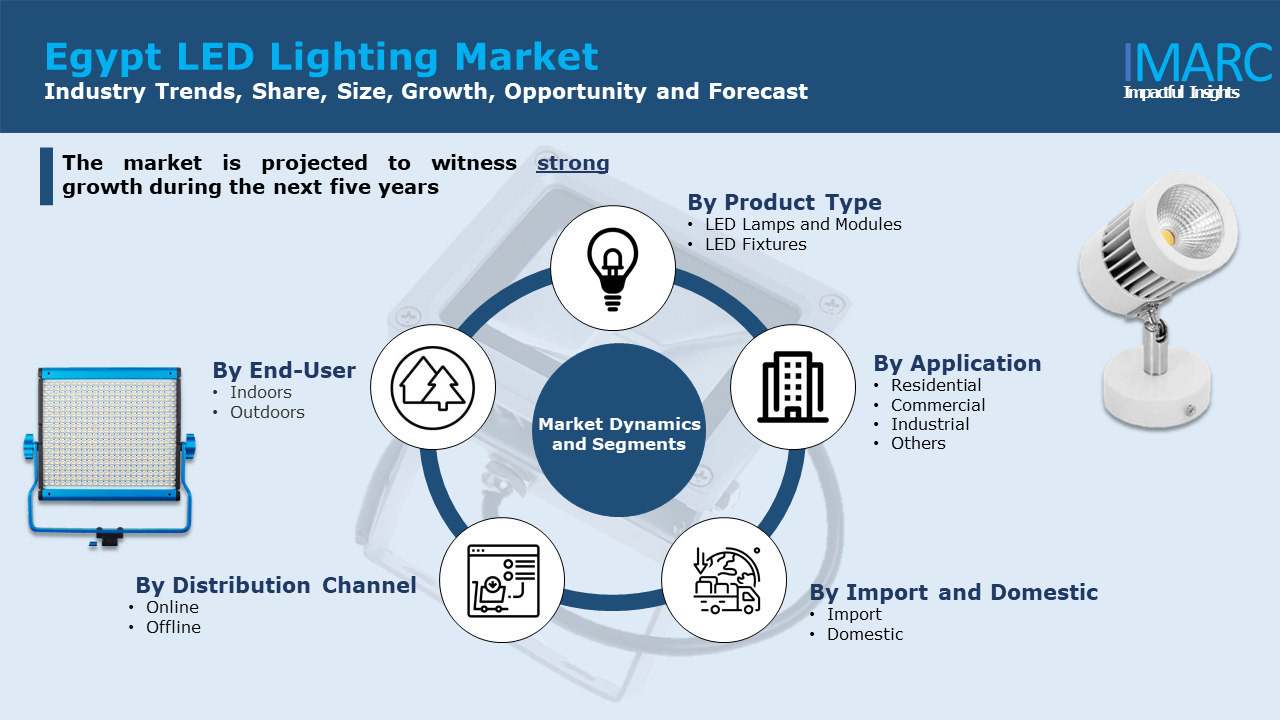 Key Market Segmentation:
IMARC Group provides an analysis of the key trends in each sub-segment of the Egypt LED lighting market report, along with forecasts for growth at the region level from 2021-2026. Our report has categorized the market based on product type, application, end-user, import and domestic and distribution channel.
Breakup by Product Type:
LED Lamps and Modules
LED Fixtures

Breakup by Application:
Residential
Commercial
Industrial
Others

Breakup by End-User:
Breakup by Import and Domestic:
Breakup by Distribution Channel:
Competitive Landscape:
The competitive landscape of the industry has also been examined with some of the key players being 3Brothers For Lighting & Engineering, Aimex, Delta Egypt Lighting, EGREEN, EM-Electrical, Evergreen Solar Inc., Inter IKEA Systems B.V., Koninklijke Philips N.V. and Siraj Lighting Company.