Market Overview:
The Europe biopsy devices market is currently witnessing moderate growth. A biopsy is a medical procedure that assists in examining diseases by removing tissues or cells from the organs. It is performed by surgeons, radiologists, cardiologists, and other medical practitioners using biopsy devices. These devices are designed to remove diagnostic quality specimens while reducing the risk of crush artifacts and tissue fragmentation. The most commonly used biopsy devices are biopsy guidance systems, needle-based biopsy guns, biopsy needles, and biopsy forceps. At present, they find extensive application across many healthcare institutions, such as medical clinics, diagnostic centers, and hospitals, across Europe.
The market is primarily driven by increasing investments in research and development (R&D) activities in Europe. For instance, the European Union's Horizon 2020 program was rewarded €6.3m for magnetic resonance imaging (MRI) research and liquid biopsy. Moreover, the rising consciousness among individuals about biopsy procedures and screening tests is contributing to the market growth in the region. Furthermore, healthcare professionals are focusing on adopting minimally-invasive (MI) biopsy technologies, which are projected to positively influence the growth of the market. Looking forward, the market is expected to continue its moderate growth during the forecast period (2021-2026).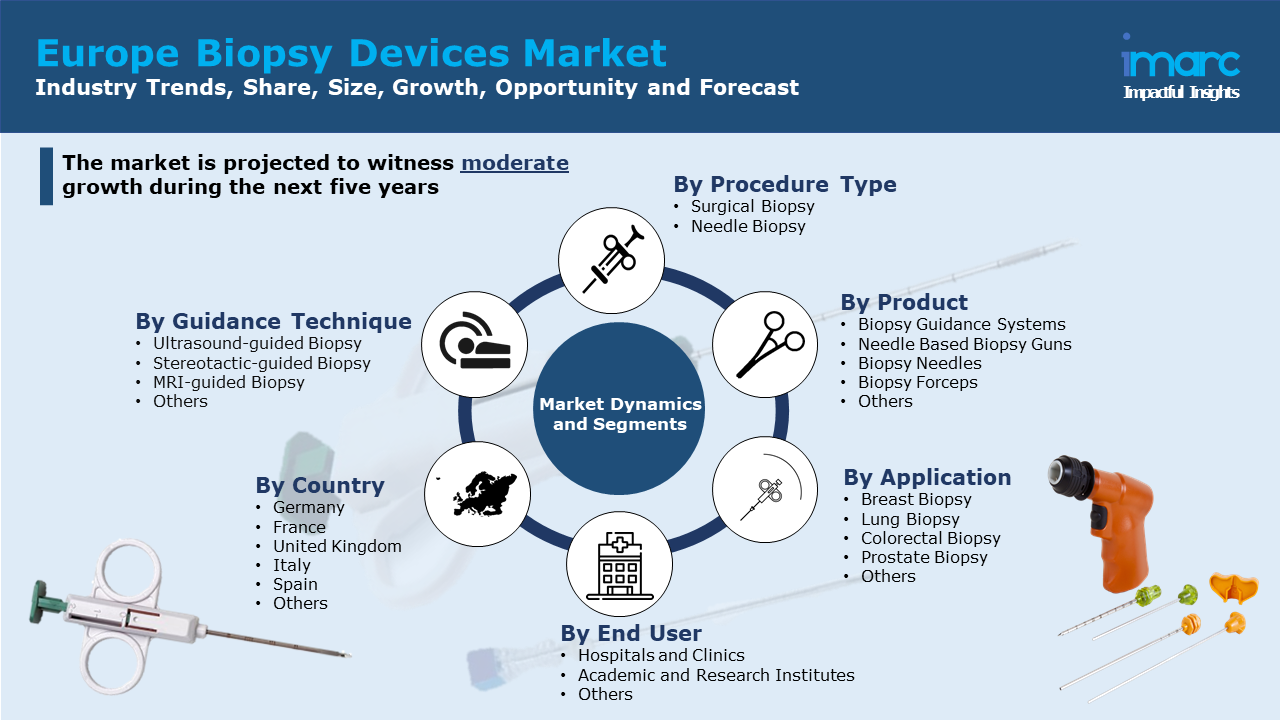 Key Market Segmentation:
IMARC Group provides an analysis of the key trends in each sub-segment of the Europe biopsy devices market report, along with forecasts for growth at the region level from 2021-2026. Our report has categorized the market based on region, procedure type, product, application, guidance technique and end user.
Breakup by Procedure Type:
Surgical Biopsy
Needle Biopsy

Breakup by Product:
Biopsy Guidance Systems
Needle Based Biopsy Guns
Biopsy Needles
Biopsy Forceps
Others

Breakup by Application:
Breast Biopsy
Lung Biopsy
Colorectal Biopsy
Prostate Biopsy
Others

Breakup by Guidance Technique:
Ultrasound-guided Biopsy
Stereotactic-guided Biopsy
MRI-guided Biopsy
Others

Breakup by End User:
Hospitals and Clinics
Academic and Research Institutes
Others

Breakup by Country:
Germany
France
United Kingdom
Italy
Spain
Others

Competitive Landscape:
The competitive landscape of the industry has also been examined along with the profiles of the key players.
Key Questions Answered in This Report:
How has the Europe biopsy devices market performed so far and how will it perform in the coming years?
What has been the impact of COVID-19 on the Europe biopsy devices market?
What are the key regional markets?
What is the breakup of the market based on the procedure type?
What is the breakup of the market based on the product?
What is the breakup of the market based on the application?
What is the breakup of the market based on the guidance technique?
What is the breakup of the market based on the end user?
What are the various stages in the value chain of the industry?
What are the key driving factors and challenges in the industry?
What is the structure of the Europe biopsy devices market and who are the key players?
What is the degree of competition in the industry?