Market Overview:
The Europe clean coal technologies market is currently witnessing steady growth. Clean coal technology is widely used to reduce the negative impact of coal combustion on the environment. It minimizes nitrogen oxide (NOx) and sulfur dioxide (SO2) emissions into the atmosphere. Some of the frequently used clean coal technologies are integrated gasification combined cycle (IGCC), fluidized-bed combustion, selective catalytic reduction, and flue gas desulfurization. These technologies reduce the costs of burning coal to generate power while preserving the environment.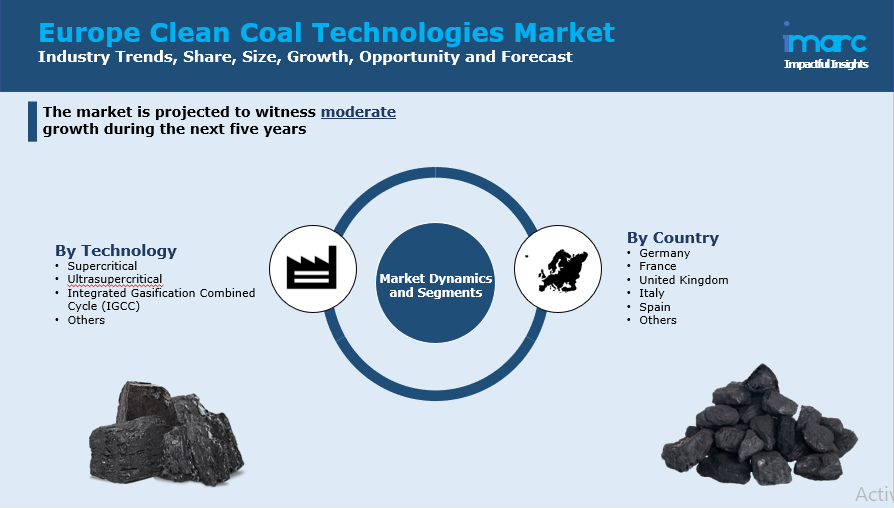 Non-fossil fuels are utilized for power generation, including renewable and nuclear energy, and carbon capture and storage (CCS) technology is used to generate fossil fuel energy. This represents one of the significant factors propelling the market growth of clean coal technologies in Europe. Furthermore, the increasing utilization of CCS technology acts as another significant factor driving the demand for clean coal technologies in the region. However, the imposition of lockdown restrictions during the coronavirus disease (COVID-19) pandemic has negatively influenced the market. The market is anticipated to recover once lockdown relaxations are introduced in the region. Looking forward, the market is expected to continue its steady growth during the forecast period (2021-2026).
Key Market Segmentation:
IMARC Group provides an analysis of the key trends in each sub-segment of the Europe clean coal technologies market report, along with forecasts for growth at the region level from 2021-2026. Our report has categorized the market based on region and technology.
Breakup by Technology:
Supercritical
Ultrasupercritical
Integrated Gasification Combined Cycle (IGCC)
Others

Breakup by Country:
Germany
France
United Kingdom
Italy
Spain
Others

Competitive Landscape:
The competitive landscape of the industry has also been examined along with the profiles of the key players.
Key Questions Answered in This Report:
How has the Europe clean coal technologies market performed so far and how will it perform in the coming years?
What has been the impact of COVID-19 on the Europe clean coal technologies market?
What are the key regional markets?
What is the breakup of the market based on the technology?
What are the various stages in the value chain of the industry?
What are the key driving factors and challenges in the industry?
What is the structure of the Europe clean coal technologies market and who are the key players?
What is the degree of competition in the industry?