Market Overview:
The Europe copper pipes and tubes market is currently witnessing steady growth. Copper pipes and tubes are widely used in the construction and electrical industries due to their conductive properties. They are cost-effective and reduce the chances of contamination caused by oxygen, ultraviolet (UV) rays and high temperature. Consequently, they find extensive applications in the healthcare, construction and energy sectors of Europe.
The market is presently experiencing growth due to the escalating demand of heating, ventilation, and air conditioning (HVAC) systems, along with rapid advancements in technology, in Europe. Moreover, the rising sales of electric vehicles (EVs) and the increasing exploration of unconventional gas resources are stimulating the growth of the market across the region. Apart from this, the escalating demand for solar thermal energy and waste recovery systems, in confluence with various product innovations, are propelling the market growth. The market is further witnessing a rapid utilization of these pipes and tubes in the healthcare sector due to the sudden outbreak of the coronavirus disease (COVID-19). The market growth in other end use sectors is anticipated to experience growth once lockdown relaxations are introduced in the region. On account of these factors, the market is expected to continue its steady growth during the forecast period (2021-2026).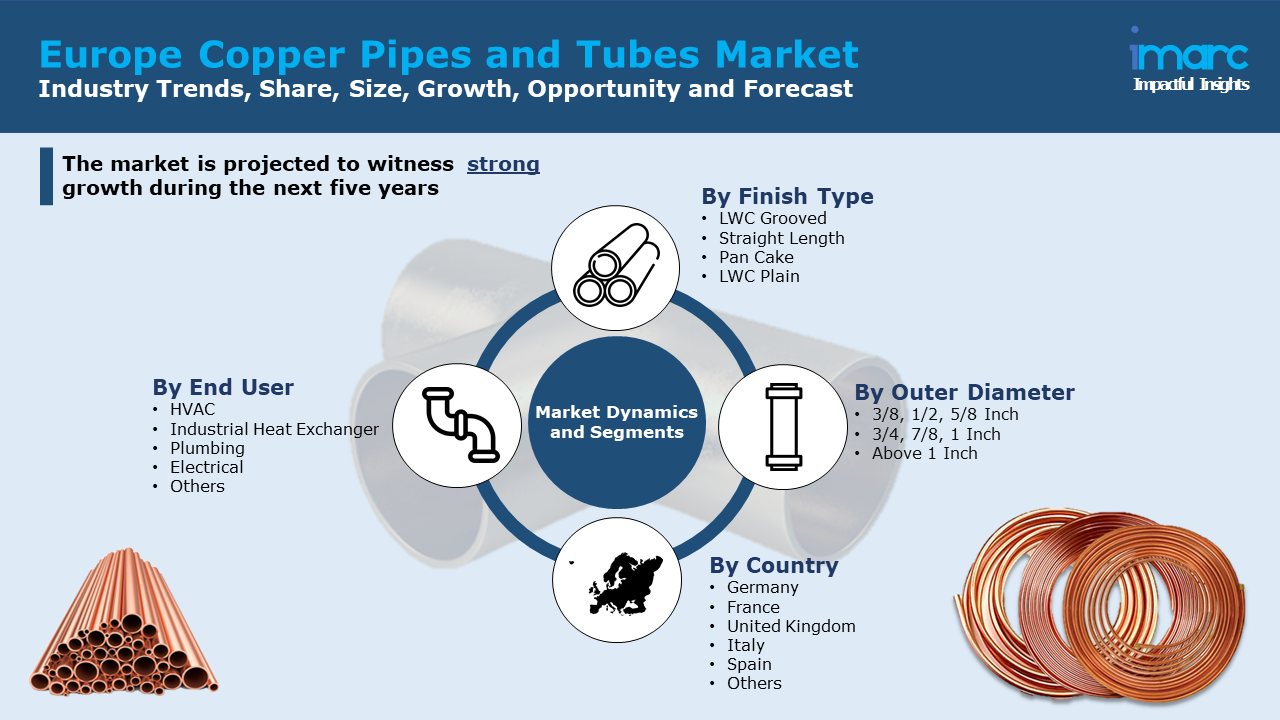 Key Market Segmentation:
IMARC Group provides an analysis of the key trends in each sub-segment of the Europe copper pipes and tubes market report, along with forecasts for growth at the region level from 2021-2026. Our report has categorized the market based on region, finish type, outer diameter and end user.
Breakup by Finish Type:
LWC Grooved
Straight Length
Pan Cake
LWC Plain

Breakup by Outer Diameter:
3/8, 1/2, 5/8 Inch
3/4, 7/8, 1 Inch
Above 1 Inch

Breakup by End User:
HVAC
Industrial Heat Exchanger
Plumbing
Electrical
Others

Breakup by Country:
Germany
France
United Kingdom
Italy
Spain
Others

Competitive Landscape:
The competitive landscape of the industry has also been examined along with the profiles of the key players.
Key Questions Answered in This Report:
How has the Europe copper pipes and tubes market performed so far and how will it perform in the coming years?
What has been the impact of COVID-19 on the Europe copper pipes and tubes market?
What are the key regional markets?
What is the breakup of the market based on the finish type?
What is the breakup of the market based on the outer diameter?
What is the breakup of the market based on the end user?
What are the various stages in the value chain of the industry?
What are the key driving factors and challenges in the industry?
What is the structure of the Europe copper pipes and tubes market and who are the key players?
What is the degree of competition in the industry?