The Europe fumaric acid market is currently witnessing moderate growth. Fumaric acid is a colorless chemical compound with a fruit-like taste. It is also known as trans-butenedioic acid and is commonly used as a food acidulant and preservative. The acid is biologically sourced from lichen, moss, and mushrooms, and is also naturally synthesized by human skin when exposed to the sunlight. It is majorly used in the food and beverage industry as a flavor enhancer and pH adjusting agent in products, such as energy drinks, desserts and baked goods. In addition to this, it is also used in the manufacturing of cosmetics, pharmaceutical drugs and construction materials.
In European, countries, such as Germany, Italy, France and the United Kingdom (UK) are among the primary consumers of fumaric acid. The hectic work schedules and sedentary habits of the masses have led to the development of various lifestyle disorders. However, the growing health-consciousness, in turn, has resulted in the rising demand for nutrient-rich food, which use fumaric acid to stabilize and enhance the flavor of food and beverages. Furthermore, extensive infrastructural development in the region, such as reconstruction and remodeling activities, is favoring the market growth. Fumaric acid is widely utilized in the manufacturing of unsaturated polyester resins, alkyd resins and paints, which are further used for various construction activities. On account of these factors, the market is expected to continue its moderate growth during the forecast period (2020-2025).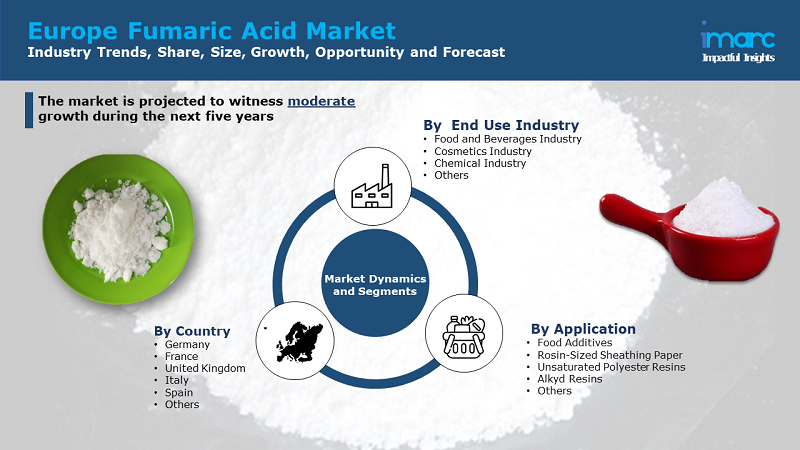 Key Market Segmentation:
IMARC Group provides an analysis of the key trends in each sub-segment of the Europe fumaric acid market report, along with forecasts for growth at the region level from 2020-2025. Our report has categorized the market based on region, application and end use industry.
Breakup Application:
Food Additives
Rosin-Sized Sheathing Paper
Unsaturated Polyester Resins
Alkyd Resins
Others

Breakup End Use Industry:
Food and Beverages Industry
Cosmetics Industry
Chemical Industry
Others

Breakup by Country:
Germany
France
United Kingdom
Italy
Spain
Others

Competitive Landscape:
The competitive landscape of the industry has also been examined along with the profiles of the key players.
Key Questions Answered in This Report:
How has the Europe fumaric acid market performed so far and how will it perform in the coming years?
What has been the impact of COVID-19 on the Europe fumaric acid market?
What are the key regional markets?
What is the breakup of the market based on the application?
What is the breakup of the market based on the end use industry?
What are the various stages in the value chain of the industry?
What are the key driving factors and challenges in the industry?
What is the structure of the Europe fumaric acid market and who are the key players?
What is the degree of competition in the industry?