The global furniture market exhibited moderate growth during 2015-2020. As per the analysis by IMARC Group, the top manufacturers in the furniture market are leveraging technological interventions in various parts of the product lifecycle, which includes designing, manufacturing, marketing, and sales. They are utilizing sophisticated computer software and tools, like machine learning (ML), data analysis, artificial intelligence (AI) and the Internet of Things (IoT), to develop innovative product variants and cater to evolving consumer needs. This also ensures that the customer receives the superior quality product at an optimum price. Moreover, key players are aiming at enhancing the design experience through the use of three-dimensional (3D) printing and augmented reality (AR) technologies, wherein 3D geometrical designs are produced on a computer. These designs are transformed into reality by depositing and gluing layers of tiny grains of materials into a desired structure. The design in its digital form can also be superimposed onto real environments through cameras and sensors that help customers to locate its positioning and future looks. ML is another technology that has made the personalization and customization of furniture possible through e-commerce platforms. Companies are utilizing it, along with visual search features, to power recommendations depending on previous internet activities. In addition to this, due to rising environmental concerns, leading players are introducing sustainable furniture to reduce carbon footprint, save production costs, conserve energy, and manage wastes. For instance, New Raw, a Netherlands-based research and design studio, initiated the 'Zero Waste Lab' project, wherein citizens can transform plastic waste into raw material for urban furniture by using 3D printing. Looking forward, the market is expected to grow at a CAGR of around 5% during 2021-2026.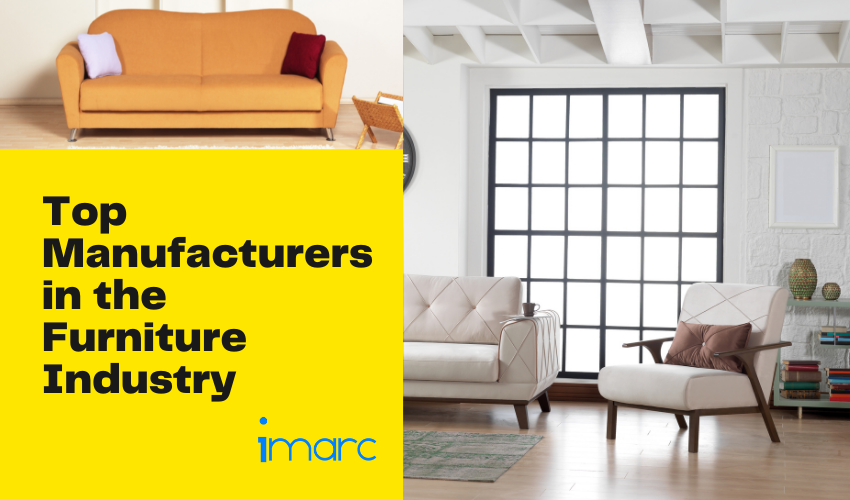 Request Free Sample Report: https://www.imarcgroup.com/furniture-market/requestsample
List of Top Furniture Manufacturers Companies and Brands:
Durham Furniture Inc.
Establishment:1992
Headquarter: Ontario, Canada
Website: https://www.durhamfurniture.com
Durham Furniture Inc. manufactures solid wood, luxury furniture that is handcrafted from sustainably harvested maple and cherry tree wood. Their products include home, occasional, and office furniture in traditional, transitional, contemporary, and cottage styles. Some of the common products designed and marketed by the company are armoires, beds, dressers, chests, and mirrors. These are also exclusively featured at various luxury hotels across Canada and the United States.
Haworth Inc. (Haworth International Ltd.)
Establishment:1948
Headquarter: Michigan, United States
Website: https://www.haworth.com
Haworth Inc. designs, manufactures, and markets adaptable office furniture worldwide, including Italy, India, Germany, and China. It offers chairs, partitions, desks, tables, whiteboards, and storage products under various brand names, such as Buzzi Space, Bluescape, Cassina, Pablo, Cappellini, Framery, and Boss Designs. The company primarily research into latest workplace trends and partners with international architects and designers, which helps them understand the organizational culture and create inspiring and organic workspace furnishing products. This is providing Haworth with a competitive edge in the global furniture market.
HNI Corporation
Establishment:1944
Headquarter: Iowa, United States
Website: https://www.hnicorp.com
HNI Corporation is one of the largest office and home furniture manufacturers. Driven by quality, innovation, service, and continuous improvements, the company's diverse product portfolio includes chairs, desk, file cabinets, and fireplaces. It manages various brands under its umbrella, such as HON Company, Gunlocke, HBF textiles, Allsteel, Lamex, and HNI India. The company mainly provides workplace furnishing solutions that support the work environment from home as well as large commercial complexes, which is inflating their global market value amidst the coronavirus disease (COVID-19) pandemic. In addition to this, HNI is establishing carbon smart strategies, wherein it is constantly improving its production processes, utilizing recycled materials, and delivering high-quality products while minimizing the environmental impact.
Inter IKEA Systems B.V. (Interogo Foundation)
Establishment:1991
Headquarter: Delft, Netherlands
Website: https://www.inter.ikea.com/en
Inter IKEA System B.V. is a holding company owned by Interogo foundation. It mainly controls the intellectual property of IKEA, which is a multinational conglomerate that designs and sells ready-to-assemble furniture. Inter Ikea System B.V. is in charge of cost control, operational details, continuous product development, and other services related to IKEA furnishing goods. Its interior design work is mostly associated with an eco-friendly simplicity as the ready-to-assemble approach helps reduce operational costs and resource use. They are also extensively using medium-density fiberboards (MDF) to produce furniture, which consumes lesser energy than other materials. Apart from this, the company aims to be energy-independent by continuously investing in the production of renewable energy through wind turbines and solar panels.
Kimball International Inc.
Establishment:1939
Headquarter: Indiana, United States
Website: https://www.kimballinternational.com
Kimball International Inc. is an omnichannel commercial furnishing company that expertise in healthcare, office, hospitality, and school furniture. It creates and sells design driven, innovative, and functional furniture through Kimball, National, and Kimball Hospitality brands. Some of their products include chairs, benches, workstations, tables, storage, and modular caseworks. They also aim to develop learning spaces that are flexible, engaging, and accommodate diverse learning styles through their media carts, smart white boards, desks, pin boards, and modern seating products. Other than this, Kimball International's sustainable practices include various initiatives to reduce water usage, solid waste generation, hazardous waste materials, and greenhouse gas (GHG) emissions.
Kohler Co.
Establishment:1873
Headquarter: Wisconsin, United States
Website: https://www.kohlercompany.com
Kohler Co. manufactures smart bathroom furniture and majorly serves the home and hospitality sector. It operates under the brand names of Jacob Delafon, Karat, Kohler, Mira, Novita, Sterling, and Kallista. Some of its products include cabinetry, sinks, vanity, and smart mirror. The company is also known for its customized, hand-painted artistic work on the product, depending on the consumer's need. Kohler Co. is also working toward net zero environmental impact by 2035, wherein they are producing zero solid wastes and developing innovative energy- and water-saving products. Other than this, they are inspiring consumers to do the same by setting up 'WasteLab' that incubates manufacturing waste and repurposes them into new furniture.
Masco Corporation
Establishment:1929
Headquarter: Michigan, United States
Website: https://masco.com
Masco Corporation manufactures premium products for home improvement and new building construction projects. Comprising more than 20 companies, the corporation operates nearly 60 manufacturing facilities in over 28 countries. Some of its associated brands are Axor, Behr, Brainerd, Delta, Kichler, Kilz, Mercury Plastics, and Peerless. The company mainly sells their products through home center retailers, hardware stores, mass merchandizers, wholesalers, distributors, e-commerce platforms, and direct-to-consumer (D2C).
Okamura Corporation
Establishment:1946
Headquarter: Tokyo, Japan
Website: https://www.okamura.com
Okamura Corporation is mainly engaged in the manufacturing and sales of office furniture. It strategically designs the product as a catalyst to create a workplace that promotes a high level of creativity and intellectual involvement. Some of the products offered by the company includes desks and workstations, seating, partition screens, storage systems, filing supplies, and recreational areas furniture.
Steelcase Inc.
Establishment:1912
Headquarter: Michigan, United States
Website: https://www.steelcase.com
Steelcase Inc. is one of the largest producers of office furniture. It operates across the education, healthcare, and retail industries. The company aims to provide high performance work environment to its consumers through its diverse range of products, such as chairs, benches, ottomans, clinical chairs, bookcases, cabinets, shelves, height-adjustable desks, and sofas. Apart from this, Steelcase's comprehensive portfolio is anchored by two brands, namely Coalesse and Steelcase.
Stickley Furniture Inc.
Establishment:1912
Headquarter: Michigan, United States
Website: https://www.stickley.com
Stickley Furniture Inc. is a manufacturer and marketer of premium wood furniture, which is specially crafted for bedroom, living room, dining, and office. Some of their prominent products include leather recliners, upholstered beds, dressers, nightstands, bookcases, bar cabinets, media units, and chairs. In 2007, the company opened the Stickley museum, which features over a century of furniture-making excellence. It highlights the inspiration and craftsmanship that made the company evolve throughout the years. This strategy is helping the company to continuously expand its presence across the market.
About IMARC Group:?IMARC Group is a leading market research and consulting company that offers management strategy and market research worldwide. The company has done multiple projects on the furniture market and regional United States, which has enabled clients to set up and expand their businesses successfully. Some of the company's offerings include:?
Market Research?
Plant setup?
Plant Expansion?
Marketing and sales?
Procurement and Distribution?
Innovation and Product Development