Market Overview:
The GCC aluminium cans market is expected to exhibit moderate growth during 2021-2026. Keeping in mind the uncertainties of COVID-19, we are continuously tracking and evaluating the direct as well as the indirect influence of the pandemic on different end use industries. These insights are included in the report as a major market contributor.
Aluminium cans refer to single-use containers that are used for packaging a wide variety of liquids including oils, and chemicals. These cans are also easily transportable from one place to another with minimum spillage as they are lightweight, strong, affordable and consistent. They also provide an excellent barrier against air, light, and moisture and are an easy alternative to glass or plastic due to their easy handling and distribution.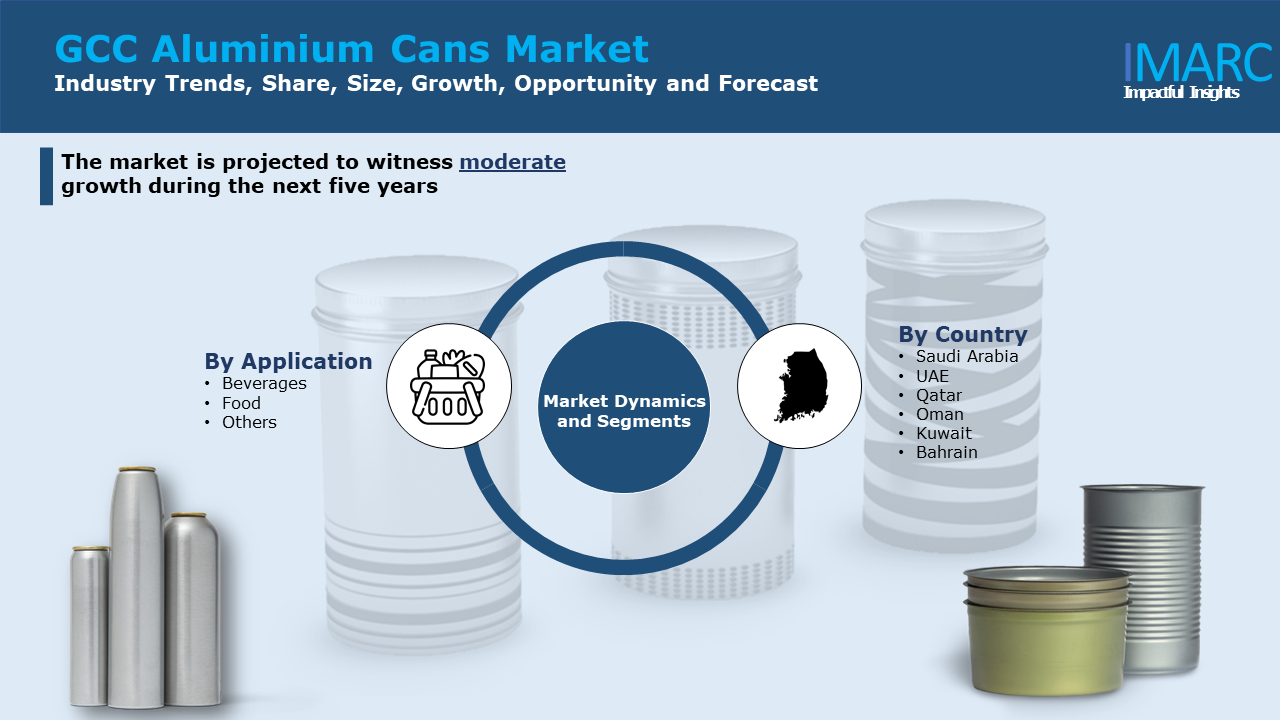 The GCC Aluminium cans market is primarily driven by the increasing consumption of canned food. Along with this, with the growing expatriate population, busy lifestyles and rapid urbanization, there has been a significant rise in the demand for ready-to-drink beverages. This is providing a positive impact on the market growth as Aluminium cans support the carbonation pressure required for packaged soda. Moreover, various innovations in product and packaging solutions by manufacturers are also playing a pivotal role in driving the market.
Key Market Segmentation:
IMARC Group provides an analysis of the key trends in each sub-segment of the GCC aluminium cans market, along with forecasts at the regional and country level from 2021-2026. Our report has categorized the market based on application.
Breakup by Application:
Breakup by Country:
Saudi Arabia
UAE
Qatar
Oman
Kuwait
Bahrain

Competitive Landscape:
The competitive landscape of the industry has also been examined along with the profiles of the key players.
Report Coverage:
Report Features
Details
Base Year of the Analysis
2020
Historical Period
2015-2020
Forecast Period
2021-2026
Units
Million Units
Segment Coverage
Application, Country
Countries Covered
Saudi Arabia, UAE, Qatar, Oman, Kuwait, Bahrain
Customization Scope
10% Free Customization
Report Price and Purchase Option
Single User License: US$ 2499
Five User License: US$ 2999
Corporate License: US$ 3499
Post-Sale Analyst Support
10-12 Weeks
Delivery Format
PDF and Excel through Email (We can also provide the editable version of the report in PPT/Word format on special request)

Key Questions Answered in This Report:
How has the GCC aluminium cans market performed so far and how will it perform in the coming years?
What has been the impact of COVID-19 on the GCC aluminium cans market?
What are the key regional markets?
What is the breakup of the market based on the application?
What are the various stages in the value chain of the industry?
What are the key driving factors and challenges in the industry?
What is the structure of the GCC aluminium cans market and who are the key players?
What is the degree of competition in the industry?