Market Overview:
The GCC breath analyzer market is currently witnessing robust growth. Breath analyzers are used for onsite detection of alcohol and drug content in the body. They are operated by passing the exhaled breath through sulfuric acid and dichromate solution, which changes color in proportion to the amount of alcohol present in the air sample. They are widely utilized by government officials in the GCC region.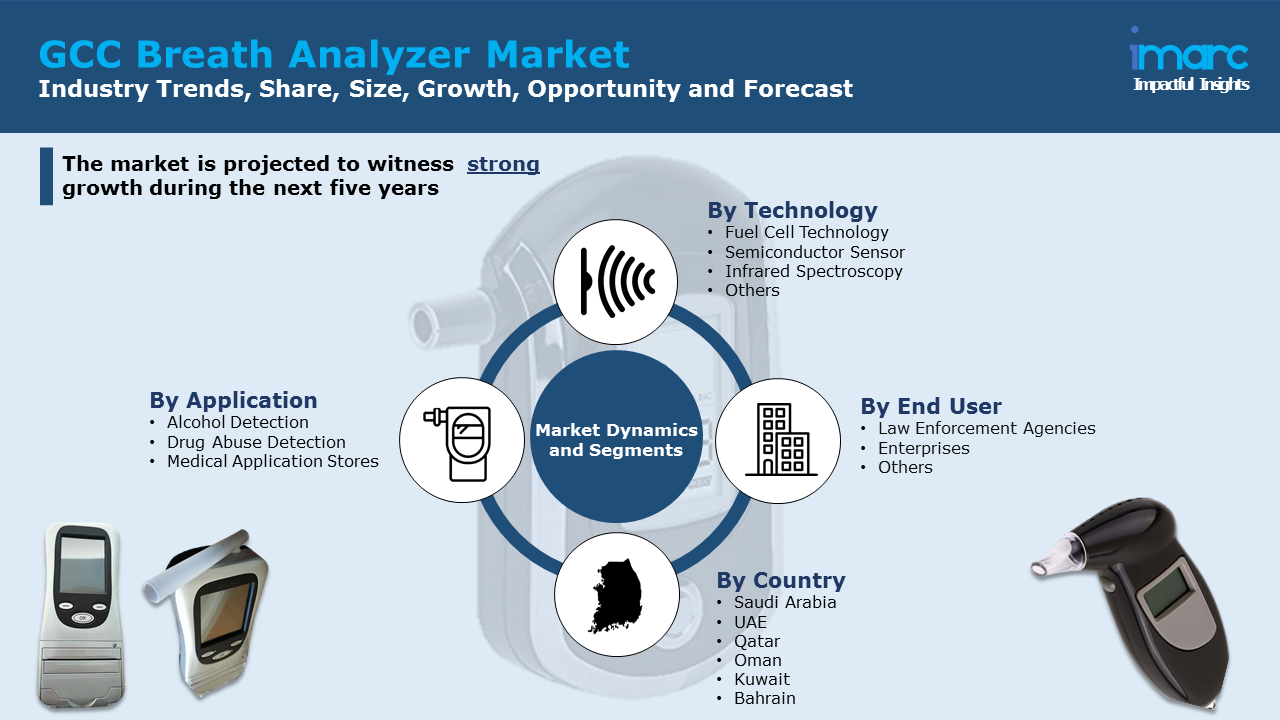 The market is primarily driven by stringent laws against alcohol and drug abuse in the GCC region. Moreover, the increasing penetration of advanced technologies, such as infrared spectroscopy and fuel cell, are bolstering the growth of the market in the region. Besides this, their benefits like quick testing sequence, immediate results, and flat surfaced alcohol sensor for excellent sensitivity are positively influencing the demand for breath analyzers in the region. Apart from this, manufacturers are focusing on developing portable devices that are lightweight and easy to use, which represents another growth-inducing factor. However, the sudden outbreak of coronavirus disease (COVID-19) pandemic and lockdowns imposed by governing authorities of numerous countries have hampered the market growth. The GCC breath analyzer market will experience growth once lockdown restrictions are relaxed. Looking forward, the market is expected to continue its robust growth during the forecast period (2021-2026).
Key Market Segmentation:
IMARC Group provides an analysis of the key trends in each sub-segment of the GCC breath analyzer market report, along with forecasts for growth at the region level from 2021-2026. Our report has categorized the market based on region, technology, application and end user.
Breakup by Technology:
Fuel Cell Technology
Semiconductor Sensor
Infrared Spectroscopy
Others

Breakup by Application:
Alcohol Detection
Drug Abuse Detection
Medical Application

Breakup by End User:
Law Enforcement Agencies
Enterprises
Others

Breakup by Country:
Saudi Arabia
UAE
Qatar
Oman
Kuwait
Bahrain

Competitive Landscape:
The competitive landscape of the industry has also been examined along with the profiles of the key players.
Key Questions Answered in This Report:
How has the GCC breath analyzer market performed so far and how will it perform in the coming years?
What has been the impact of COVID-19 on the GCC breath analyzer market?
What are the key regional markets?
What is the breakup of the market based on the technology?
What is the breakup of the market based on the application?
What is the breakup of the market based on the end user?
What are the various stages in the value chain of the industry?
What are the key driving factors and challenges in the industry?
What is the structure of the GCC breath analyzer market and who are the key players?
What is the degree of competition in the industry?