The GCC cable accessories market is currently witnessing moderate growth. Cable accessories are an integral part of the distribution network. Various accessories are utilized to install cables and wires, including terminators, power cable joints, connectors, cable lugs, end caps, and cable breakouts. They are made up of heat shrinkable materials; hence, they can withstand varying climatic conditions without the risk of long-term deterioration. Cable accessories are designed to control the electric stress at the cable screen ends and over the connector joints.
The GCC cable accessories market is primarily driven by expanding product offerings by key players. The increasing initiatives by the governments of GCC countries related to infrastructural development have led to the increased demand for cable accessories. They are also used in railways, construction, power generation plants, electrical transmission and shipping industries. Furthermore, the increasing need for reliable internet and large-scale ethernet adoption has created a significant demand for communication wires and cables. Moreover, the establishment of solar, wind, waste-to-energy and geothermal power plants are driving the sales of cable accessories as the countries in the region are increasingly diverting their focus toward renewable sources. On account of these factors, the market is expected to continue its moderate growth during the forecast period (2020-2025).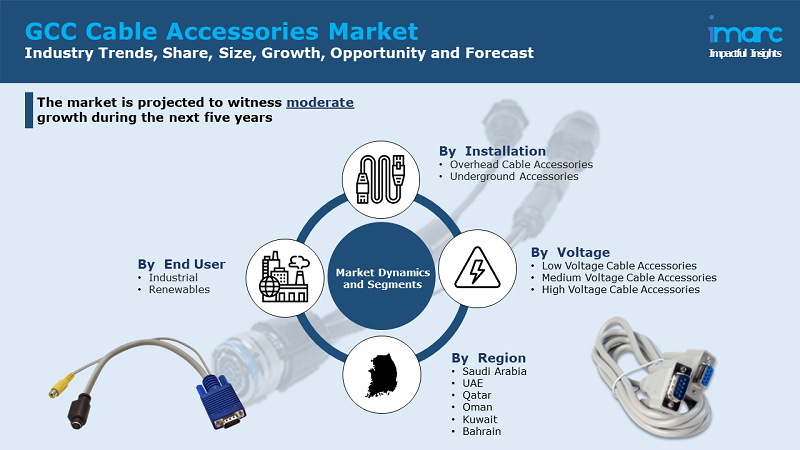 Key Market Segmentation:
IMARC Group provides an analysis of the key trends in each sub-segment of the GCC cable accessories market report, along with forecasts for growth at the region level from 2020-2025. Our report has categorized the market based on region, voltage, installation and end user.
Breakup by Voltage:
Low Voltage Cable Accessories
Medium Voltage Cable Accessories
High Voltage Cable Accessories

Breakup by Installation:
Overhead Cable Accessories
Underground Accessories

Breakup by End User:
Breakup by Country:
Saudi Arabia
UAE
Qatar
Oman
Kuwait
Bahrain

Competitive Landscape:
The competitive landscape of the industry has also been examined along with the profiles of the key players.
Key Questions Answered in This Report:
How has the GCC cable accessories market performed so far and how will it perform in the coming years?
What has been the impact of COVID-19 on the GCC cable accessories market?
What are the key regional markets?
What is the breakup of the market based on the voltage?
What is the breakup of the market based on the installation?
What is the breakup of the market based on the end user?
What are the various stages in the value chain of the industry?
What are the key driving factors and challenges in the industry?
What is the structure of the GCC cable accessories market and who are the key players?
What is the degree of competition in the industry?