Market Overview:
The Indian ghee market reached a value of INR 2,374 Billion in 2020. Ghee, which is widely used in Indian cooking, is the pure butter fat left over after the milk solids and water are removed from butter. It is very fragrant with a rich nutty taste and represents the second largest consumed dairy product in India, after liquid milk. The healthy growth of the market can be attributed to numerous forces. Population growth, rising disposable incomes, easy availability, and growing awareness about the benefits of ghee are some of the factors that are broadening the growth aspects of the market. Looking forward, IMARC Group expects the ghee market in India to exhibit strong growth during 2021-2026.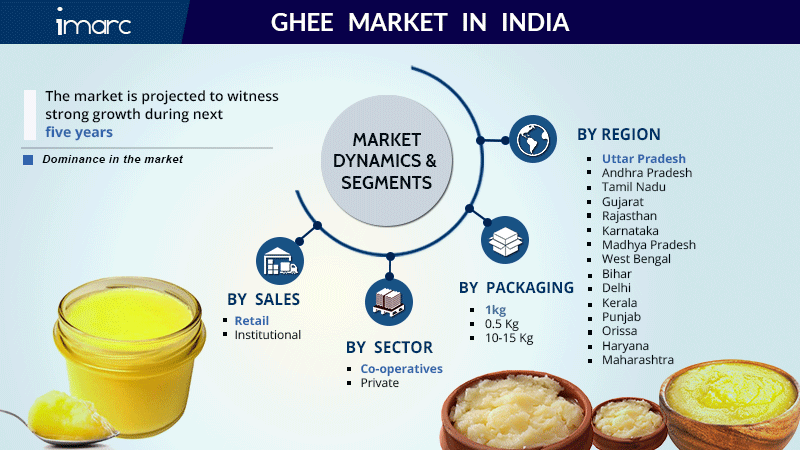 Key Market Segmentation:
IMARC Group provides an analysis of the key trends in each sub-segment of the Indian ghee market report, along with forecasts for growth at the country level from 2021-2026. Our report has categorized the market based on type and region.
Breakup by Type:

The report has examined the Indian Ghee Market in 15 major states:
Maharashtra
Uttar Pradesh
Andhra Pradesh
Tamil Nadu
Gujarat
Rajasthan
Karnataka
Madhya Pradesh
West Bengal
Bihar
Delhi
Kerala
Punjab
Orissa
Haryana

For each of the states, the report provides a thorough analysis of the current and historical value and volume trends, market share of key players and market forecast. Currently, Uttar Pradesh represents the region with highest market share in the country. It is followed by Rajasthan and Madhya Pradesh.
Competitive Landscape:
Ghee Makret in India is highly fragmented with the presence of several small and large manufacturers competing in terms of price and quality. Some of the leading players in the market are:
GCMMF
RCDF
Mother Dairy
Patanjali
SMC Foods

The study gives an in-depth analysis of the ghee market landscape in India, covering the current, historical and future trends for ghee production along with its prices. The report also offers SWOT, Value Chain and Porter's Five Forces analysis of the Indian ghee market along with breakup by segment, region and an analysis of the competitive landscape. The study is based on both desk research and multiple waves of qualitative primary research. This report is a must-read for entrepreneurs, investors, researchers, consultants, business strategists, and all those who have any kind of stake or are planning to foray into the Indian ghee market in any manner.