Table butter is obtained by churning fresh cream or milk which separates butterfat from the buttermilk. It remains solid under refrigeration, but melts into a liquid consistency at high temperature, and softens to a spreadable consistency at room temperature. Nowadays, manufacturers are also introducing new varieties, flavours and packaging options of table butter in order to capture a wider consumer-base. The latest report by IMARC Group titled, "Table Butter Market-Global Industry Trends, Share, Size, Growth, Opportunity and Forecast 2017-2022", finds that the global table butter market reached a volume of more than 4 Million Tons in 2016, growing at a CAGR of 3% during 2009-2016.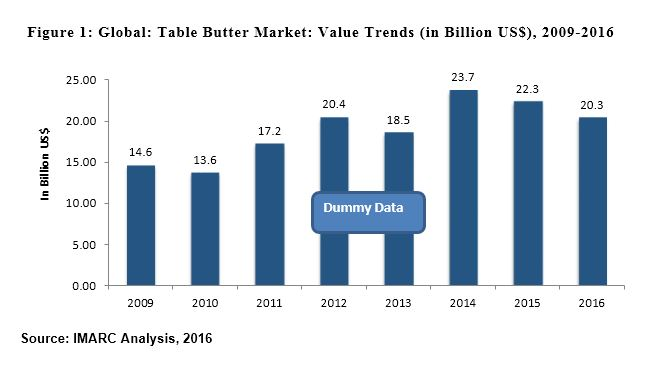 Highlights of the global table butter market:
The market is driven by expanding applications in the food industry and the health benefits offered by table butter.
The European Union represents the largest market for table butter.
The market is expected to reach a volume of more than 5 Million Tons by 2022.

Table butter has been used as an essential ingredient in different cultures since ages. It is extensively used in the preparation of a variety of dishes such as bakery products, sauces, fried foods; as a spread and topping on toasted products, a condiment on cooked products, etc. The applications of table butter are expanding with advancement and innovations in the food industry which are adding to the market growth. Apart from this, the presence of various nutritional elements such as manganese, chromium, iodine, zinc, copper, selenium and vitamins A, D, E and K are also contributing to its augmented demand. A controlled intake of table butter reduces the chances of heart diseases, improves vision, boosts metabolism, prevents arthritis and cancer, and strengthens the immune system. Some of the other factors such as increasing population, rising disposable incomes and improving standards of living are further expected to drive the growth of the market in the coming years with its volume reaching more than 5 Million Tons by 2022.

The market has been segmented on a regional basis which includes the European Union, North America, Eastern Europe, Oceania, Latin America and Asia. Amongst these, the European Union represents the largest market for table butter, accounting for the majority of the share. An evaluation of the competitive landscape provides details of the key players operating in the market. Some of the major players are Lactalis Group, Nestle, Dairy Farmers of America, Arla Foods, Land O'Lakes and Amul.

The study, which has been done by one of the world's leading research and advisory firms, covers all the requisite aspects of the table butter industry. This ranges from macro overview of the market to micro details of the industry performance, manufacturing requirements, project cost, project funding, project economics, expected returns on investment, profit margins, etc. This report is a must-read for entrepreneurs, investors, researchers, consultants, business strategists, and all those who are planning to foray into the table butter industry in any manner.

The report by IMARC Group has examined the global table butter market on the basis of:

Key Regions:
European Union
North America
Eastern Europe
Oceania
Latin America
Asia

Key Player:
Lactalis Group
Nestle
Dairy Farmers of America
Arla Foods
Land O'Lakes
Amul

About Us
IMARC Group is a leading market research company that offers management strategy and market research worldwide. We partner with clients in all sectors and regions to identify their highest-value opportunities, address their most critical challenges, and transform their businesses.
IMARC's information products include major market, scientific, economic and technological developments for business leaders in pharmaceutical, industrial, and high technology organizations. Market forecasts and industry analysis for biotechnology, advanced materials, pharmaceuticals, food and beverage, travel and tourism, nanotechnology and novel processing methods are at the top of the company's expertise.

Contact Us

IMARC Group
Email: sales@imarcgroup.com
Website: https://www.imarcgroup.com
Tel No: +1-631-791-1145
Follow us on twitter : @imarcglobal