The India air cooler market has been experiencing healthy growth in recent years. Air coolers, also known as swamp coolers, operate through the process of evaporation of water to cool the surrounding environment. In India, there are around 250-260 million households out of which a significant percentage of the population uses fans and air coolers during summers. Depending upon the cooling requirement and availability of space, air coolers such as personal coolers, desert coolers, wall-mounted coolers, etc, are available in the retail market. Air cooling systems are widely accepted since they are cost effective and consume less power to function. This represents a key driver for a country like India which has limited power supply. Air coolers are suitable for regions with dry climates and can be used in all residential and commercial spaces with fresh air flow and ample ventilation.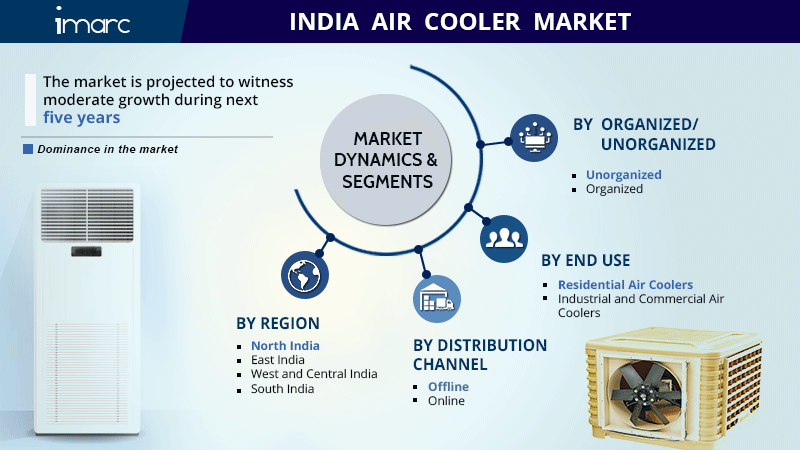 The primary factor driving the air cooler market in India is its climate. The climate in most parts in India is characterized by long hot summers which begin in April and can continue till the beginning of October with temperatures often reaching up to 45° C. Moreover, the price, running cost and maintenance cost of air coolers is significantly lower than that of air conditioners. This provides an inexpensive and environment-friendly cooling alternative to the conventional air conditioning systems. Other factors driving the air cooler market in India include increasing penetration of electricity, technological advancements, rising incomes, improving distribution network, etc.
IMARC Group's latest report provides a deep insight into the Indian air cooler market covering all its essential aspects. This ranges from macro overview of the market to micro details of the industry performance, recent trends, key market drivers and challenges, SWOT analysis, Porter's five forces analysis, value chain analysis, etc. This report is a must-read for entrepreneurs, investors, researchers, consultants, business strategists, and all those who have any kind of stake or are planning to foray into the Indian air cooler market in any manner.
Report Scope:
Historical, Current and Future Market Trends

Market Breakup by Organized / Unorganized:
Market Breakup by End Use:

Residential Air Coolers

Room Air Coolers
Desert Air Coolers
Tower Air Coolers

Industrial and Commercial Air Coolers:

Mobile Commercial Air Coolers
Centralized Air Coolers


Market Breakup by Tank Capacity:
Market Breakup by Distribution Channel:
Market Breakup by Region

North India
East India
West and Central India
South India


Value Chain Analysis

Key Drivers and Challenges

Porters Five Forces Analysis

PESTEL Analysis

Government Regulations

Competitive Landscape

Competitive Structure
Key Player Profiles

Key Questions Answered in This Report:
How has the Indian air coolers market performed so far and how will it perform in the coming years?
What are the key regional markets in the Indian air coolers industry?
What has been the impact of COVID-19 on the Indian air cooler market?
What is the breakup of the market based on the end-use?
What is the breakup of the market based on the tank capacity?
What is the breakup of the market based on the distribution channel?
What are the various stages in the value chain of the Indian air coolers industry?
What are the key driving factors and challenges in the Indian air coolers industry?
What is the structure of the Indian air coolers industry and who are the key players?
What is the degree of competition in the Indian air coolers industry?
What are the profit margins in the Indian air coolers industry?

Report Coverage:
Base Year Considered: 2018
Historical Data Coverage: 2013-2018
Market Forecast: 2019-2024
Currency: US$
Geography Covered: India
Segments Covered: Organized/Unorganized, End Use, Tank Capacity, Distribution Channel and Region

Report Customization: Although IMARC has tried to cover everything in the air coolers market landscape, we believe that every stakeholder may have their own specific needs. In view of this, we provide up to 20 man hours of free customization for each report.