Market Overview:
The India aluminium cans market is currently witnessing moderate growth. Aluminium cans are metal containers used in the food and beverages industry for packing products like oil, chemicals, and other liquids. They offer an extended shelf-life and are easier to transport and store than glass and plastic containers. They can also withstand pressures of up to 90 pounds per square inch and support the carbonation pressure required to package soda.
The India aluminium cans market is primarily driven by the rising consumption of energy and sports drinks. In addition to this, the innovations in design and technology of beverage packaging by key players are providing a significant impact on the industry. The leading players are also focusing on enhancing the aesthetics of their product offerings by employing various food-grade lacquers on the surface of the cans. Another factor bolstering the market growth is the rising demand for environment-friendly packaging products such as aluminium cans. They can be easily recycled and save more energy as compared to manufacturing new cans. The growing focus on sustainability targets by various brands has further boosted the sales of lightweight aluminium cans. On account of these factors, the market is expected to continue its moderate growth during the forecast period (2021-2026).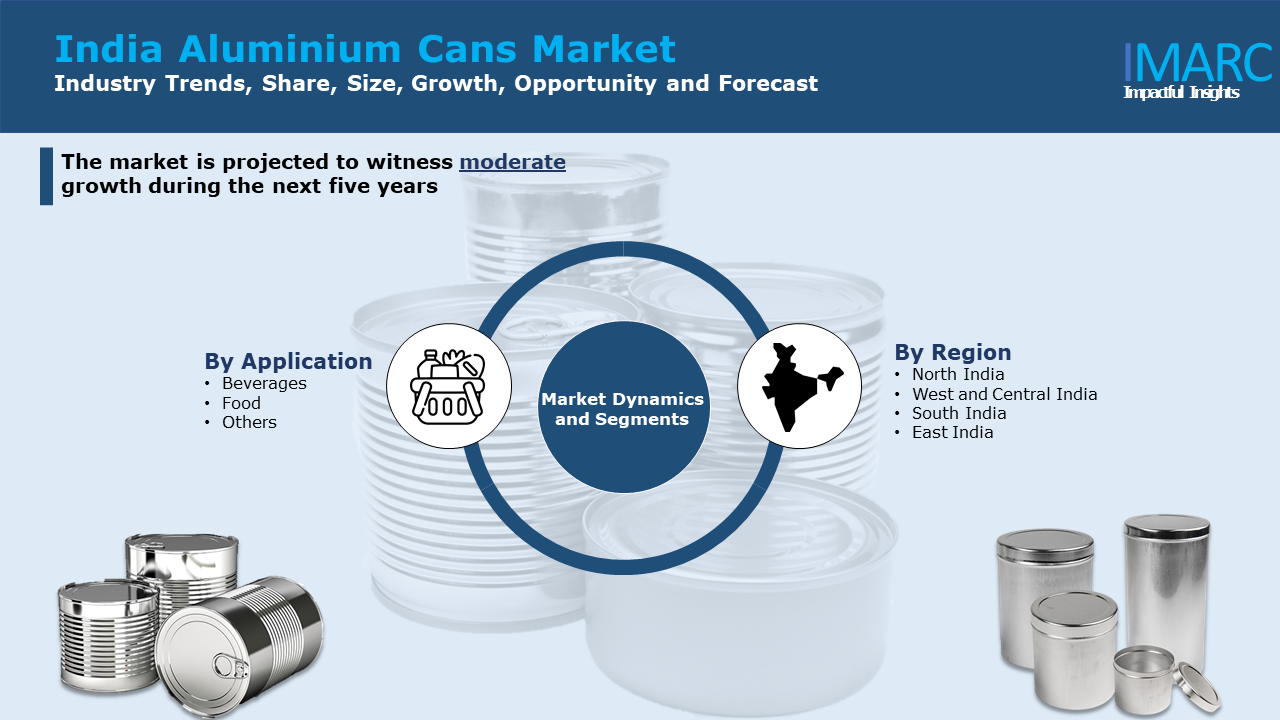 Key Market Segmentation:
IMARC Group provides an analysis of the key trends in each sub-segment of the India aluminium cans market report, along with forecasts for growth at the region level from 2021-2026. Our report has categorized the market based on region and application.
Breakup by Application:
Breakup by Region:
North India
West and Central India
South India
East India

Competitive Landscape:
The competitive landscape of the industry has also been examined along with the profiles of the key players.
Key Questions Answered in This Report:
How has the India aluminium cans market performed so far and how will it perform in the coming years?
What has been the impact of COVID-19 on the India aluminium cans market?
What are the key regional markets?
What is the breakup of the market based on the application?
What are the various stages in the value chain of the industry?
What are the key driving factors and challenges in the industry?
What is the structure of the India aluminium cans market and who are the key players?
What is the degree of competition in the industry?