The Indian tyre market reached a volume of 179 Million Units in 2020. There is currently a considerable rise in the sales of automobiles across India on account of inflating income levels, rising population and increasing middle-class population. This, coupled with the growing passenger and public transport vehicle fleets, is offering lucrative growth opportunities to key players operating in the tire market. Moreover, these players are launching automobile tyres with enhanced sidewall puncture resistance and high-design cushion to minimize road shocks. They are also introducing ecological tyres and expanding their manufacturing capabilities to retain a competitive edge in the market. Other factors like rising environmental awareness among individuals and increasing initiatives undertaken by the Government of India to minimize pollution levels is anticipated to escalate the demand for electric vehicles (EVs) in the country and impel the market growth. On account of these factors, IMARC group expects the market to reach a volume of 211 Million Units by 2026.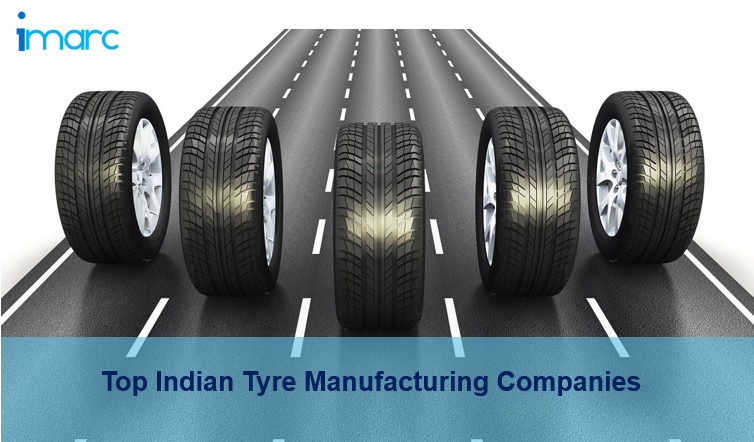 Request Free Sample Report: https://www.imarcgroup.com/india-tyre-market/requestsample
Top India Tyre (Tire) Manufacturing Companies and Brands:
MRF Limited
Establishment: 1946
Headquarters: Chennai
Website: https://www.mrftyres.com/
MRF Limited is one of the leading companies to manufacture and distribute tyres and tubes for aircraft, motorcycles, cycles, and automobiles. The company puts every tyre through a special acid test on the race and rally tracks. Besides this, it is also engaged in the production of conveyor belts, paint and coats, and hoses. The manufacturing facilities of MRF Limited are located at Trichy Tiruvottiyur and Arakonam in Tamil Nadu Kottayam in Kerala Ponda in Goa Medak in Andhra Pradesh and Union Territory of Pondicherry.
CEAT Limited
Establishment: 1958
Headquarters: India
Website: https://www.ceat.com/
CEAT Ltd. is the flagship company of RPG Group that manufactures vehicle tyres. The company mainly deals in cross-ply and radial tyres for automobiles, construction equipment, scooters, and motorcycles. These tyres are sold worldwide, but the Middle East is the leading supplier of sales generation. They are built to meet diverse specifications, such as ride comfort and low noise for European regulatory requirements.
JK Tyre & Industries Ltd.
Establishment: 1951
Headquarters: India
Website: https://www.jktyre.com/
JK Tyre & Industries Ltd. is one of the foremost tyre manufacturing companies in India. The firm is also amongst the top 25 tyre manufacturers around the world. It has been focusing on driving innovation and excellence in the industry by introducing ground-breaking technologies and products that cater to diverse business segments in the automobile sector. Its unwavering commitment to innovation is visible through the concerted efforts at its state-of-the-art global research and technology center. It recently launched the first-ever 'Smart Tyre' technology and introduced Tyre Pressure Monitoring Systems (TPMS) by providing TREEL Sensors that monitor the vital statistics of tyres, which include pressure and temperature. It has 12 globally benchmarked 'sustainable' manufacturing facilities that produce around 35 million tyres annually.
Apollo Tyres Ltd.
Establishment: 1972
Headquarters: Gurugram, India
Website: https://www.apollotyres.com/
Apollo Tyres Ltd. is one of the key tyre manufacturing companies engaged in the production of automobile tyres and tubes. The company also manufactures automobile flaps and retreading materials. It has four manufacturing facilities in India, which include two in the rubber-producing state of Kerala and the other two in Gujarat and Tamil Nadu.
About IMARC Group: IMARC Group is a leading market research and consulting company that offers management strategy and market research worldwide. The company has done multiple projects on the Indian tyre market and regional Japan, Pakistan, North America, GCC, Asia Pacific, Europe, Saudi Arabia, United States, which has enabled the clients to set up and expand their businesses successfully. Some of the company's offerings include:
Market Research
Plant setup
Plant Expansion
Marketing and sales
Procurement and Distribution
Innovation and Product Development