The global jewellery market exhibited moderate growth during 2015-2020. As per the analysis by the IMARC Group, the jewellery market is currently experiencing evolving fashion trends due to which manufacturers are offering ornaments made of plated alloys and crystal stones via online platforms. They are also focusing on digital marketing strategies to convey information about their products, generate brand awareness, and build long-term relationships. In line with this, several international retail groups are acquiring local brands to reach a broader consumer base, which is providing a competitive edge to the market. Key players are also integrating advanced technologies, such as augmented reality (AR), to introduce the concept of 'virtual boutique'. This enables a virtual tour of the in-store experience online through an interactive tour of the real boutique and allows customers to try on jewellery using the same technology on their smartphones.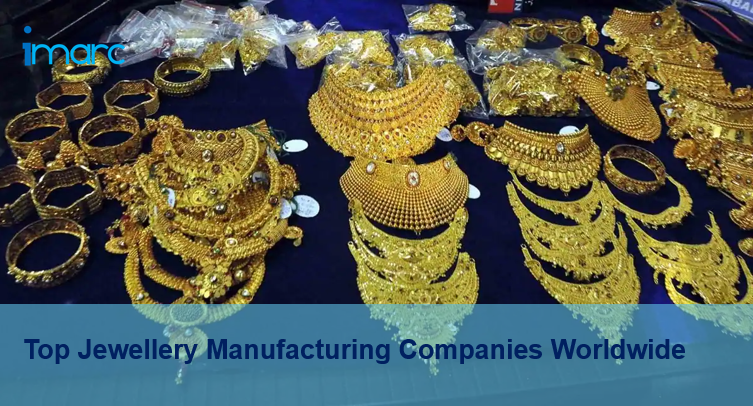 Request Free Sample Report: https://www.imarcgroup.com/jewellery-market/requestsample
Additionally, the rising need for ethical transparency around jewellery production is prompting manufacturers to adopt nanotechnology, which is making the industry and the supply chain more traceable. The increasing environmental consciousness is also facilitating the demand for sustainable jewellery due to which many contemporary jewellers are using recycled materials, such as used gold and regenerated nylon, technology, and dental wastes, that are sourced through e-mining processes. Other trends in the jewellery market includes personalization, gender fluid pieces, and subscription services that allow customers to loan expensive jewellery for a fraction of the purchasing cost. Looking forward, the market is expected to grow at a CAGR of around 5% during 2015-2020.
List of Top Manufacturing Companies and Brands in Jewellery Industry:
Buccellati (Compagnie Financière Richemont SA)
Establishment: 1988
Headquarter: Geneva, Switzerland
Website: https://www.richemont.com
Campagnie Financière Richemont SA manufactures, markets, and sells luxury goods. Its business activities are segregated into three operating units, namely jewellery maisons, specialist watchmakers, and other businesses. The company's product portfolio includes jewellery, watches, leather goods, clothing, and accessories. It markets these products under several brands, such as A. Lange & Sohne, Cartier, Officine Panerai, Piagat, Roger Dubuis, Peter Millar, and Buccellati. The organization is renowned for its subtle, yet highly distinctive style that references Venetian lace, damask, Etruscan patterns, vegetation, and animals. Richemont offers its merchandise through retail and wholesale distribution channels that are spread across Europe, Asia, Middle East, Africa, and the United States.
Chow Tai Fook Jewellery Company Limited
Establishment: 1929
Headquarter: Hong Kong
Website: https://www.chowtaifook.com
Chow Tai Fook Jewellery Company is a privately owned conglomerate that manufactures and sells jewellery products. Its principal products are mass luxury and high-end luxury products, including gem-set jewellery, platinum karat gold products, gold goods, and watches. The company primarily operates through the jewellery business in the Mainland China, watch business in the Mainland China, and Business in Hong Kong segments. Apart from this, Chow Tai Fook Jewellery is also engaged in the property development, hotel, department store, transportation, energy, telecommunications, port, casino and other businesses.
Graff
Establishment: 1960
Headquarter: London, United Kingdom
Website: https://www.graff.com
Graff is a vertically integrated company that is involved in the designing, manufacturing, and retail distribution of jewellery and watches. The company represents the rarest jewellery by employing expertized gemologists to unearth finest gemstones. They also strive to tell remarkable stories through extraordinary stone selection and production. The majority of Graff diamonds are laser engraved with unique Gemological Institute of America (GIA) tracking numbers, thereby enabling consumers to trace the origin of the stone. Apart from this, the organization has corporate offices in London, New York, Geneva, and Tokyo, whereas its 50 stores are located worldwide, including Las Vegas, Melbourne, Monte Carlo, Beijing, and Taipei.
Harry Winston Inc (The Swatch Group)
Establishment: 1932
Headquarter: New York, United States
Website: https://www.swatchgroup.com
Harry Winston, Inc., a subsidiary of Swiss Swatch Group since its acquisition in 2013, is a luxury jeweler and producer of Swiss timepieces. The company is renowned for its most exclusive and prestigious fine jewellery, unparalleled craftsmanship, commitment to superior gemstone quality, expertise in gemstone settings and design, and groundbreaking timepiece innovations. The jeweler is also famous for donating the world's most famous gemstone, the 'Hope' diamond to the Smithsonian Institute. Apart from this, Harry Winston operates 44 retail salons and distribution channels worldwide.
H.Stern
Establishment: 1945
Headquarter: Brazil
Website: https://www.hstern.net
H.Stern is a luxury jewellery brand that specializes in precious stones and design focused jewellery. Its product portfolio includes bracelets, earrings, necklaces, and rings. In the product development area, the company draws on the arts to create its collection, which expresses music, dance, fashion, and architecture. It observes and interprets behavioral, style, and fashion trends to launch collections inspired by several celebrities, such as Carlinhos Brown, Anna Bella Geiger, and Diane Von Furstenberg. One of their latest collection of rings is inspired by the Disney film 'Alice in Wonderland'. Other than this, H.Stern supplies jewellery to other retailers, sells them on cruise ships, and has over 150 stores located worldwide, including Latin America, the United States, Europe, and Asia.
LVMH Moët Hennessy Louis Vuitton
Establishment: 1987
Headquarter: Paris, France
Website: https://www.lvmh.com
LVMH is a French holding multinational corporation and distributor of luxury goods that was formed through the merger of fashion house Louis Vuitton in 1987. It is active in six business sectors, namely fashion, wines and spirits, perfumes and cosmetics, watches and jewellery, selective distribution, and other activities. LVMH independently manages and controls various subsidiaries under its umbrella, such as Christian Dior, Marc Jacobs, Givenchy, Loro Piana, Stella McCarthy, Fenty, Bulgari, and Kenzo.
Pandora A/S
Establishment: 1982
Headquarter: Copenhagen, Denmark
Website: https://pandoragroup.com
Pandora designs, manufactures, and markets hand-finished, contemporary jewellery that are produced from high-quality materials at affordable prices. Its product offering is divided into five categories, such as charms and bracelets, earrings, rings, watches, necklaces and pendants, and others. Pandora is known for its customizable pieces made of gold, silver, leather, and textile. The company's products are sold worldwide through concept stores, point of sale, shop-in-shops, travel retail stores, and third-party boutiques. Besides this, Pandora is present in more than 70 countries, including the Middle East, Europe, Africa, North America, and Asia Pacific.
Rajesh Exports Ltd.
Establishment: 1995
Headquarter: Bengaluru, India
Website: http://www.rajeshindia.com
Rajesh Exports Limited (REL) is a gold retailer company that refines, designs, and sells gold and jewellery. The company also has a gold manufacturing facility and are fully integrated across the entire value chain of gold from mining till its retail brand. REL's objective is to establish itself firmly as a leader in the global jewellery market by producing and marketing the finest quality jewellery to consumers around the world. Furthermore, the organization has established finest research and development (R&D) facilities in Switzerland and India for developing new designs and adopting the evolving innovative manufacturing processes. REL also exports its products worldwide to banks, wholesale jewellery traders, and retail jewellery traders and has set up several showrooms under the brand name of SHUBH Jewelers.
Signet Jewelers
Establishment: 1949
Headquarter: Hamilton, Bermuda
Website: https://www.signetjewelers.com
Signet Jewelers is one of the world's largest retailers of diamond jewellery. They manage their business in two geographical operational divisions, namely the United States and the United Kingdom. The company believes in the ideology of 'Inspiring Love' by fostering equality and inclusiveness. They are trying to achieve this through innovating new ways to bring unique jewellery, practicing sustainability, and adopting novel marketing strategies, which, in turn, is encouraging consumers to self-express. Moreover, Signet operates 2,800 stores across the United States, Canada, and the United Kingdom under the of Kay Jewelers, Zales, Jared, H. Samuel, Ernest Jones, Peoples Jewellers, Banter by Piercing Pagoda, Rocksbox and JamesAllen.com brand names.
Swarovski
Establishment: 1895
Headquarter: Wattens, Austria
Website: https://www.swarovski.com
Swarovski, known for its swan logo, designs, manufactures, and markets high-quality crystals, genuine gemstones, created stones, jewellery, and accessories. The company is segregated into three major industry areas, including the Swarovski crystal business, Swarovski Optik, and Tyrolit. Swarovski delivers a diverse portfolio of unmatched quality, craftsmanship, and creativity. Its creative process focuses on trend curation, design, and meaningful branding, along with the adoption of novel techniques that is making Swarovski the leader of crystal cut creations. The organization also explores different methods, such as beading, pave, bezel, and prong settings, that enhance the sparkle and creates exquisite refinement.
About IMARC Group: IMARC Group is a leading market research and consulting company that offers management strategy and market research worldwide. The company has done multiple projects on the jewellery market, which has enabled clients to set up and expand their businesses successfully. Some of the company's offerings include:
Market Research
Plant setup
Plant Expansion
Marketing and sales
Procurement and Distribution
Innovation and Product Development