The global medium-density fibreboard market reached a value of US$ 25.12 Billion in 2020. Medium-density fibreboard (MDF) is an engineered wood product composed of wood fibres that are mixed along with resin and wax and compressed into flat panels under heat and pressure. It is denser than plywood and does not expand or contract in humid or moist weather. It also offers superior quality and is usually available at a significantly lower price point when compared to other wood products. Owing to these advantages, MDF is widely utilized in a variety of residential and commercial projects, which include flooring, furniture, cabinetry, ceiling molding and industrial packaging.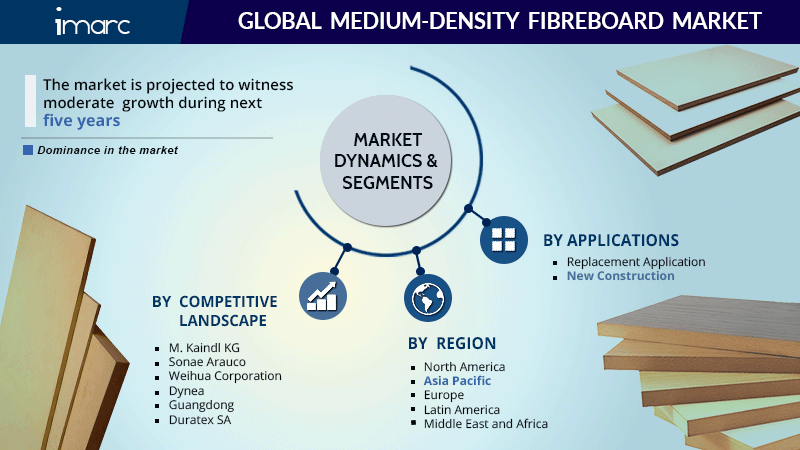 The burgeoning building and construction industry, especially in developing countries, represents one of the primary factors contributing to the growth of the global MDF market. Moreover, MDF is an environment-friendly wood product, which is manufactured using recycled wood, and aids in saving trees and protecting the environment. As a result, governments in various countries are encouraging individuals to adopt wood panels, which is further impelling the MDF market growth. Furthermore, on account of rapid urbanization, rising global population and inflating income levels, there is a rise in the number of commercial and residential spaces. This, in turn, is anticipated to boost the overall sales of MDF in the coming years. Looking forward, IMARC Group expects the global medium-density fibreboard market to exhibit moderate growth during the next five years.
Breakup by Residential and Commercial Applications:
As MDF is light in weight and serves as an effective alternative to solid wood or plywood, it finds numerous applications in the residential sector, wherein it is used in embossing and furniture panels.
Breakup by New Construction and Replacement Applications:
New Construction
Replacement Application
New construction accounts for the majority of the total market share. This can be attributed to the superior working properties and easy availability of MDF in a wide range of sheet thicknesses and sizes.
Regional Insights:
Asia Pacific
Europe
North America
Latin America
Middle East and Africa
On the geographical front, Asia Pacific represents the largest market owing to the burgeoning construction industry and the rising demand for better housing and furniture in the region. This can also be attributed to the population growth, and inflating income levels and improving standards of living of the individuals.
Competitive Landscape:
The competitive landscape of the market has been analyzed in the report, along with the detailed profiles of the major players operating in the industry. Some of these players are:
M. Kaindl KG
Sonae Arauco SA
Guangdong Weihua Corporation
Dynea Guangdong Co. Ltd.

Key Questions Answered in This Report