The North America advertising market reached a value of around US$ 236 Billion in 2019. Advertising is a means of communication involved in promoting services, products or ideas to potential buyers. It is generally aired or printed on mediums such as television, radio, print, digital and cinema. Advertising helps in launching new products, expanding the market, increasing sales and notifying consumers. As a result, it is widely used by brands from different industries to build an image and attain a higher market share.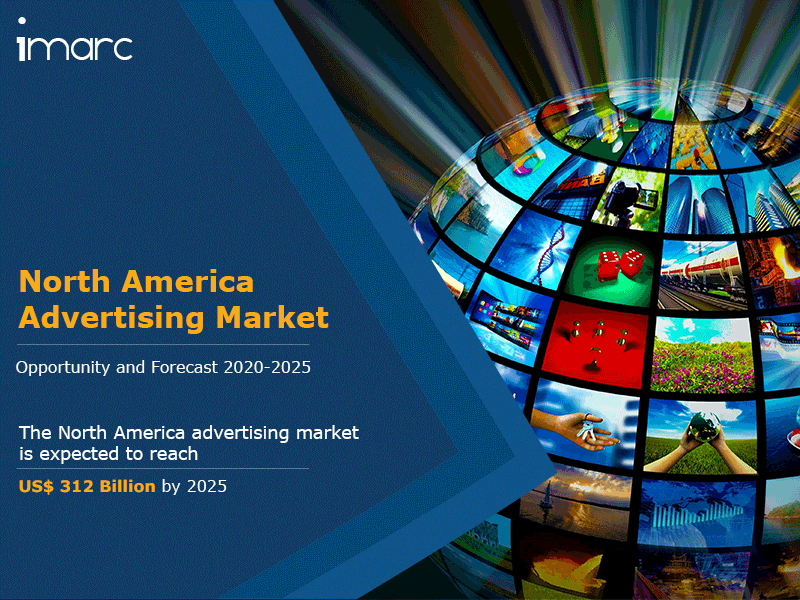 At present, North America represents one of the largest markets for advertising owing to the investments in online advertising. This, in turn, is influencing the demand for online advertising services, such as Google Ads, which aid in hosting advertisements on websites and YouTube videos. Apart from this, brands nowadays are also investing in advertisements on social media platforms like Instagram and Facebook owing to the presence of a huge population. Looking forward, IMARC Group expects the market to reach a value of US$ 312 Billion by 2025, registering a CAGR of 4.8% during 2020-2025.

Report Scope:
North America Advertising Market

Key Regions Analysed
Analysis for Each Country

Market by Segment

Television Advertising
Print Advertising
Radio Advertising
Outdoor Advertising
Internet Advertising
Mobile Advertising
Cinema Advertising


Value Chain Analysis
Key Drivers and Challenges
Porters Five Forces Analysis
Competitive Landscape

Competitive Structure
Key Player Profiles

Key Questions Answered in This Report:
How has the North America advertising market performed so far and how will it perform in the coming years?
What are the key regions in the North America advertising market?
What is the breakup of the North America advertising market on the basis of segment?
What are the various stages in the value chain of the North America advertising industry?
What are the key driving factors and challenges in the North America advertising industry?
What is the structure of the North America advertising industry and who are the key players?
What is the degree of competition in the North America advertising industry?

Report Coverage:
Base Year Considered: 2019
Historical Data Coverage: 2014-2019
Market Forecast: 2020-2025
Currency: US$
Geography Covered: North America, United States and Canada
Segments Covered: Segment

Report Customization: Although IMARC has tried to cover everything in the North America advertising market landscape, we believe that every stakeholder may have their own specific needs. In view of this, we provide up to 20-man hours of free customization for each report.