The North America flavors and fragrances market reached a value of US$ 4.5 Billion in 2019. Flavor and fragrance substances are strong-smelling organic compounds with characteristic, usually a pleasant odor. They are derived either from natural sources or synthesized chemically. They are used to enhance the taste and texture of foods and beverages and help in improving the appeal of other consumer goods. The flavors and fragrances products include fragrances and flavor blends, aroma chemicals, and essential oils. Flavors are majorly used in the foods, beverages, dairy and confectionery industries, whereas, fragrances are used for providing a pleasant smell in personal care, home care, and cosmetic products.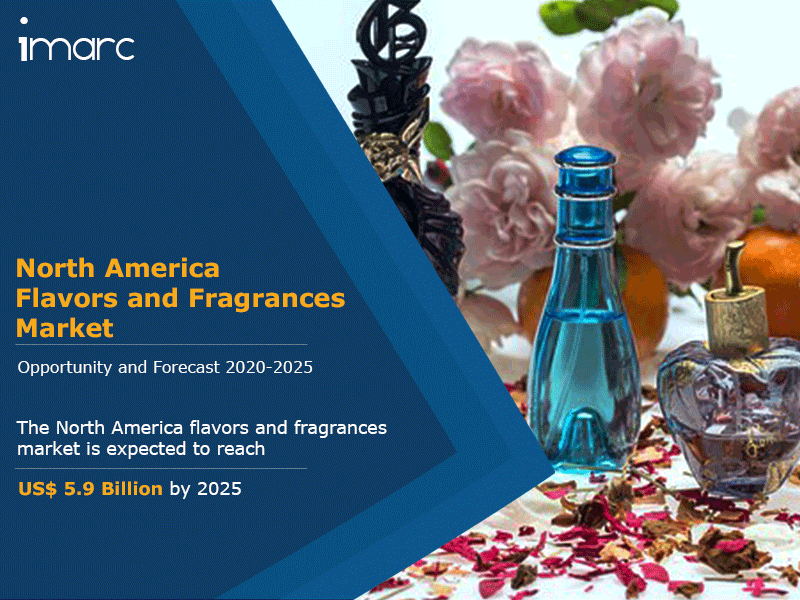 The North America flavors and fragrances market is currently being driven by several factors. The rising demand for flavoring ingredients in bakery and confectionary items, ice-creams and other desserts, smoothies, and energy drinks are strengthening the growth of the flavors and fragrances market in the food and beverage industry of the region. Furthermore, the addition of flavors at optimal concentrations improve the taste and texture of food. Various types of chemical aromatics, essential oils, and botanical extracts are used to enhance the flavor of food and beverages, thereby making them more appealing to consumers. Apart from this, the escalating demand for flavors and fragrances in pharmaceuticals, dietary supplements, nutraceuticals, and tobacco is also impelling the market growth. In addition to this, the introduction of new flavors and fragrances along with their natural or organic counterparts are also stimulating the growth of the industry in the region. Looking forward, IMARC Group expects the market to reach a value of US$ 5.9 Billion by 2025, registering a CAGR of 4.6% during 2020-2025.
Report Scope:
North America Flavors and Fragrances Market

Key Regions Analysed
Market by Segment
Flavors Market

Market by Product Type

Natural-Identical
Artificial
Natural


Market by Form
Market by Application

Beverages
Dairy and Frozen Desserts
Bakery and Confectionery Products
Savories and Snacks
Others


Fragrances Market

Market by Product Type

Cosmetics and Toiletries
Fine Fragrances
Household Cleaners and Air Fresheners
Soap and Detergents
Others


Market by Ingredients

Value Chain Analysis
Key Drivers and Challenges
Porters Five Forces Analysis
Competitive Landscape

Competitive Structure
Key Player Profiles

Report Coverage:
Base Year Considered: 2019
Historical Data Coverage: 2014-2019
Market Forecast: 2020-2025
Currency: US$
Geography Covered: North America, United States and Canada
Segments Covered:

Flavors: Product Type, Form and Application.
Fragrances: Product Type and Ingredients.

Report Customization: Although IMARC has tried to cover everything in the North America flavors and fragrances market landscape, we believe that every stakeholder may have their own specific needs. In view of this, we provide up to 20-man hours of free customization for each report.