The North America hydroxypropyl methylcellulose (HPMC) market reached a value of US$ 502.6 Million in 2019. Hydroxypropyl methylcellulose (C12H20O10) refers to a tasteless, odorless and light-colored powder obtained from synthetic modification of alkali cellulose. It is produced by treating cotton linter or wood pulp with sodium hydroxide solution. HPMC has low ash content, excellent film-forming ability, salt tolerance, water-retaining property, thickening capacity and optimum resistance to enzymes. Owing to this, it finds applications in the construction, pharmaceutical, cosmetics, ceramics and food industries.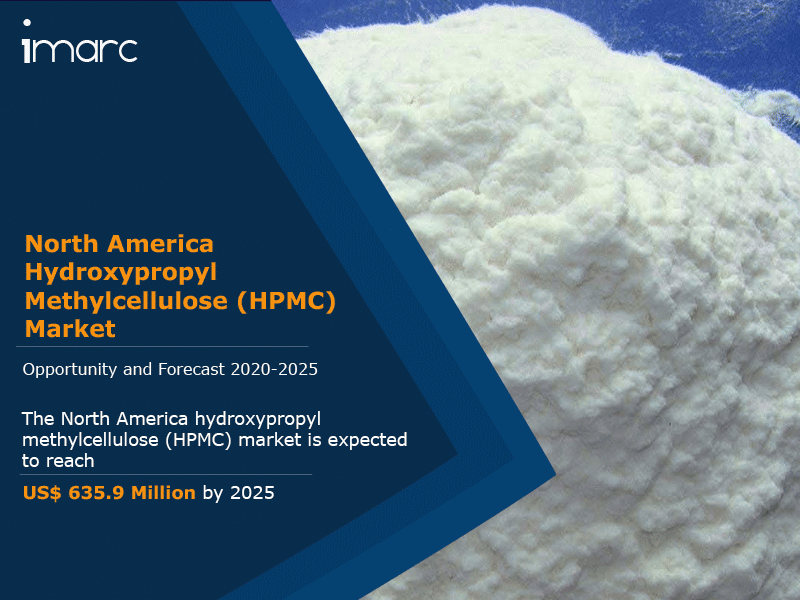 The HPMC market in North America is being driven by the increasing demand from the construction industry for producing mortar, coatings, spray paints, cement tiles and latex putty. Furthermore, HPMC is also used for making adhesives and for mitigating the presence of water, which is positively affecting the market growth. In addition to this, HPMC plays a major role in the food industry by stabilizing, thickening, emulsifying and suspending frozen foods, frozen fruits, sauces and ketchups. Moreover, increasing demand for HPMC in the pharmaceutical industry for controlled released matrix, tablet binder, rheology control, coating and direct compression, is spurring the market growth. Looking forward, IMARC Group, expects the market to reach levels worth US$ 635.9 Million by 2025 exhibiting a CAGR of 4% during 2020-2025.

Report Scope:
North America HPMC Market

Key Regions Analysed

United States
Canada
Mexico


Analysis for Each Country

Market by End-Use

Construction
Pharmaceuticals (Including Cosmetics)
Food Industry
Others

Value Chain Analysis
Key Drivers and Challenges
Porters Five Forces Analysis
PESTEL Analysis
Government Regulations
Competitive Landscape

Competitive Structure
Key Player Profiles

Key Questions Answered in This Report:
How has the North America HPMC market performed so far and how will it perform in the coming years?
What are the key regions in the North America HPMC market?
What is the breakup of the North America HPMC market on the basis of end-use?
What are the various stages in the value chain of the North America HPMC industry?
What are the key driving factors and challenges in the North America HPMC industry?
What is the structure of the North America HPMC industry and who are the key players?
What is the degree of competition in the North America HPMC industry?
What are the profit margins in the North America HPMC industry?

Report Coverage:
Base Year Considered: 2019
Historical Data Coverage: 2014-2019
Market Forecast: 2020-2025
Currency: US$
Geography Covered: North America, United States, Canada and Mexico
Segments Covered: End-Use

Report Customization: Although IMARC has tried to cover everything in the North America HPMC market landscape, we believe that every stakeholder may have their own specific needs. In view of this, we provide up to 20-man hours of free customization for each report.