The North America magnet market reached a volume of 109,545 Metric Tons in 2019. Magnets stand for objects exhibiting magnetic field which arises from the motion of electric charges. They are generally made up of iron, nickel, cobalt, aluminum and some alloys of rare-earth metals. Magnets have a long shelf-life along with being cost-effective and environment friendly. Owing to this, they are widely used in the electronics, automotive, mining, construction, hardware and healthcare industries.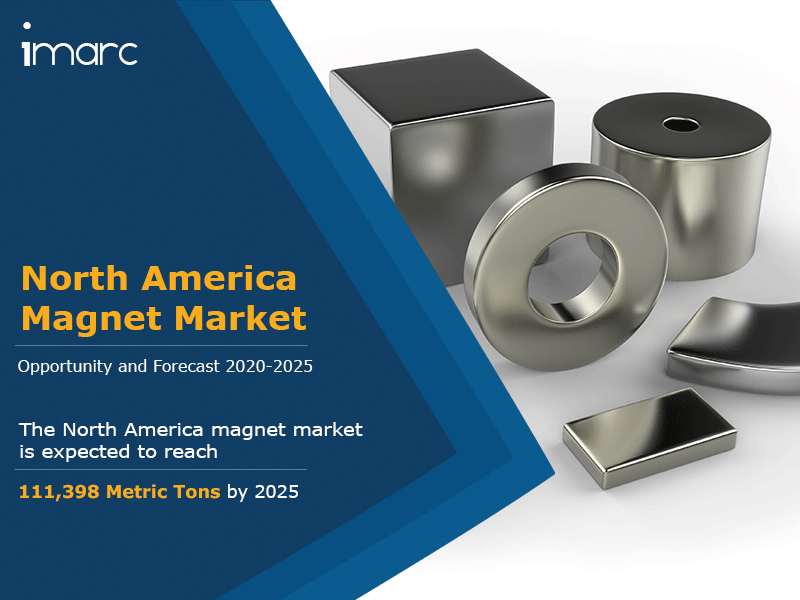 North America magnet market is currently being driven by several factors. Magnets currently find wide applications in several industries in the region. They are increasingly being employed in various medical systems and applications like MRIs, X-ray and magnetic therapies. Apart from this, the well-developed construction industry utilizes distinctive types of magnetic conveyors, plates, separators, pulleys and grates. Rising environmental concerns have also led to the replacement of fuel-driven vehicles with hybrid electric vehicles fitted with electric magnets, thus stimulating the market growth. The strong growth of wind energy and the consumer electronics sector is also catalyzing the demand of magnets in the region. Looking forward, IMARC Group expects the market to reach a volume of 111,398 Metric Tons by 2025.

Report Scope:
North America Magnet Market

Key Regions Analyzed

United States
Canada
Mexico


Analysis for Each Country
Market by Magnet Type

Ferrite
Neodymium Iron Boron (NdFeB)
Aluminium Nickel Cobalt (AlNiCo)
Samarium Cobalt (SmCo)


Market by Application

Computer HDD (Hard Disk Drives), CD, DVD
Hybrid Electric Vehicles
Electric Bicycles
Heating, Ventilating and Air Conditioners (HVAC)
Wind Turbines
Others


Value Chain Analysis
Key Drivers and Challenges
Porters Five Forces Analysis
PESTEL Analysis
Government Regulations
Competitive Landscape

Competitive Structure
Key Player Profiles

Key Questions Answered in This Report:
How has the North America magnet market performed so far and how will it perform in the coming years?
What are the key regions in the North America magnet market?
What is the breakup of the North America magnet market on the basis of magnet type?
What is the breakup of the North America magnet market on the basis of application?
What are the various stages in the value chain of the North America magnet industry?
What are the key driving factors and challenges in the North America magnet industry?
What is the structure of the North America magnet industry and who are the key players?
What is the degree of competition in the North America magnet industry?
What are the profit margins in the North America magnet industry?

Report Coverage:
Base Year Considered: 2019
Historical Data Coverage: 2014-2019
Market Forecast: 2020-2025
Currency: US$
Geography Covered: North America, United States, Canada and Mexico
Segments Covered: Magnet Type and Application

IMARC Group's latest report provides a deep insight into the North America magnet market covering all its essential aspects. This ranges from macro overview of the market to micro details of the industry performance, recent trends, key market drivers and challenges, SWOT analysis, Porter's five forces analysis, value chain analysis, etc. This report is a must-read for industry players, investors, researchers, consultants, business strategists, and all those who have any kind of stake or are planning to foray into the North America magnet market in any manner.
Report Customization: Although IMARC has tried to cover everything in the North America magnet market landscape, we believe that every stakeholder may have their own specific needs. In view of this, we provide up to 20-man hours of free customization for each report