The North America N-Hexane market reached a volume of 476,124 Tons in 2018. N-hexane, also known as hexane and hexyl hydride, is an aliphatic hydrocarbon that is obtained from crude oil and natural gas. Besides this, it can also be synthesized from sugar cane wastes by utilizing special catalysts. N-Hexane is colorless in its purest form with a slightly unpleasant odor. Moreover, it is easily flammable in case of fire and high temperature, and oxidant with combustion generating irritant smoke. Owing to this, n-hexane is commonly used in the form of an industrial chemical and laboratory reagent.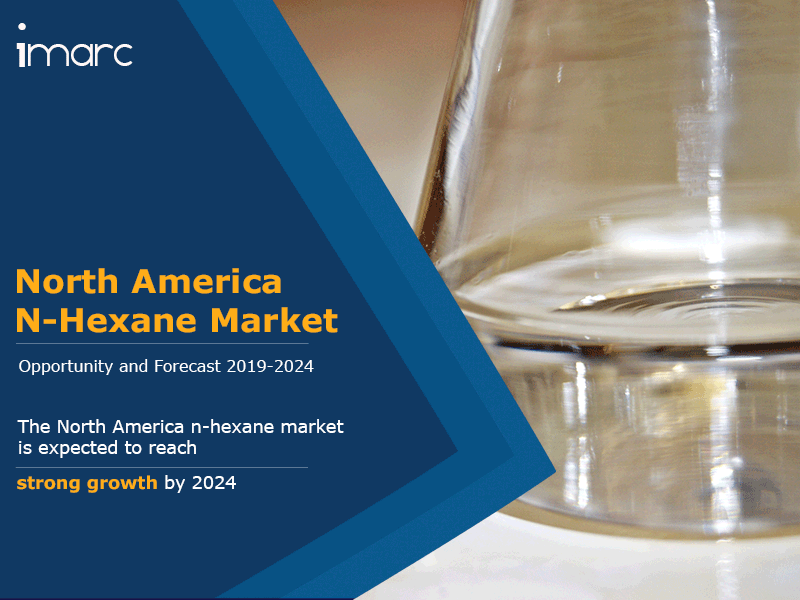 The North America n-hexane market is currently being driven by several factors. The rising demand for n-hexane as a primary solvent for industrial and chemical products, such as leather, paint, polypropylene and rubber, is propelling the market growth in the region. It is also used as a solvent for extracting various seed oils such as soybean oil, cottonseed oil, flax oil, peanut and safflower oil. Apart from this, the pharmaceutical industry represents one of the largest consumers of n-hexane in the region as it is used for shaping pills and tablets, along with its use in various synthesis and separation processes for producing several pharma products. Looking forward, the market is expected to exhibit a stable growth during 2019-2024.
IMARC Group's latest report provides a deep insight into the North America N-Hexane market covering all its essential aspects. This ranges from macro overview of the market to micro details of the industry performance, recent trends, key market drivers and challenges, SWOT analysis, Porter's five forces analysis, value chain analysis, etc. This report is a must-read for entrepreneurs, investors, researchers, consultants, business strategists, and all those who have any kind of stake or are planning to foray into the North America N-Hexane market in any manner.

Report Scope:
North America N-Hexane Market

Key Regions Analysed
Analysis for Each Country

Market by Application

Edible Oil Extraction
Healthcare
Industrial Solvent
Adhesive Formulation
Others


Value Chain Analysis
Key Drivers and Challenges
Porters Five Forces Analysis
Competitive Landscape

Competitive Structure
Key Player Profiles

Key Questions Answered in This Report:
How has the North America N-hexane market performed so far and how will it perform in the coming years?
What are the key regions in the North America N-hexane market?
What is the breakup of the North America N-hexane market on the basis of application?
What are the various stages in the value chain of the North America N-hexane industry?
What are the key driving factors and challenges in the North America N-hexane industry?
What is the structure of the North America N-hexane industry and who are the key players?
What is the degree of competition in the North America N-hexane industry?

Report Coverage:
Base Year Considered: 2018
Historical Data Coverage: 2013-2018
Market Forecast: 2019-2024
Geography Covered: North America, United States and Canada
Segments Covered: Application.

Report Customization: Although IMARC has tried to cover everything in the North America N-hexane market landscape, we believe that every stakeholder may have their own specific needs. In view of this, we provide up to 20-man hours of free customization for each report.