The global pepperoni market grew a CAGR of around 6% during the historical period of 2014-2019. Pepperoni is an American variant of dry salami, that is usually made by mixing beef and pork along with different seasonings. It is characteristically fine-chopped, spherical, bright red, air-dried, soft, and lightly smoky in texture. Pepperoni is widely consumed as a popular pizza topping along with other uses in food items, such as sandwiches, pasta, burgers, spaghetti, etc.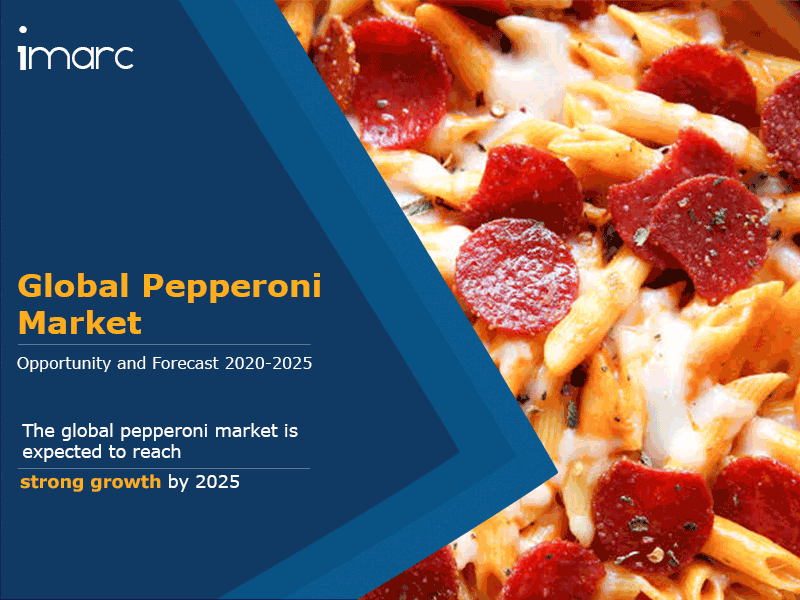 In recent times, rapid globalization and urbanization across both developed and emerging economies has stimulated the increasing consumption of pizzas across these regions. This has propelled the demand for pepperoni as one of the most preferred pizza toppings. Moreover, the rising modernization of the meat processing industry, coupled with the increasing preferences of clean-labeled processed meat products have further catalyzed the market demand. Additionally, the growing consumer demand for ready-to-eat food items along with the wide availability of pepperoni products across hypermarkets, supermarkets, and convenient stores, etc., has also fueled the product demand globally. Furthermore, the rapid introduction of organic pepperoni variants will continue to spur the growth of the global pepperoni market in the coming years Looking forward, IMARC Group expects the market to continue its growth during the next five years.
Breakup by Product Type:
Pork Pepperoni
Beef Pepperoni

Breakup by Distribution Channel:
Supermarkets and Hypermarkets
Convenience Stores
Specialist Retailers
Online Retailers
Others

Breakup by Region:
North America
Asia Pacific
Europe
Middle East and Africa
Latin America

Competitive Landscape:
The competitive landscape of the industry has also been examined with some of the key players being Battistoni Italian Specialty Meats, Bridgford Foods Corporation, Danish Crown Toppings (Dk Foods), Hormel Foods Corporation, Johnsonville, Liguria Foods, Pallas Foods, Smithfield Foods, etc
Key Questions Answered in This Report:
How has the global pepperoni market performed so far and how will it perform in the coming years?
What are the key regional markets?
What has been the impact of COVID-19 on global pepperoni market?
What is the breakup of the market based on the product type?
What is the breakup of the market based on the distribution channel?
What are the various stages in the value chain of the industry?
What are the key driving factors and challenges in the market?
What is the structure of the global pepperoni market and who are the key players?
What is the degree of competition in the market?