Market Overview:
The global PET packaging market exhibited moderate growth during 2015-2020. Looking forward, IMARC Group expects the market to grow at a CAGR of around 5% during 2021-2026. Keeping in mind the uncertainties of COVID-19, we are continuously tracking and evaluating the direct as well as the indirect influence of the pandemic on different end use industries. These insights are included in the report as a major market contributor.
Polyethylene terephthalate, or PET, is a form of polyester that can be shaped into different packaging containers, such as boxes and bottles, depending upon the user's requirement. PET packaging is manufactured by melting pellets of PET resin and extruding the molten liquid into desirable shapes. It is thermally stable, unbreakable, durable and resistant to microorganisms, which prevents the packaged content from degradation and ensures quality maintenance. It also exhibits high dimensional stability and resistance to moisture, solvents and alcohols, along with moderate resistance to diluted alkalis and halogenated hydrocarbons. Owing to these attributes, it is widely used in the packaging of products ranging from food and beverages, personal care products to pharmaceuticals.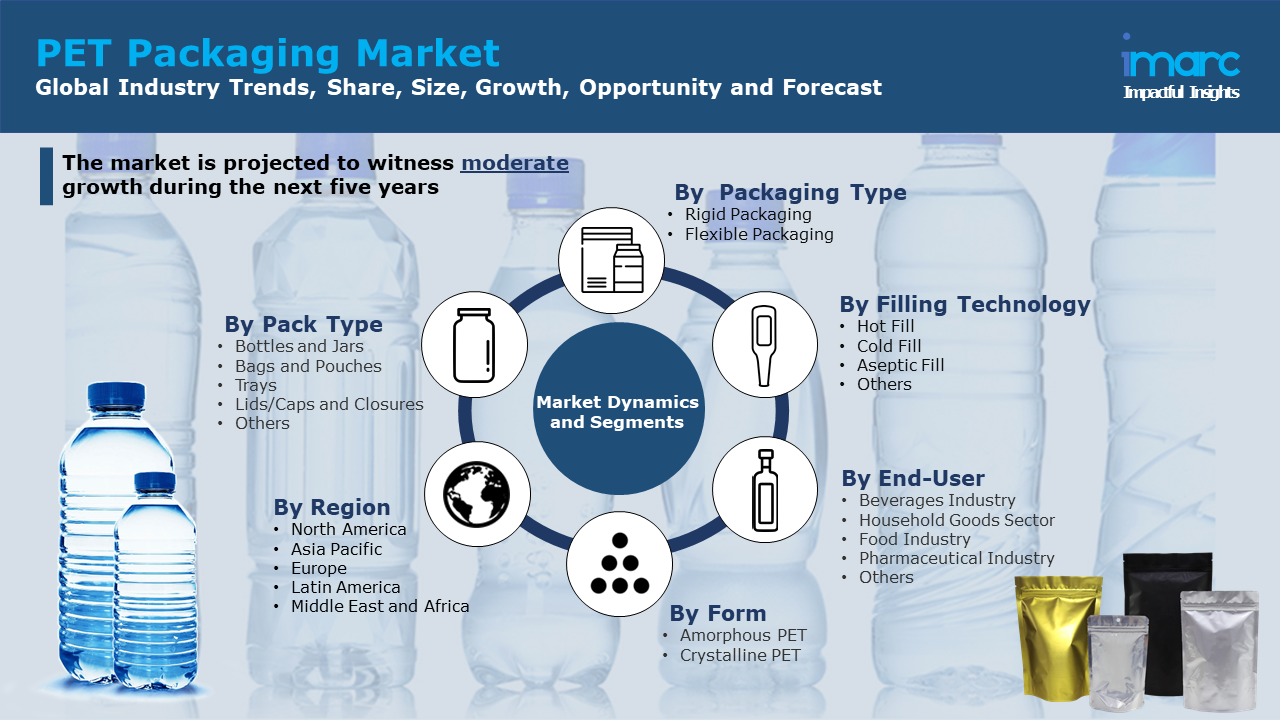 Global PET Packaging Market Trends and Drivers:
Growing consumer awareness for eco-friendly products, coupled with western influence, is the key factor driving the growth of the PET packaging market. Furthermore, there is an increase in the demand for customized and different-sized packs for brand differentiation. For instance, manufacturers use specific shapes, colors and designs for the packaging material as a branding tool for the product. Additionally, increasing preference for carbonated beverages and various ready-to-eat food products amongst the young population across the globe also acts as a growth-inducing factor.
Some of the manufacturers are also rapidly adopting PET packaging owing to its low production and shipping costs, minimal solid waste and storage requirements, and ease of transportation. Increasing research and development (R&D) to produce reusable and recyclable packaging solutions, along with the technological advancements such as plasma-based coating that makes bottles more impervious, are also contributing to the global PET packaging market growth.
Key Market Segmentation:
IMARC Group provides an analysis of the key trends in each sub-segment of the global PET packaging market, along with forecasts at the global and regional level from 2021-2026. Our report has categorized the market based on packaging type, form, pack type, filling technology and end user.
Breakup by Packaging Type:
Rigid Packaging
Flexible Packaging

Breakup by Form:
Amorphous PET
Crystalline PET

Breakup by Pack Type:
Bottles and Jars
Bags and Pouches
Trays
Lids/Caps and Closures
Others

Breakup by Filling Technology:
Hot Fill
Cold Fill
Aseptic Fill
Others

Breakup by End-User:
Beverages Industry

Bottled Water
Carbonated Soft Drinks
Milk and Dairy Products
Juices
Beer
Others

Household Goods Sector
Food Industry
Pharmaceutical Industry
Others

Breakup by Region:
Asia Pacific
North America
Europe
Middle East and Africa
Latin America

Competitive Landscape:
The global PET packaging indusrty is highly fragmented with the presence of several small and large players competing in terms of price and quality. Some of the major players in the market are:
Amcor
Berry
Graham Packaging Company
Dunmore Corporation
Huhtamaki
Resilux
Dupont
Silgan Holdings
GTX Hanex Plastic
Comar
Sonoco
Nampak
CCL Industries
Smurfit Kappa Group
Rexam

Report Coverage:
Report Features
Details
Base Year of the Analysis
2020
Historical Period
2015-2020
Forecast Period
2021-2026
Units
US$ Billion
Segment Coverage
Packaging Type, Form, Pack Type, Filling Technology, End User, Region
Region Covered
Asia Pacific, Europe, North America, Latin America, Middle East and Africa
Companies Covered
Graham Packaging Company, Dunmore Corporation, Huhtamaki, Resilux, Dupont, Silgan Holdings, GTX Hanex Plastic, Comar, Sonoco, Nampak, CCL Industries, Smurfit Kappa Group and Rexam
Customization Scope
10% Free Customization
Report Price and Purchase Option
Single User License: US$ 2299
Five User License: US$ 3399
Corporate License: US$ 4499
Post-Sale Analyst Support
10-12 Weeks
Delivery Format
PDF and Excel through Email (We can also provide the editable version of the report in PPT/Word format on special request)