Market Overview 2021-2026:
The global power inverter market reached a value of US$ 68.7 Billion in 2020. Looking forward, the market value is projected to reach US$ 95.8 Billion by 2026, growing at a CAGR of 5.8% during 2021-2026. Keeping in mind the uncertainties of COVID-19, we are continuously tracking and evaluating the direct as well as the indirect influence of the pandemic on different end-use sectors. These insights are included in the report as a major market contributor.
Power inverters are electric devices that transform direct current (DC) into alternating current (AC). Unlike generators, power inverters offer low operating cost and eliminate the inconvenience of using change-over switches. Owing to these characteristics, they are used to operate several tools, household appliances and other electrical products. Power inverters are available in a variety of sizes, types and power ranges as per the varied consumer needs and preferences. Some of these variants include modified sine wave power inverters, plug-in grid tie power inverters, and solar power inverters.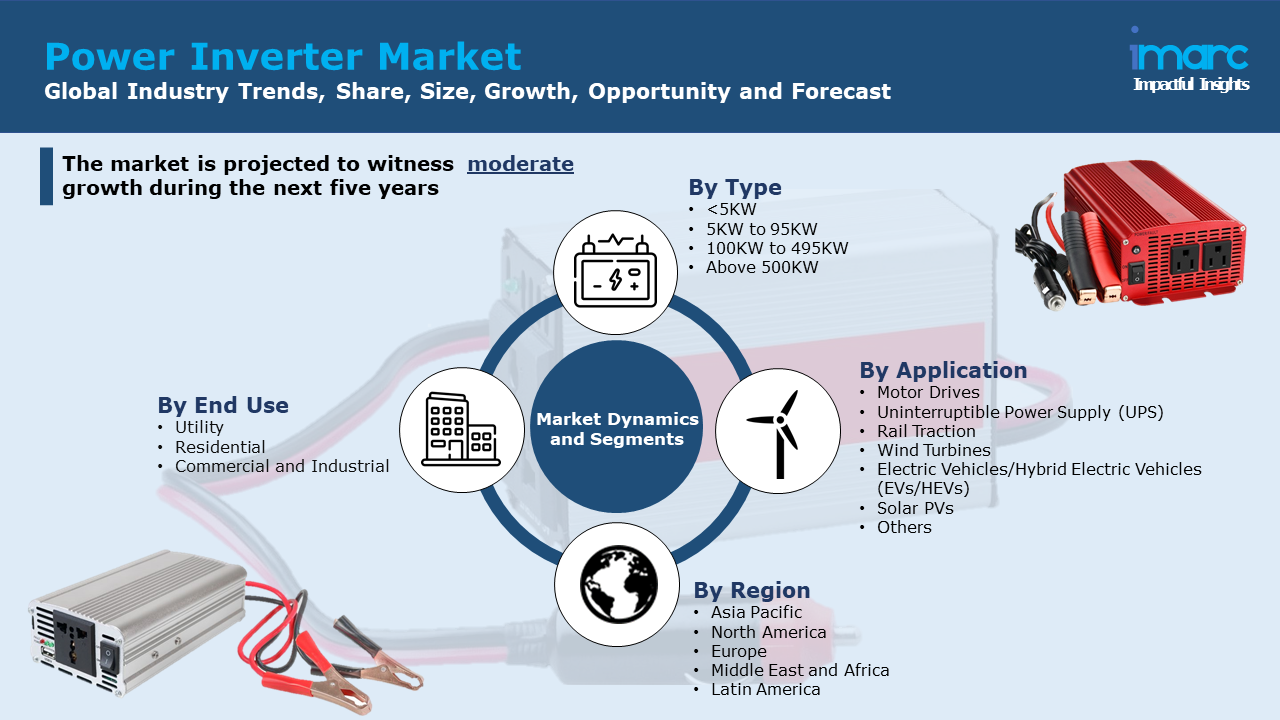 Global Power Inverter Market Trends and Drivers:
The rapid economic growth and rising disposable incomes of individuals across the globe have enabled them to spend more on products like power inverters, which enhance their lifestyles and provide comfort. Along with this, with rapid urbanization and growing electrification rates, most people nowadays rely on electronic appliances and gadgets. This has resulted in a significant need for an uninterrupted power supply, in turn increasing the sales of power inverters as an alternate backup solution in case of outages. Besides this, they are noise-free and environment-friendly in nature as they do not emit carbon emissions and eliminate the need for gasoline, which is required for running generators. Moreover, manufacturers are investing in research and development (R&D) activities to introduce new technologies and enhance their operational characteristics. For instance, they have recently invented a new class of power inverters, which use a single switching transistor and generate infinite levels of voltage, as compared to inverters that use multiple transistors and provide only one voltage level.
Key Market Segmentation:
IMARC Group provides an analysis of the key trends in each sub-segment of the global power inverter market report, along with forecasts for growth at the global and regional level from 2021-2026. Our report has categorized the market based on type, application and end-use sector.
Breakup by Type:
<5KW
5KW to 95KW
100KW to 495KW
Above 500KW

On the basis of the type, power inverters with a rating between 100KW-495KW represent the most preferred segment.
Breakup by Application:
Motor Drives
Uninterruptible Power Supply (UPS)
Rail Traction
Wind Turbines
Electric Vehicles/Hybrid Electric Vehicles (EVs/HEVs)
Solar PVs
Others

Amongst these, motor drives are the largest application segment.
Breakup by End Use Sector:
Utility
Residential
Commercial and Industrial

Based on the end use sector, the report finds that the utility sector dominates the market. There are many ongoing development projects undertaken by various nations, which require a continuous flow of electricity. Owing to this, there is a rising demand for power inverters in this sector.
Regional Insights:
Asia Pacific
North America
Europe
Middle East and Africa
Latin America

On the geographical front, Asia Pacific enjoys the leading position in the market. This can be attributed to the rising establishment of international companies in the region, on account of low manufacturing costs and cheap labor.
Competitive Landscape:
The market is fragmented in nature with the presence of various large and small manufacturers present in the industry. Some of the leading players are:
SMA Solar Technology AG
Omron Corporation
ABB Ltd
Tabuchi Electric Co., Ltd
Toshiba Mitsubishi-Electric Industrial Systems Corporation (TMEIC)
Advanced Energy Industries, Inc.
Enphase Energy, Inc.
Schneider Electric SE
Huawei Technologies Co., Ltd.
SolarEdge Technologies Inc.

Report Coverage:
Report Features
Details
Base Year of the Analysis
2020
Historical Period
2015-2020
Forecast Period
2021-2026
Units
US$ Billion, MW
Segment Coverage
Type, Application, End-Use Sector, Region
Region Covered
Asia Pacific, Europe, North America, Latin America, Middle East and Africa
Companies Covered
SMA Solar Technology AG, Omron Corporation, ABB Ltd, Tabuchi Electric Co., Ltd, Toshiba Mitsubishi-Electric Industrial Systems Corporation (TMEIC), Advanced Energy Industries, Inc., Enphase Energy, Inc., Schneider Electric SE, Huawei Technologies Co., Ltd. and SolarEdge Technologies Inc.
Customization Scope
10% Free Customization
Report Price and Purchase Option
Single User License: US$ 2299
Five User License: US$ 3399
Corporate License: US$ 4499
Post-Sale Analyst Support
10-12 Weeks
Delivery Format
PDF and Excel through Email (We can also provide the editable version of the report in PPT/Word format on special request)