The global pressure sensitive tapes market is currently witnessing a healthy growth. Pressure sensitive tapes refer to a continuous strip of flexible materials, like cloth, paper, plastic, or metal, that have an adhesive on one or both sides. The adhesive can be a combination of both natural and synthetic materials, such as resins, acrylic, polyacrylates and rubber, that provide uniform thickness. Some products are also reinforced with glass strands or woven or knitted cloth to offer high tensile strength and resistance to cuts and abrasions. These tapes do not require a solvent, water or heat to adhere and can stick to clean and dry surfaces with minimal pressure. Nowadays, pressure sensitive tapes are available in a variety of shapes and sizes with varying degrees of stickiness.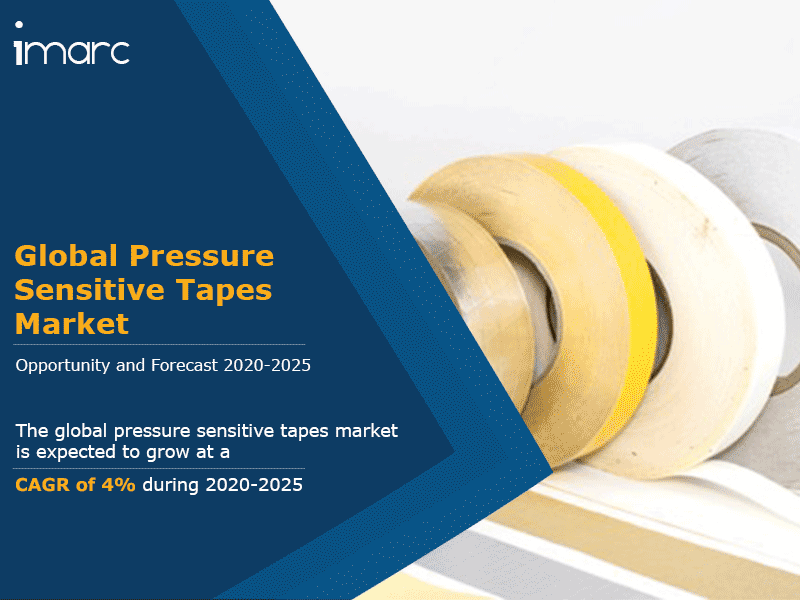 Pressure sensitive tapes are lightweight, cost-effective, and impact and electricity-resistant. Owing to these properties, these tapes are widely used for sealing, labeling, industrial packaging and other general purposes. In the packaging industry, they are used for sealing cardboards and containers. Apart from this, they are utilized in the automotive industry for joining side mirrors, interior parts and LED lights in vehicles. They also help in reducing vibrations and sounds, as well as lowering assembly time. In the aerospace industry, pressure tapes are used for surface protection, graphics and exterior markings, and stencil and spray masking a section that is not to be painted or coated. Moreover, the leading manufacturers are introducing hot melt and water-based tapes that are more resilient and heat-proof. Looking forward, IMARC Group expects the market to exhibit a CAGR of around 4% during the forecast period (2020-2025).
Breakup by Type:
Single-Coated Type
Double-Coated Type
Adhesive Transfer Type

Breakup by Technology:
Water Type

Solution Based
Emulsion Based

Solvent Type
Hot-Melt Type
Radiation Type

Breakup by Resin Type:
Acrylic
Rubber
Silicone
Others

Breakup by Material Type:
Breakup by Application:
Automotive
Packaging
Electronics
Others

Breakup by Region:
North America
Asia Pacific

China
Japan
India
South Korea
Australia
Indonesia
Others

Europe

Germany
France
United Kingdom
Italy
Spain
Russia
Others

Latin America
Middle East and Africa

Competitive Landscape:
The competitive landscape of the industry has also been examined with some of the key players being Advance Tapes International Ltd., 3M Company, American Biltrite Inc., CCT Tapes, H.B. Fuller Company, Jonson Tapes Ltd., LINTEC Corporation, NICHIBAN Co. Ltd., Nitto Denko, Scapa Group, Tesa SE, etc.
Key Questions Answered in This Report:
How has the global pressure sensitive tapes market performed so far and how will it perform in the coming years?
What are the key regional markets?
What is the breakup of the market based on the type?
What is the breakup of the market based on the technology?
What is the breakup of the market based on the resin type?
What is the breakup of the market based on the material type?
What is the breakup of the market based on the application?
What are the various stages in the value chain of the industry?
What are the key driving factors and challenges in the industry?
What is the structure of the global pressure sensitive tapes market and who are the key players?
What is the degree of competition in the industry?