The global PVC Pipes market reached a volume of 21.32 Million Tons in 2020. Looking forward, the market is further expected to grow at a CAGR of 5.32% during 2021-2026. As per the analysis by IMARC Group, the top PVC pipes companies are focusing on developing PVC-O (oriented) pipes that are more environment-friendly and cost-effective with enhanced physical and mechanical properties than conventionally produced PVC pipes. They are also involved in research and development (R&D) activities to introduce advanced technologies in the manufacturing of PVC pipes. For instance, leading players in the Europe PVC pipes industry based in countries like France, Portugal and Spain are also providing sustainable solutions for water networks by introducing PVC-O pipes across the region.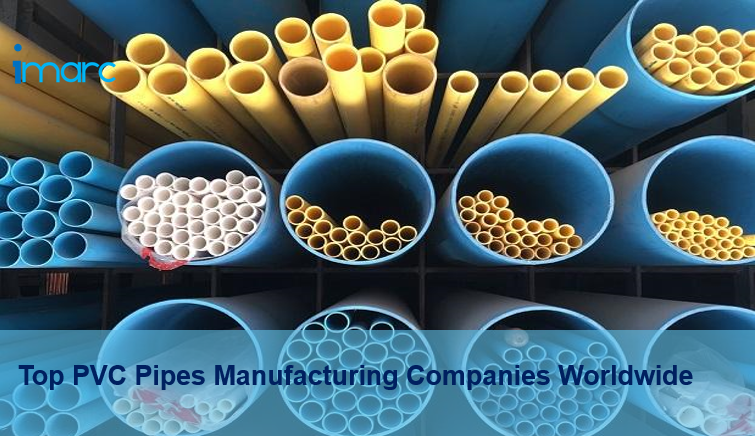 Request Free Sample Report: https://www.imarcgroup.com/pvc-pipes-manufacturing-plant/requestsample
Top Worldwide Latgets Manufacturers and Suppliers in the PVC Pipes Industry:
China Lesso Group Holdings Limited
Establishment: 1986
Headquarter: Guangdong Province, China
China Lesso Group Holdings Limited is a large industrial group of home furnishings and building materials in China. The product portfolio of the company spans from piping, sanitary ware, integral kitchen, integral PVC doors and windows to decorative plates, water purifiers, fire-fighting equipment, valves, hygiene materials, oceanic aquaculture cages, products for environmental protection, home furnishings and building materials, and channels and services. In 2001, the company established its first subsidiary outside the Guangdong Province at Wuhan Manufacturing Base, Hubei. Its sales revenue has reached RMB 26.345 billion in 2019. Moreover, the company boasts six China national-accredited laboratories authorized by China National Accreditation Service (CNAS), eight national high-tech enterprises, one academician workstation, one key enterprise laboratory of plastics molding and processing technology, and the Union of Technical Innovation of Plastic Pipe Industry in Guangdong Province.
Fujian Aton Advanced Materials Science & Technology Co Ltd.
Establishment: 1994
Headquarter: Fujian, China
Fujian Aton Advanced Materials Science and Technology Co., Ltd. is a company specialized in researching, developing and producing new polymer composites, plastic conduits and plastic/steel doors and windows. It is engaged in the design, manufacture, distribution and installation of various plastic pipes and pipe fittings, such as UPVC pipes, PPR pipes, PE pipes, UPVC windows and doors, telecommunication ducts and fittings. These PVC products are used in various piping systems and networks, drainage, sewerage, water supply, telecommunication, power supply, water-saving irrigation and gas supply. The company has ten production facilities located in the People's Republic of China (PRC), namely Fuqing, Chengde, Kaifeng, Hubei, Inner Mongolia, Chongqing, Beijing, Guizhou, Chengdu and Heilongjiang. It sells its products through a distribution network comprising eight subsidiaries, nine branch offices, three independent provincial distributors and various independent sub-distributors with smaller geographical coverage in China.
Hebei Bosoar Pipe Co. Ltd.
Establishment: 1975
Headquarter: Baoding, Hebei
Hebei Bosoar Pipe Co. Ltd. is a large-scale comprehensive stock company, combining scientific research entities, mainly producing plastic and basic chemicals. It is also one of the three crucial development plastic industry bases in the ninth-five years plan. The company has been engaged in the research and production of plastic pipes and fittings since 1958. After more than 40 years of development, the company has emerged as one of the largest domestic manufacturers of PVC-U pipes and fittings. Now, the company has 14 PVC-U pipe extruder lines and 10 injection molding machines imported from Germany.
Pipelife Austria Gmbh & Co. KG
Establishment: 1989
Headquarter: Vienna, Austria
Pipelife Austria is the leading plastic pipe manufacturer in Austria, employing around 280 people across Austria at 22 locations. It was initially a joint venture of equal partnership between Wienerberger and Solvay. However, since 2012, Pipelife has been 100% owned by the Wienerberger Group. Its products and solutions for infrastructure, building technology and irrigation are sustainable, high-quality and innovative. Pipelife Austria ensures a secure supply of energy and water, a clean environment and a higher quality of life. Even if they are invisible to many in everyday life, long-lasting pipe networks play a decisive role in the supply and disposal cycle; they are an indispensable part of the lives of current and future generations. The company with over 2700 employees is represented in over 26 countries in Europe and North America.
Plásticos Ferro S.L.
Establishment: 1980
Headquarter: A Coruña, Spain
Grupo Plásticos Ferro, GPF comprises a group of companies dedicated to the design, manufacture and distribution of products and systems based on plastic materials. It is the leading company in the Iberian Peninsula and the fifth in Europe to manufacture and market plastic piping and accessories. The use of plastic materials to create new lines of business has made GPF one of the largest and most solid business groups in the Europe PVC pipes industry. The business areas of the company include construction, public works, electricity and telecommunications conduits, irrigation and drainage, gas conduits, industrial installations, aquaculture, and fishing. The network of GPF companies consists of an industrial surface area, in permanent growth, of 700,000 m2, with eight manufacturing plants and sixteen logistics centers in the Iberian Peninsula and Morocco.
IMARC Group provides an analysis of the region-wise report, asia pacific exhibits a clear dominance in the market. Other regions include Bahrain, GCC, Kuwait, Saudi Arabia, UAE, Oman, Qatar, and Latin America.
About IMARC Group: IMARC Group is a leading market research and consulting company that offers management strategy and market research worldwide. The company has done multiple projects on the PVC pipes industry, which has enabled clients to set up and expand their businesses successfully. Some of the company's offerings include:
Market Research
Plant setup
Plant Expansion
Marketing and sales
Procurement and Distribution
Innovation and Product Development