The Saudi Arabia LED lights market reached a value of SAR 3,245 Million in 2020. Looking forward, IMARC Group expects the market to reach a value of SAR 8,907 Million by 2026. Keeping in mind the uncertainties of COVID-19, we are continuously tracking and evaluating the direct as well as the indirect influence of the pandemic on different end-use sectors. These insights are included in the report as a major market contributor.
A light emitting diode, or LED, is a cost- and energy-efficient solution that offers broader applicability as compared to traditional lighting options. LED-based lights have a longer lifespan and considerable potential to reduce overall electricity consumption and the associated greenhouse gas emissions. As a result, they are rapidly replacing conventional bulbs, including incandescent and fluorescent. At present, these lights are available in various colors, which are produced by using four main types of semiconductor materials – Aluminum gallium indium phosphide (AlGaInP), Gallium phosphide (GaP), Indium gallium nitride (InGaN), and Aluminum gallium arsenide (AlGaAs). These lighting systems have gained immense popularity in Saudi Arabia due to infrastructural development, growing urbanization rates and increasing concerns over greenhouse gas emissions.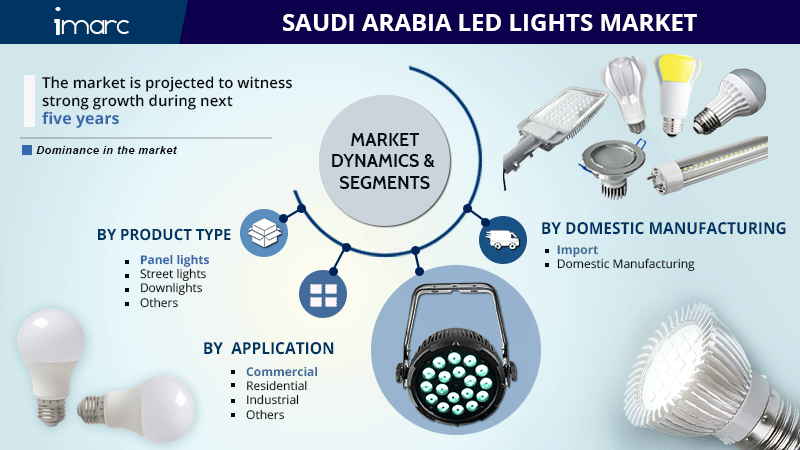 Saudi Arabia LED Lights Market Trends:
Over the past few years, companies in Saudi Arabia have started introducing and implementing energy-efficient practices for promoting sustainability in the country. For example, the Saudi Arabia-based national petroleum and natural gas company, Saudi Amarco, aims to reduce energy consumption by nearly 35% in its transportation, buildings and communities by 2020. The firm recently replaced approximately sixty-thousand fluorescent lights with more efficient LED lights across its offices and facilities. By 2020, the Government of Saudi Arabia is also planning to decrease energy subsidies to boost energy efficiency as the unavailability of subsidies will lead to higher costs of electricity for businesses and consumers. This initiative is projected to accelerate the overall demand for energy-efficient technologies, products and services, like LED lights. Moreover, a rise in the urbanization rates has significantly increased the number of smart city projects across the country. According to Vision 2030, the national development plan of the Government, three cities in Saudi Arabia will be developed as smart cities. This is further providing a boost to the demand for high-quality LED lighting systems.
Key Market Segmentation:
IMARC Group provides an analysis of the key trends in each sub-segment of the Saudi Arabia LED lights market report, along with forecasts for growth from 2021-2026. Our report has categorized the market based on product type, application, and import and domestic manufacturing.
Breakup by Product Type:
LED Panel
LED Downlights
LED Street Light
Others

Based on the product type, LED panel currently accounts for the highest market share.
Breakup by Application:
Commercial
Industrial
Residential
Others

Based on the application, commercial segment currently accounts for the highest market share.
Breakup by Import and Domestic Manufacturing:
Import
Domestic Manufacturing

Import currently dominates this segment.
Report Coverages:
Report Features
Details
Base Year of the Analysis
2020
Historical Period
2015-2020
Forecast Period
2021-2026
Units
SAR Million
Segment Coverage
Product Type, Application, Import and Domestic Manufacturing
Customization Scope
10% Free Customization
Report Price and Purchase Option
Single User License: US$ 2499
Five User License: US$ 2999
Corporate License: US$ 3499
Post-Sale Analyst Support
10-12 Weeks
Delivery Format
PDF and Excel through Email (We can also provide the editable version of the report in PPT/Word format on special request)