The global handicrafts market size reached US$ 718 Billion in 2020. As per the analysis by IMARC Group, the top handicrafts companies are focusing on producing commoditized products and selling them to tourists who are willing to spend on souvenirs and other craft items. They are also introducing modern designs to cater to the tastes and preferences of consumers while investing in various programs encouraging handicraft production. Looking forward, the market is further anticipated to grow at a CAGR of around 10% during 2021-2026.
Discover opportunities, challenges, and trends in the global handicrafts market? Try a free sample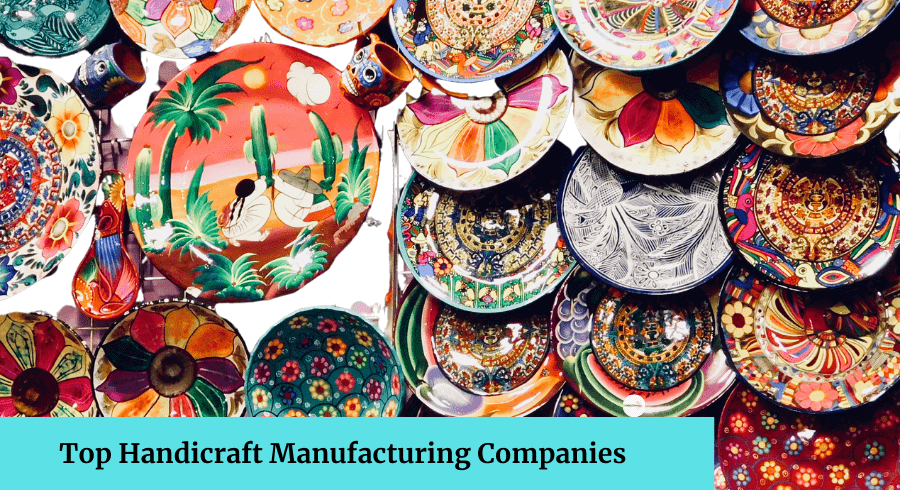 IMARC Group offers a list of top handicrafts manufacturers worldwide: They are as follows:
Asian Handicrafts Pvt. Ltd.
Establishment: 1976
Headquarter: Haryana, India
Website: https://www.asianhandicrafts.com/
Asian Handicrafts is one of India's premier exporters that manufactures and exports Indian handicrafts like gift items, home décor, Christmas decorations and ornaments, fashion jewelry and accessories. The company offers products with the latest designs and color mix using mixed -materials and innovative techniques. It applies innovative approaches and experiments with different materials to create new collections in line with the latest trends and fashion in the international market. It has a production area of more than 1,00,000 sq. feet under usage in the most modern and established industrial town of Gurgaon. Moreover, various departments, like merchandising, quality control, design, shipping, compliance and supply chain, work in tandem and have close coordination, which enables smooth execution of bulk export orders.
Fakih Group of Companies
Establishment: 1994
Headquarter: Dubai, United Arab Emirates (UAE)
Website: https://www.fakihonline.com/
Fakih Group of Companies is among the world's top handicraft manufacturers and retailers of eco-friendly products. It is one of the leaders in the international arena of trading, manufacturing and exporting different kinds of souvenir gifts, traditional gifts, furniture, handicrafts, lamps, decorative items, oil perfumes, frames and clothing items, including Jinny Brand T-Shirts. The company has a wide area of 72,000 sq. ft. showroom, racking system facility, computerized inventory and monitoring system for all stocks and workforce to cater to wholesale and retail requirements with high-quality products at competitive prices. Due to this, it has an unchallenged position in the Middle East in dealing with a wide range of products in terms of quantity and variety.
Laizhou Zhonghe Arts and Crafts Co. Ltd.
Establishment: 1985
Headquarter: Shandong China
Website: http://handicraftbag.com/
Laizhou Zhonghe Arts&Crafts Co., Ltd. has 30 years of experience in making bags and other natural material products, including paper straws, wheat straws, cornhusk, raffia and seagrass. The company also produces bags from cotton, jute, denim, canvas, wool, tweed, felt, plush, fur, PVC, PP fiber and PE. It offers a wide range of straw bags, straw hats, all kinds of beach bags of natural materials, handmade storage baskets, willow and straw household products, table mats, doormats and beautiful bags. It guarantees functional and fashionable styles, along with top quality by taking advantage of the nearby Qingdao export port to ensure rapid delivery.
Ten Thousand Villages
Establishment: 1946
Headquarter: Pennsylvania, United States
Website: https://www.tenthousandvillages.com/
Ten Thousand Villages is a nonprofit fair-trade organization that sells handcrafted products made by disadvantaged artisans in the United States. It is a global maker?to?market movement that breaks the cycle of generational poverty and ignites social change. As one of the leading United States handicraft companies, it is more than just a store to shop with the intention for ethically sourced wares and share in the joy of empowering makers in ten thousand villages. Today, it has 56 stores in the United States, out of which 18 are company-owned and 38 runs by nonprofit boards.
Oriental Handicrafts Co. Ltd.
Establishment: 2008
Headquarter: Ho Chi Minh City, Vietnam
Website: http://orienthandicraft.com/
Orient Handicraft Co., Ltd. has been in the craft field for over a decade. It has made significant attainments in terms of exporting volume, distinctive designs and credibility from its customers. The company deals in numerous products, ranging from decorative storage to woven furniture. It also assures to produce handmade creations carrying a natural fresh breeze into homes and working areas with natural fibers of water hyacinth, Abaca, Sea-grass, bamboo and rattan.
NGOC Dong Ha Nam Co., Ltd.
Establishment: 1988
Headquarter: Ha Nam province, Vietnam
Website: http://www.ngocdonghandicrafts.com/
Ngoc Dong Ha Nam Co., Ltd has been a leading producer and exporter of handicrafts and home furnishings in Vietnam that transformed into a limited company in 2004. It has provided eco-friendly and handmade products to its buyers and clients. It creates high added value to importers, retailers and distributors and meets the increasing demand of consumers for quality and sustainable products in the Asia Pacific handicrafts industry. The company deals in various products, including home, kitchen and bath accessories, decorative items and baskets, wall panels and small furniture items. NGOC Dong Ha Nam has received the 'Certificates of Merit' by Prime Minister in 2004, the 'Business Excellence Award' by VCCI in 2006, and the 'Golden Star Award' in 2008 for the best 200 companies in Vietnam. Moreover, the Vietnam Association of Handicrafts Exporters (VIETCRAFT), Vietnam Trade Promotion Agency (VIETRADE), Vietnam Chamber of Commerce and Industry (VCCI), Vietnam Cleaner Production Center, Vietnam Rattan Network, Mekong Bamboo and World Wildlife Fund (WWF) are some of the participating organizations of the Ngoc Dong Ha Nam Co. Ltd.
Minhou Minxing Weaving Co. Ltd.
Establishment: 1990
Headquarter: Fuzhou, China
Website: http://www.minxing.com/
Minhou Minxing Weaving Co. Ltd. has grown into a leading manufacturer with more than 4,000 employees, producing 6000 x 40" containers every year. Our product line covers various kinds of arts and crafts, home decorations and furniture items made of different materials, such as metal, wood, bamboo and rattan. The company's 100% of our products are exported to clients from all over the world, especially for North America and Europe handicraft markets.
Native Crafts and Arts Industries Inc.
Establishment: 1967
Headquarter: Bicol, Philippines
Website: http://www.ncabiz.com/
Native Crafts and Arts Industries is exporting Philippine handicrafts for more than 40 years. It carries a wide product range, including bamboo lanterns, hanging lampshade pendants, candle holders, sinamay baskets, gift packaging, photo frames, novelties, planters, votive holders, capiz lanterns and shell crafts. The extensive network of subcontractors all over the Philippines and a team of in-house designers guarantee up-to-date gift items every season. The company also exports its products to the United States, England, France, Germany, Japan, Australia, Sweden and Portugal.