Market Overview:
The United States SCADA market is currently witnessing moderate growth. Supervisory control and data acquisition or SCADA is a control framework that uses computers, graphical user interface (UI), and networked data communications for supervisory management at a higher level and obtaining real-time information from topographically isolated areas. It is used across various industries, such as power, pharmaceutical, oil and gas, chemical and petrochemical, automotive and electrical, electronics, and water and wastewater treatment. In the United States, SCADA systems are widely adopted to enhance productivity and efficiency in various industrial processes.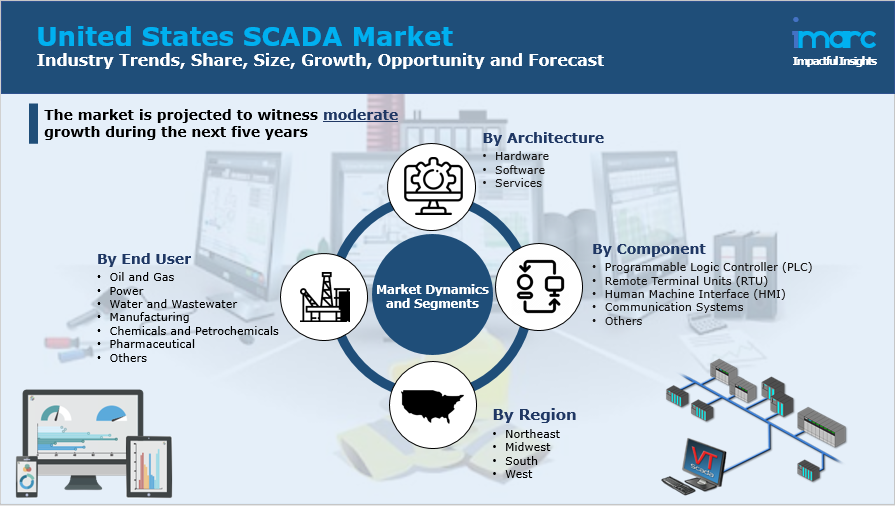 The United States SCADA market is primarily driven by the increasing adoption of SCADA by power operators and service providers. SCADA systems are used for their ability to detect faults in machines and minimize the possible defects quickly. Besides this, there has been a rising demand for SCADA due to its cost-effectiveness. Moreover, the extensive research and development (R&D) activities in wireless sensor networks and the strong presence of prominent electrical SCADA software and system suppliers in the country are also bolstering the growth of the market. Furthermore, SCADA systems improve extraction output, streamlining production, and curbing losses, which are increasing their employment in the oil and gas sector. On account of these factors, the market is expected to continue its moderate growth during the forecast period (2021-2026).
Key Market Segmentation:
IMARC Group provides an analysis of the key trends in each sub-segment of the United States scada market report, along with forecasts for growth at the region level from 2021-2026. Our report has categorized the market based on region, component, architecture and end user.
Breakup by Component:
Programmable Logic Controller (PLC)
Remote Terminal Units (RTU)
Human Machine Interface (HMI)
Communication Systems
Others

Breakup by Architecture:
Hardware
Software
Services

Breakup by End User:
Oil and Gas
Power
Water and Wastewater
Manufacturing
Chemicals and Petrochemicals
Pharmaceutical
Others

Breakup by Region:
Northeast
Midwest
South
West

Competitive Landscape:
The competitive landscape of the industry has also been examined along with the profiles of the key players.
Key Questions Answered in This Report:
How has the United States SCADA market performed so far and how will it perform in the coming years?
What has been the impact of COVID-19 on the United States SCADA market?
What are the key regional markets?
What is the breakup of the market based on the component?
What is the breakup of the market based on the architecture?
What is the breakup of the market based on the end user?
What are the various stages in the value chain of the industry?
What are the key driving factors and challenges in the industry?
What is the structure of the United States SCADA market and who are the key players?
What is the degree of competition in the industry?