According to IMARC Group's new report, titled "US Healthcare Advertising Market: Industry Trends, Share, Size, Growth, Opportunity and Forecast 2018-2023", the US healthcare advertising market reached a value of US$ 422 Billion in 2017, growing at a CAGR of 4% during 2010-2017. With the rising number of new drugs launched in the market, the need to advertise these drugs and widen the consumer reach has also increased. Healthcare advertising is becoming progressively important in the US so as to create awareness about various diseases along with the drugs and procedures required for their treatments. Owing to its growing need and increased government support, the US healthcare advertising market is expected to reach a value of US$ 525 Billion by 2023, growing at a CAGR of 3.7% during 2018-2023.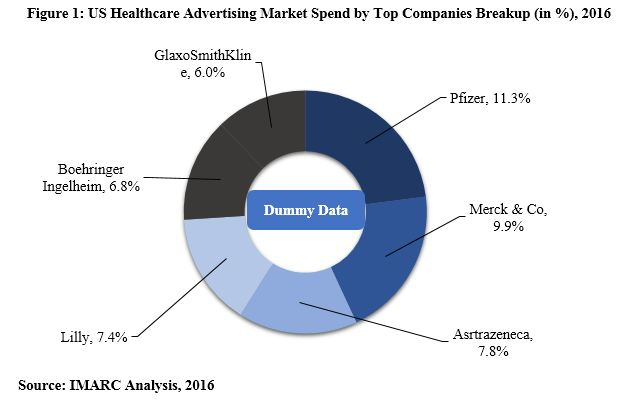 Highlights of the US healthcare advertising market:
Biopharmaceutical advertising sector represents the fastest growing segment.
Detailed advertising is the preferred channel of healthcare advertising.
Major pharmaceutical companies have started investing in DTC advertising, owing to increased competition in market.

The US healthcare industry is digitally transforming with the introduction of electronic health records, telemedicine and remote medical monitoring system. Also, consumers and healthcare providers spend most of their time online on social networking sites. Therefore, digital advertising is steadily becoming an integral part of the US healthcare advertising market. Moreover, increasing presence of generic drugs has forced pharmaceutical companies to embrace new business strategies and advertise their products. The US healthcare advertising market is further boosted by government's support to direct-to-consumer (DTC) advertising and increasing consumer reach through various digital platforms.
Biopharmaceutical advertising market is the fastest growing segment, followed by over-the-counter drugs, vaccines and pharmaceuticals (small molecule drugs). Also, due to rising consumer demand for helpful and educational content in the form of blogs, social media, video and e-mails, the use of DTC channel is growing rapidly, but detailed advertising is still preferred over DTC advertising. Some of the major pharmaceutical companies investing in this sector include Johnson & Johnson, Pfizer, Merck & Co, GlaxoSmithKline, Novartis and Ely Lilly.

The report by IMARC Group has examined the US Healthcare Advertising Market on the basis of:
Product:
Pharmaceuticals (Small molecule drugs)
Biopharmaceuticals
Vaccines
Over-the-counter drugs

Key Players:
Johnson & Johnson
Pfizer
Merck & Co.
GlaxoSmithKline
Eli Lilly
Novartis
Sanofi
AstraZeneca
Roche
Bayer HealthCare
Bristol- Myers Squibb

About Us
IMARC Group is a leading market research company that offers management strategy and market research worldwide. We partner with clients in all sectors and regions to identify their highest-value opportunities, address their most critical challenges, and transform their businesses.
IMARC's information products include major market, scientific, economic and technological developments for business leaders in pharmaceutical, industrial, and high technology organizations. Market forecasts and industry analysis for biotechnology, advanced materials, pharmaceuticals, food and beverage, travel and tourism, nanotechnology and novel processing methods are at the top of the company's expertise.

Contact Us

IMARC Group
USA: +1-631-791-1145
Email: sales@imarcgroup.com
Website: https://www.imarcgroup.com
Follow us on twitter: @imarcglobal