The global advertising market reached a value of US$ 590.3 Billion in 2021. Advertising refers to a means of communication used by brands to promote their offerings. They help customers discover new products or services and learn about upcoming events. They also assist companies in influencing consumer purchasing behavior, building the brand name, and expanding the customer base while increasing sales, demand, and engagement. In recent years, the advertising industry has rapidly evolved from traditional media platforms to online and digital advertising due to the rising penetration of mobile devices.
As per the analysis by IMARC Group, the top companies in the advertising industry are extensively investing in mobile advertising as it is a cost-effective and convenient way to target specific groups of mobile users. They are also focusing on digital out-of-home (OOH) advertising to create immersive, memorable, and interactive promotional campaigns. Additionally, the emergence of cloud advertising and other enhanced advertising business models due to recent technological advancements is positively influencing the market growth. Besides this, several key players are adopting a hyper-targeted advertising model to deliver personalized content to targeted customer segments for effective marketing and higher return on investment (ROI). Furthermore, the advent of smart advertising, rising expenditure on media and entertainment, shifting focus toward digital platforms, and surging penetration of the internet and social media are some of the other factors creating a favorable market outlook. Looking forward, IMARC Group expects the market value to reach US$ 792.7 Billion by 2027, growing at a CAGR of 5.2% during the forecast period (2022-2027).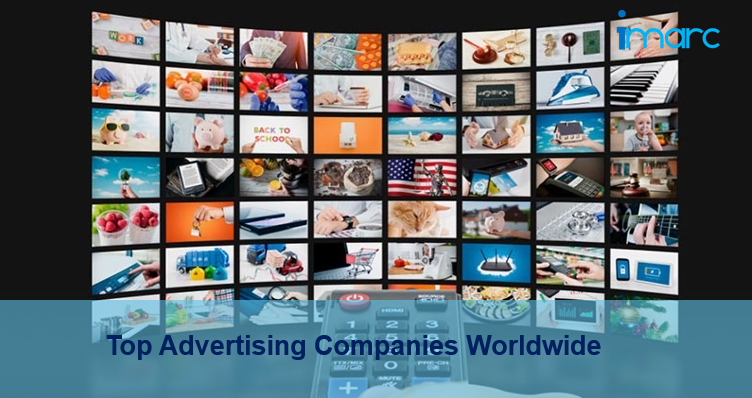 Request Free Sample Report: https://www.imarcgroup.com/global-advertising-market/requestsample
List of the Top Companies in the Advertising Companies Worldwide:
WPP PLC
Establishment: 1971
Headquarters: London, United Kingdom
Website: https://www.wpp.com/
WPP Plc is a leading multinational advertising agency group that provides communications services. It primarily operates through numerous segments, namely advertising and media investment management; data investment management; public relations and public affairs; branding consulting, health and wellness; and specialist communications. The company mainly focuses on investing in creativity, technology, and talent to drive sustainable top-line growth. At present, it owns various companies, such as
AKQA
BCW
Essence Global
Finsbury
Grey
Hill+Knowlton Strategies
Mindshare
Ogilvy
Wavemarker
Wunderman Thompson
VMLY&R

Omnicom Group Inc.
Establishment: 1986
Headquarters: New York, United States
Website: https://www.omnicomgroup.com/
Omnicom Group Inc. is a leading global strategic holding company engaged in providing advertising, marketing, and corporate communications services to customers through branded networks and agencies worldwide. It offers a diverse and comprehensive range of marketing solutions, such as customer relationship management (CRM), public relations, brand advertising, media planning and buying services, and various specialty communications services to over 5,000 clients across 70-plus countries. The company takes pride in its stable management team with world-class experience and marketing, finance, and corporate management skills.
Publicis Groupe
Establishment: 1926
Headquarters: Paris, France
Website: https://www.publicisgroupe.com/
Publicis Groupe is a multinational advertising and public relations company that is organized into four solutions hubs, including communications, media, sapient and health, for better connectivity and integration. It offers a borderless, seamless service that drives the alchemy of creativity and technology. Besides this, the company delivers a wide range of media services, such as mobile advertising, television advertising, radio advertising, and magazine and newspaper advertising. It strives to be its clients' indispensable partners in their transformation by providing agile access to best-in-class expertise across the entire value chain
The Interpublic Group of Companies, Inc. (IPG)
Establishment: 1930
Headquarters: New York, USA
Website: https://www.interpublic.com/
The Interpublic Group of Companies, Inc. (IPG) is a global advertising and marketing company. It specializes in different advertising areas, including independent media buying, direct marketing, interactive consulting services, healthcare advertising, marketing research, promotions, experimental and sports marketing, and public relations. Apart from this, the company focuses on creating customized marketing solutions for customers that range from prominent global marketers to regional and local clients. Currently, IPG has more than 50,200 employees and operates in all major world markets. Some of its companies include:
AREA 23
Acxiom
Campbell Ewald
Black Glass Consulting
FRUKT
Initiative
IPG Commerce
SociedAD
Octagon

Dentsu International
Establishment: 1901
Headquarters: Tokyo, Japan
Website: https://www.dentsu.com/
Dentsu International is a multinational Japanese advertising agency with a domestic market share of over twenty percent and an extensive network of overseas subsidiaries. It provides marketing, event planning, event promotion, advertising planning, and other services globally. It has a team of optimists, entrepreneurs, and first-mover coalesce around the requirements of clients that are focusing on unlocking unique possibilities for sustainable value and meaningful progress. The company also operates in over 145 markets across the globe with more than 48,000 dedicated specialists. Its extensive portfolio of agencies includes:
Carat
Dentsu X
iProspect
isobar
Dentsumcgarrybowen
Merkle
Poterscope
It offers marketing, event planning, event promotion, advertising planning, and other services worldwide.
About IMARC Group:
IMARC Group is a leading market research and consulting company that offers management strategy and market research worldwide. The company has done multiple projects on the advertising industry, which has enabled clients to set up and expand their businesses successfully.
Some of the company's offerings include:
Market Research
Plant setup
Plant Expansion
Marketing and sales
Procurement and Distribution
Innovation and Product Development