The global air conditioning system market was worth US$ 114 Billion in 2019. An air conditioning (AC) system is a type of compressor-based refrigerant machine that functions by removing heat and moisture from the air and replacing it with cooler air in an enclosed space. Generally, the system comprises a compressor, evaporator and condenser coils, fan, and chemical refrigerant. The AC system creates a comfortable environment that helps in increasing human efficiency, along with circulating filtered air inside a confined space by restraining the entry of dust particles or smoke. Due to this, these systems are widely installed across the residential, commercial, and industrial spaces.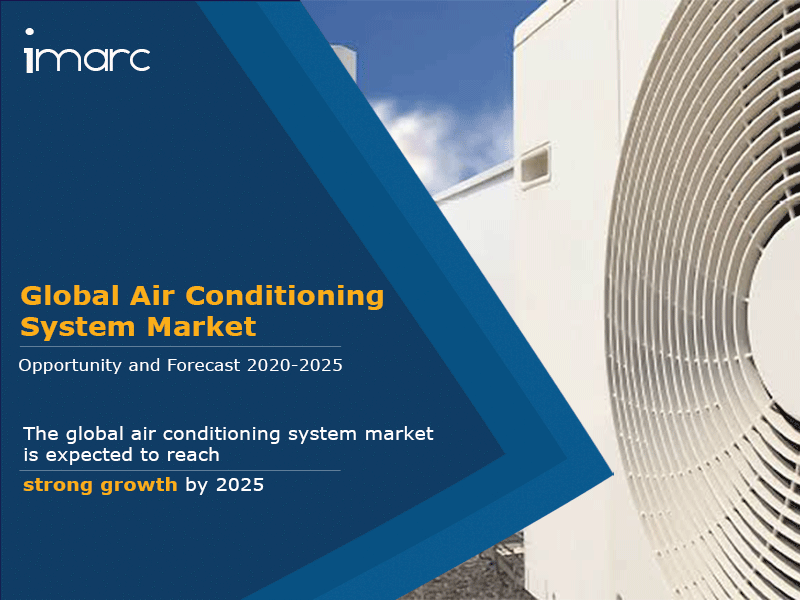 Over the years, there has been an increase in the construction of residential complexes, shopping malls, hospitals, hotels, multiplexes and auditoriums, particularly in emerging regions like Asia Pacific, Middle East, North Africa and Latin America. This has further increased the demand for AC systems for cooling and maintaining indoor air quality. Additionally, rising environmental concerns and various governmental regulations for reducing carbon emissions have led to increased consumer inclination toward energy-efficient and green AC systems globally. In addition to this, the launch of various government initiatives for promoting the need for eco-friendly product variants has also augmented the market growth. For instance, the 'Super-Efficient Air Conditioning Program' was launched by the Energy Efficiency Services Limited, Government of India, for replacing conventional AC systems with their new and eco-friendly counterparts. Moreover, with the advent of latest technologies, several manufacturers are introducing R-22 free systems to minimize heat emissions, thereby providing a positive thrust to the market. However, there has been a decline in the sales of AC systems due to the spread of the coronavirus disease (COVID-19) as the exports of AC components from China remain suspended. Looking forward, IMARC Group expects the market value to reach US$ 110 Billion by 2025, growing at a CAGR of 9.80% during the forecast period (2020-2025).

Breakup by Product Type:
Unitary
Rooftop
PTAC
Others

Breakup by Distribution Channel:
Specialty Stores
Supermarkets and Hypermarkets
Online
Others

Breakup by Technology:
Inverter
Non-Inverter
Automotive

Breakup by End Use:
Residential
Commercial
Industrial

Breakup by Region:
North America
Asia Pacific

China
Japan
India
South Korea
Australia
Indonesia
Others

Europe

Germany
France
United Kingdom
Italy
Spain
Russia
Others

Latin America
Middle East and Africa

Competitive Landscape:
The competitive landscape of the industry has also been examined with some of the key players being Carrier Corporation, DAIKIN INDUSTRIES, Ltd., Electrolux North America, Inc., Haier Group Corporation, Hitachi-Johnson Controls Air Conditioning Inc., Lennox International Inc., LG Electronics Inc., Midea Group Co., Ltd., Mitsubishi Electric Corporation, Panasonic Corporation, Samsung Electronics Co. Ltd., etc.
Key Questions Answered in This Report: