The global artificial intelligence (AI) market size reached US$ 56.5 Billion in 2021. According to the analysis by IMARC Group, the AI industry has been growing rapidly over the past few years. Through the usage of cloud and edge computing, the top AI companies have been using a combination of technologies for the meeting the growing expectations across the household and corporate sectors. They are making several efforts to meet these demands by leveraging other technological categories, including business intelligence, deep learning, predictive analysis, and data warehouse tools. At present, AI is playing a key role in reshaping numerous industries, and thereby is attracting large-scale investments from across the globe. During the COVID-19 pandemic, AI majorly contributed to the smoother functioning of the world. For instance, the healthcare industry adopted AI on a vast level for improving the overall patient experience through digital imaging, tele-medicine, and other relevant areas. Looking forward, the global AI market is projected to reach US$ 308.5 Billion by 2027, exhibiting at a CAGR of 31.9% during 2022-2027.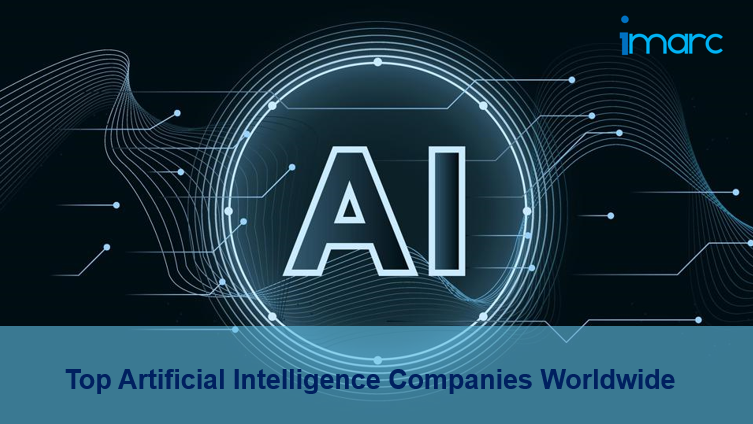 Request Free Sample Report: https://www.imarcgroup.com/artifical-intelligence-market/requestsample
Top Artificial Intelligence (AI) Companies in the World:
Alphabet Inc.
Established: 2015
Headquarter: United States
Website: www.abc.xyz
Alphabet is one of the largest holding companies. Through its subsidiary, Google, Alphabet has been playing a major role in the AI industry. Over the years, Google has acquired various AI start-ups and is deeply invested in improving its AI capabilities. Other than acquisition, it is also engaged in the provision of several machine learning and AI services to global organizations. In 2016, Google launched Tensor Processing Units (TPUs) that are installed in a company's data centers to perform light AI tasks. Following this, in 2018, Google unveiled Edge TPU, which is a small AI accelerator. It mainly performs machine learning applications in IoT devices.
Amazon Web Services, Inc.
Established: 2006
Headquarter: United States
Website: https://aws.amazon.com/
Amazon Web Services (AWS) is the cloud-computing platform offered by US-based conglomerate, Amazon. It offers both business- and customer-oriented products and services based on storage, remote computing, mobile development, servers, networking, email, and security products and services. The company's platforms revolve around the improvement of Alexa, the AI voice assistant offered by Amazon. For instance, AWS offers Polly, which translates text to speech; Lex, the business version of Alexa; and Rekognition, which is an image recognition service.
Apple Inc.
Established: 1977
Headquarter: United States
Website: www.apple.com
Apple is one of the largest conglomerates across the globe that deal in the manufacturing and marketing of personal computing and mobile communication devices. It has been integrating machine learning and AI with its devices for several years. The company's portfolio includes various products and platforms, such as Create ML tool and Siri.
Baidu, Inc.
Established: 2000
Headquarter: China
Website: www.baidu.com
Baidu is mainly engaged in the provision of online marketing and internet search solutions. It operates through two segments, which include iQIYI and Baidu Core. Amongst these, Baidu Core offers a set of services and products based on new AI initiatives, non-marketing value added services, and online marketing services. In the field of AI, Baidu Core includes an suite of cloud solutions and services, which include Software as a service (SaaS), Infrastructure as a service (IaaS), and Platform as a service (PaaS).
Cisco Systems Inc.
Established: 1984
Headquarter: United States
Website: www.cisco.com
Cisco operates in the designing, sales and production of internet protocol (IP)-based networking services and products. Its product portfolio includes routers, network management interfaces and modules, access points, next-generation firewalls, VPN security clients, web security, switches, optical networking, and outdoor and industrial access points. Cisco also offers AI and ML-based solutions, which include data center products, Cognition Engine (an AI and ML-based application), and Webex (collaboration platform).
Facebook Inc./Meta Platforms Inc.
Established: 2004
Headquarter: United States
Website: www.about.facebook.com
Meta Platforms, formerly known as Facebook, is a social technology company that operates in the development of augmented reality (AR) and virtual reality (VR) products, and social media applications. Its functions are currently divided into two segments - Reality Labs (RL) and Family of Apps (FOA). The RL segment consists of AR and VR-based consumer software, hardware, and content. On the other hand, the FOA segment consists of Messenger, Facebook, WhatsApp, and other services. In the AI industry, Meta offers various solutions, such as Portal, which is a collection of video-calling devices that are powered with AI-based smart cameras.
General Electric Company
Established: 1892
Headquarter: United States
Website: www.ge.com
General Electric (GE) is an industrial conglomerate that functions in various sectors, including technology, healthcare, aviation, power, and renewable energy. The AI segment of GE is focused on the integration of cognition and industrial machines to enable the development of user-friendly and intelligent products and services. Through AI, GE is engaged in big data and knowledge management, computer vision, human system interaction, and machine learning.
International Business Machines Corporation
Established: 1911
Headquarter: United States
Website: www.ibm.com
International Business Machines (IBM) is a global technology company. It deals in industrial products, AI solutions, automation, blockchain, business operations, cloud computing, data & analytics, IT infrastructure, security services, and supply chain. In AI, the company offers solutions under the brand IBM Watson, which consists of a road line of business-ready tools, solutions, and applications. They are particularly designed for reducing the costs and obstacles of AI adoption across organizations.
Intel Services
Established: 1968
Headquarter: United States
Website: www.intel.com
Intel is one of the largest multinational companies that deal in the sale, manufacturing and designing of computer technologies and products. It offers networking, communication, computer, and data storage platforms. Its functional segments include Data Center Group, Internet-of-Things (IoT) Group, Mobileye, Non-volatile Memory Solutions Group, and Programmable Solutions Group. The company provides a wide range of AI and deep learning solutions. These include Apache MXNet, PaddlePaddle, XGBoost Optimized by Intel, Intel® Extension for Scikit-learn, Intel® Optimization for TensorFlow, and Intel® Optimization for PyTorch.
Micron Technology, Inc
Established: 1978
Headquarter: United States
Website: www.micron.com
Micron Technology is a leader in innovative memory solutions. This technology company offers advanced memory and storage technologies, including NOR, DRAM, and NAND technology. It also operates in the provision of AI and 5G services across the intelligent edge, consumer devices, and data centers. Its portfolio for AI solutions includes GDDR6, 5210 SATA SSD, 9300 NVMe™ SSD, LPDDR4, and AI Inference Engine.
Microsoft Corporation
Established:1975
Headquarter: United States
Website: www.microsoft.com
Established in 1975, Microsoft is one of the largest technology companies. It deals in the licensing, manufacturing, designing, and marketing of a wide range of software and hardware products and services. Through AI, the company supports organizations, researchers, and non-profits across different disciplines, including accessibility, cultural heritage, the environment, humanitarian issues, and health.
NVIDIA Corporation
Established: 1999
Headquarter: United States
NVIDIA is a US-based conglomerate that operates in the artificial intelligence computing company. Its portfolio includes a wide array of products and solutions. Amongst these, solutions are related to AI and data science, data center and cloud computing, design and visualization, edge computing, high-performance computing, and self-driving vehicles.
Oracle Corporation
Established: 1977
Headquarter: United States
Website: www.oracle.com
Oracle is a global computer technology company that mainly deals in the production and marketing of software products and services. Its main operating segments include hardware, cloud and license, and services. It serves an array of AI and ML-based services through Oracle AI. The company offers OCI AI services, OCI Data Science, Oracle Database Machine Learning, OCI Data Labeling, and OCI Virtual Machines for Data Science.
Rockwell Automation Inc.
Established: 1909
Headquarter: United States
Website: www.rockwellautomation.com
Rockwell Automation is one of the leading companies that deal in smart manufacturing. It provides digital transformation and industrial automation solutions. The company's segments include software & control, lifecycle services, and intelligent devices. It offers various AI-based solutions for industrial automation, such as FactoryTalk Analytics LogixAI module, which makes predictive analytics for better productivity.
Samsung Group
Established: 1969
Headquarter: South Korea
Website: www.samsung.com
Samsung operates in the production and distribution of computer and electronic peripherals. Its functional segments include information technology, mobile communications and device solutions, and consumer electronics. Through Samsung Research, the company largely invests in invention and development of next-generation AI solutions for all Samsung products and services. Its research topics include on-device AI, and AI core algorithms. Samsung Research has established seven global AI centers in five countries, including the United Kingdom (Cambridge), Russia (Moscow), the United States (Silicon Valley and New York), Korea (Seoul), and Canada (Toronto and Montreal).
SAP SE
Established: 1972
Headquarter: Germany
Website: www.sap.com
SAP mainly provides enterprise application software and software-related services. It operates through various segments, which include Qualtrics, intelligent spend group, and applications, technology, and services. The company offers enterprise AI solutions through SAP Conversational AI, SAP AI Launchpad, SAP AI Core, and SAP AI Business Services.
Siemens AG
Established: 1847
Headquarter: Germany
Website: www.siemens.com
Siemens is a technology conglomerate that operates in the industrial, infrastructure, transport, and healthcare sectors. It develops, designs, and manufactures a wide array of products for intelligent infrastructure for distributed energy systems and buildings, and power generation and distribution. The company provides analytics and AI services through its dynamic portfolio, which includes predictive services, performance analytics, and conditioning monitoring.
About IMARC Group: IMARC Group is a leading market research and consulting company that offers management strategy and market research worldwide. The company has done multiple projects on the artificial intelligence industry, artificial intelligence in healthcare and regional GCC, United States, Latin America, Europe, Asia Pacific, India, which has enabled clients to set up and expand their businesses successfully. Some of the company's offerings include:
Market Research
Plant setup
Plant Expansion
Marketing and sales
Procurement and Distribution
Innovation and Product Development