Report Overview:
The global bakery products market reached a value of US$ 478.4 Billion in 2021. Looking forward, IMARC Group expects the market to reach US$ 612.4 Billion by 2027, exhibiting at a CAGR of 4.0% during 2022-2027. Keeping in mind the uncertainties of COVID-19, we are continuously tracking and evaluating the direct as well as the indirect influence of the pandemic. These insights are included in the report as a major market contributor.
Baking, referred to as the oldest form of cooking, is used for producing everyday products like bread, cakes, pastries, pies, cookies, and donuts. These products are prepared using various ingredients like grain-based flour, water and leavening agents. They are considered fast-moving consumer goods (FMCG) and are consumed daily. Owing to their palatability, appearance and easily digestible nature, they are highly preferred for both formal and informal occasions. Nowadays, most traditional baking methods have been replaced by modern machines. This shift has enabled manufacturers to introduce innovative bakery products with different ingredients, flavors, shapes and sizes.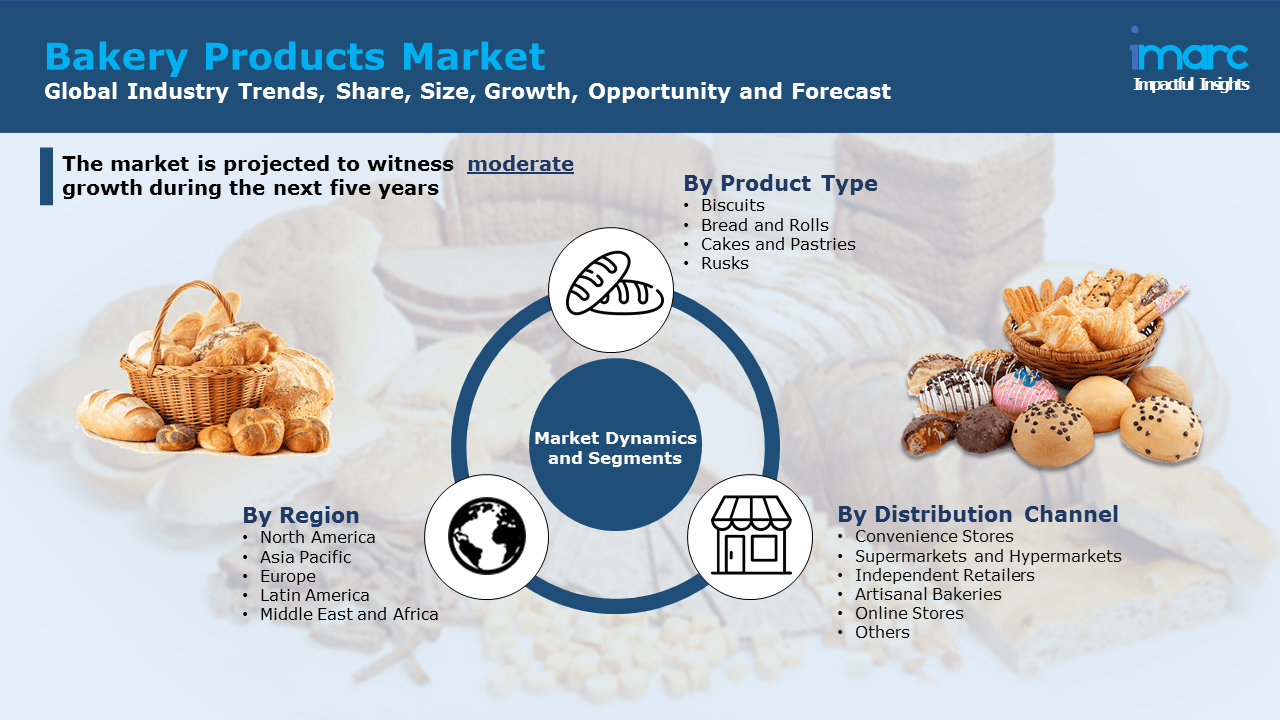 The improving standards of living of people around the world have led to significant changes in their lifestyles and eating habits. As a result, they now prefer low calorie, ready-to-eat food items, such as bakery products. This has further prompted the leading manufacturers to introduce bakery products containing multi-grains or whole wheat with low trans-fat content. This has escalated the demand for bakery items, especially among health-conscious consumers. Besides this, with the growing preference for bakery items and increasing internet penetration, several players in the bakery industry have launched their products on digital retail channels, making it more convenient for consumers to order online. Moreover, market players are spending substantially on research and development (R&D) activities to launch organoleptically improved products in the market.
Key Market Segmentation:
IMARC Group provides an analysis of the key trends in each sub-segment of the global bakery products market, along with forecasts at the global and regional level from 2022-2027. Our report has categorized the market based on product type and distribution channel.
Breakup by Product Type:
Biscuits

Cookies
Cream Biscuits
Glucose Biscuits
Marie Biscuits
Non-Salt Cracker Biscuits
Salt Cracker Biscuits
Milk Biscuits
Others

Bread and Rolls

Artisanal Bakeries
In-Store Bakeries
Packaged

Cakes and Pastries

Artisanal Bakeries
In-Store Bakeries
Packaged

Rusks

Artisanal Bakeries
In-Store Bakeries
Packaged

Based on the product type, biscuits are the most popular type of bakery products. They are further categorized as cookies, cream biscuits, glucose biscuits, Marie biscuits, non-salt cracker biscuits, salt cracker biscuits, milk biscuits and others.
Breakup by Distribution Channel:
Convenience Stores
Supermarkets and Hypermarkets
Independent Retailers
Artisanal Bakeries
Online Stores
Others

Amongst these, bakery products are majorly distributed through supermarkets and hypermarkets as these stores allow easier access to a wide variety of bakery items to consumers.
Regional Insights:
Asia-Pacific
Europe
North America
Middle East and Africa
Latin America

On the geographical front, Europe enjoys the leading position in the market due to the presence of a large number of local and independent bakeries, along with the shifting preference of consumers towards ready-to-eat bakery products.
Competitive Landscape:
The competitive landscape of the market has also been covered, with the detailed profiles of manufacturers. Some of the top bakery products manufacturers are:
Grupo Bimbo S.A.B de C.V.
Yamazaki Baking Co., Ltd.
JAB Holding Company
ARYZTA AG
Flowers Foods, Inc.
Rich Products Corporation
Dr. August Oetker Nahrungsmittel KG
Gruma, S.A.B. de C.V.
General Mills, Inc.
Associated British Foods (ABF) Plc

Report Coverage:
Report Features
Details
Base Year of the Analysis
2021
Historical Period
2016-2021
Forecast Period
2022-2027
Units
US$ Billion
Segment Coverage
Product Type, Distribution Channel, Region
Region Covered
Asia Pacific, Europe, North America, Latin America, Middle East and Africa
Companies Covered
Grupo Bimbo S.A.B de C.V., Yamazaki Baking Co., Ltd., JAB Holding Company, ARYZTA AG, Flowers Foods, Inc., Rich Products Corporation, Dr. August Oetker Nahrungsmittel KG, Gruma, S.A.B. de C.V., General Mills, Inc. and Associated British Foods (ABF) Plc
Customization Scope
10% Free Customization
Report Price and Purchase Option
Single User License: US$ 2499
Five User License: US$ 3499
Corporate License: US$ 4499
Post-Sale Analyst Support
10-12 Weeks
Delivery Format
PDF and Excel through Email (We can also provide the editable version of the report in PPT/Word format on special request)