The global database management system (DBMS) market exhibited strong growth during 2015-2020. As per the analysis by IMARC Group, the field of database management is evolving at a rapid pace due to growing data breaches and user demand. The leading players in the industry are introducing novel technologies, strategies, and modern processes to stay updated with current trends in data management while enabling business transformation. The latest trend in database products includes the combination of structured query language (SQL) and not only structured query language (NoSQL) to provide users with the best capabilities and superior performance. As each type of database comes with its own uniqueness, this hybrid model offers additional flexibility, ease of use, and faster development in the cloud computing environment.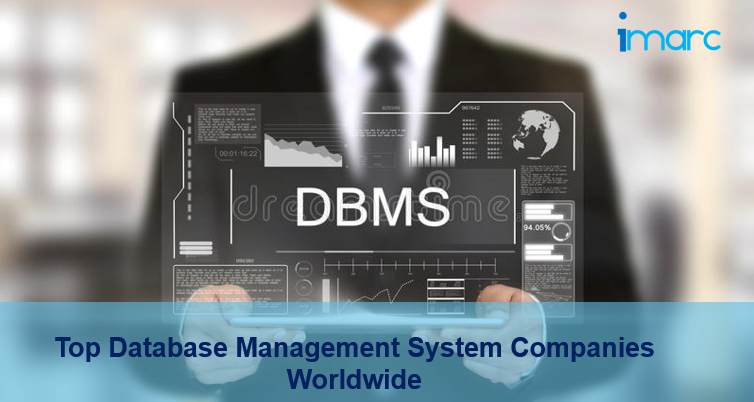 Request Free Sample Report: https://www.imarcgroup.com/database-management-system-market/requestsample
Apart from this, developers are consistently merging cloud services with existing infrastructure and applications, which is aiding organizations to minimize capital expenditure. Automated management is another emerging trend that is helping enterprises to streamline database management. These techniques and tools simplify maintenance, patching, provisioning, updating, and streamlining project workflow. As organizations are becoming more dynamic and widely spreading across multiple functions, it has become crucial to deliver agile solutions. In order to adapt and keep database management simpler, leading players are adopting augmented data management (ADM) platforms that are integrated with machine learning (ML) and artificial intelligence (AI). It allows the user to perform several tasks, like regulatory compliance, schema recognition, self-tuning, and secure optimization mechanism, at a fraction of cost. Other than this, key players are leveraging big data analytics to process large volumes of unstructured data across multiple platforms, which is helping in improving data quality and enhancing the level of trust in the data fueling business decisions. Looking forward, the market is expected to grow at a CARG of around 15% during 2021-2026.
Top Database Management System (DBMS) Companies Worldwide:
Amazon.com Inc.
Establishment: 1994
Headquarter: Washington, United States
Website: https://www.amazon.com
Amazon is a multinational technology company that is focused on e-commerce, cloud computing, digital streaming, machine learning, storage, database, analytics, and artificial intelligence services. The company operates through three segments, namely North America, International, and Amazon Web Services (AWS). It mainly sells merchandise and content purchased for resale from third-party sellers through its online stores. Amazon also manufactures and sells electronic devices, including Kindle, Fire TV, Ring, Fire tablets, Echo, and other devices. Further, it serves consumers, sellers, developers, enterprises, and content creators by offering fulfillment, advertising, publishing, and digital content subscriptions. Other than this, Amazon distributes a variety of streaming content through its Amazon Prime Video, Amazon Music, Twitch, and Audible subsidiaries.
Cloudera Inc.
Establishment: 2008
Headquarter: California, United States
Website: https://www.cloudera.com
Cloudera Inc is an enterprise data cloud company that offers analytics and hybrid big data solutions to organizations for collecting, managing, securing, storing, and accessing data across different sources. Built on open-source technology, its platform includes software subscriptions and public cloud services that is integrated with data management capabilities, machine learning, advanced analytics, and training and education services. This provides clients with a scalable, agile, and cost-effective solution for transforming their businesses. Some of the company's technical solutions include Cloudera Altus, Cloudera Data Science Workbench, Cloudera Fast Forward Labs, and Cloudera SDX. Apart from this, in 2021, Cloudera collaborated with Nvidia Corporation, a US-based multinational technology company, with an aim to empower the use of data-driven insights into fraud detection and accelerate data analytics on critical applications. To make data easy and accessible for children, it also partnered with an education company called ReadyAI in the interest of making complex science, technology, engineering, and mathematics (STEM) concepts less abstract. They created a downloadable book, 'A fresh squeeze on data', which extensively utilizes the machine learning technology.
Embarcadero Technologies Inc. (Idera Inc.)
Establishment: 1993
Headquarter: Texas, United States
Website: https://www.embarcadero.com
Embarcadero Technologies Inc. is a computer software company that develops, licenses, manufactures, and supports products and services through its three operational divisions, namely database tools, developer tools, and test management tools. These heterogeneous tools and solutions help application developers and database professionals design systems correctly, accelerate delivery and improve ongoing performance, regardless of platform or programming language. In 2015, IDERA, a US-based provider of database and infrastructure management software, acquired Embarcadero to drastically transform customer's innovation capability and advance value equation. The company's multi-platform database management products combined with Idera's advanced SQL database performance is helping the clients in creating a comprehensive portfolio of database management solutions in the market.
EnterpriseDB
Establishment: 2004
Headquarter: Massachusetts, United States
Website: https://www.enterprisedb.com
EnterpriseDB is a privately held company that provides software and services based on the open-source database. It develops and integrates performance, security, and manageability enhancements into its EDB Postgres platforms called PostgreSQL, which supports enterprise-class workloads and reduces the client's spending on database management. With powerful performance and security enhancement capabilities of PostgreSQL and sophisticated management tools for deployment of Oracle compatibility, EnterpriseDB software supports both mission and non-mission enterprise applications. The company offers several son-premise and in the cloud services, like transaction processing, data warehousing, customer analytics, and web-based applications. Some of the major clients of EnterpriseDB includes
Netflix
Nokia Siemens
KT Corporation
MasterCard
The American Automobile Association (AAA)
Sony
International Business Machines Corporation (IBM)
Establishment: 1911
Headquarter: New York, United States
Website: https://www.ibm.com
IBM is a multinational technology corporation that has operations in over 171 countries. It produces and markets computer hardware, middleware, and software for various industry verticals. The company is known for several inventions, including floppy disk, hard disk drive, relational database, universal product code (UPC) barcode, and dynamic random-access memory (DRAM). IBM includes artificial intelligence (AI)-powered software that is pre-integrated with data, automation, and security applications, which accelerates application modernization. Its design principles involve hybrid cloud platforms, open and secure network, and efficient management, which enables enterprises to access data across diverse environments, offer flexibility to customers, and provide a reliable and secure data domain.
MariaDB Corporation
Establishment: 2009
Headquarter: Finland, Europe
Website: https://mariadb.com
MariaDB Corporation develops open-source database platforms under the GNU General Public License. It provides small- and medium-sized enterprises (SMEs) with cloud database solutions to realize the benefits of public and private clouds and enable the deployment of commodity hardware on the consumer's cloud choice. MariaDB simplifies the complexity their clients face regarding the costs and constraints of propriety database, thereby enabling them to reinvest in innovations and depend on a single complete database for all the projects. The company also uses pluggable, purpose-built storage engines that support evolving workloads. Trusted by some of the major organizations, such as
Deutsche Bank
DBS Bank
Nasdaq
Red Hat
ServiceNow
Verizon and Walgreens
MariaDB's recent new functionalities include advanced clustering with Galera Cluster 4 and compatibility features with Oracle Database.
MarkLogic Corporation
Establishment: 2001
Headquarter: California, United States
Website: https://www.marklogic.com
MarkLogic Corporation, acquired by Vector Capital in 2020, is a US-based software business that develops and provides enterprise-class NoSQL database. Its data hub service integrates and curates unstructured data to provide immediate business value, simplify data integration, and build innovative applications based on the 360-degree data view. MarkLogic serves the media, media, financial services, public sector, aviation, and healthcare industries worldwide with some of its prominent consumers being
Chevron
Johnson & Johnson
JPMorgan Chase
Erie Insurance Group
The US army
Microsoft Corporation
Establishment: 1975
Headquarter: Washington, United States
Website: https://www.microsoft.com
Microsoft Corporation (MS) develops, manufactures, licenses support, and markets computer software, consumer electronics, personal computers, and related services. The company's segments include productivity and business processes, intelligent cloud, and more personal company. Some of the common products offered by MS include operating systems, cross-device productivity applications, server applications, business solution applications, desktop and server management tools, software development tools, and video games. Apart from this, it provides an array of services, such as cloud-based platforms, solution support, and consulting services.
Oracle Corporation
Establishment: 1977
Headquarter: California, United States
Website: https://www.oracle.com
Oracle Corporation offers products and services that address enterprise information technology (IT) environments. The company sells database software and technology, cloud engineered systems, application development, decision support tools, and enterprise software products through its three business segments, namely cloud and license, hardware, and services. These software and tools include Oracle Fusion cloud enterprise resource planning (ERP), Oracle Fusion cloud enterprise performance management, Oracle Fusion cloud supply chain and manufacturing management, Oracle Fusion cloud human capital management, and Oracle Fusion cloud advertising and customer experience. These technologies enable users to build, deploy, run, manage, and support their internal and external services, products, and business operations. Oracle markets, sells, and delivers its cloud, license, hardware, support, and services offerings directly to businesses via cloud-based deployment models, which is adaptable on several personal and official computing systems.
Software AG
Establishment: 1969
Headquarter: Darmstadt, Germany
Website: https://www.softwareag.com
Software AG is an enterprise software company that is engaged in the development of IT platforms for digital transformation. It operates through the Digital Business Platform (DBP), Adabas & Natural (A&N), and Professional Services units. The company enables enterprises to integrate, manage, and connect the internet of things (IoT) components, while analyzing data and predicting future events based on AI. One such software developed by the organization is Apama, which is an event-driven application designed particularly for investment banks, funds, and other institutional traders. Software AG is leveraging a range of industry-leading products across integration and application programming interface (API) and IoT and analytics platforms to create a fluid flow of data between all the departments and systems, thereby promoting business transformation. Over the years, the organization has been successful in acquiring several companies, such as Trendminer, Zementis, LongJump, JackBe, Terracotta, Inc., Metismo, Data Foundations, Jacada, and CONNX Solution.
SAP SE
Establishment: 1972
Headquarter: Walldorf, Germany
Website: https://www.sap.com
SAP SE is a multinational software company that develops enterprise applications software and other related services. It functions through main four segments, including application technology and support, concur, qualtrics, and services. Known for its ERP software, SAP also provides a wide range of other solutions, such as enterprise resource planning and financial management, intelligent technologies, analytics, digital platform, human resource, and people engagement, digital supply chain, network, and speed management, customer resource management, and customer experience. These business software and enterprise applications are compatible with diverse analytics, cloud, mobile, database, and technology operations, which enables consumers to manage business operations more efficiently and build customer relations. SAP serves the energy, natural resources, financial services, and public sectors with an operational presence worldwide, including Europe, the Middle East, Africa, the United States, and Asia Pacific.
About IMARC Group: IMARC Group is a leading market research and consulting company that offers management strategy and market research worldwide. The company has done multiple projects on the database management system (DBSM) market, which has enabled clients to set up and expand their businesses successfully. Some of the company's offerings include:
Market Research
Plant setup
Plant Expansion
Marketing and sales
Procurement and Distribution
Innovation and Product Development