The global dog food market size reached US$ 62.7 Billion in 2021. Dog food is specifically designed to fulfill various nutritional requirements of a dog. It contains meat, corn, wheat, rice, vegetable oil, animal fat, and bone meal, which are beneficial for controlling health conditions such as kidney and heart-related diseases. It also helps dogs perform daily activities, fight off infection, repair teeth and bones, and maintain muscle tone. In recent years, there has been a rising trend of dog ownership, which is escalating the demand for dog food across the globe.
As per the analysis by IMARC Group, the top dog food manufacturers are increasing their production capacities to meet the growing demand for dog food. They are also launching premium-category dog food products that are manufactured with organic raw materials and natural flavorings. In addition, manufacturers are introducing a varied product range, including a low-fat, low-calorie, high-protein formula without added fiber, that can help fight common diseases suffered by dogs such as diabetes, high blood pressure, and arthritis. Moreover, several leading players are engaged in various marketing strategies to promote the need for adequate nourishment and dietary requirements suitable for different stages of a dog's life. On account of these factors, IMARC Group expects the market to reach US$ 84 Billion by 2027, exhibiting a CAGR of 4.95% during the forecast period (2022-2027).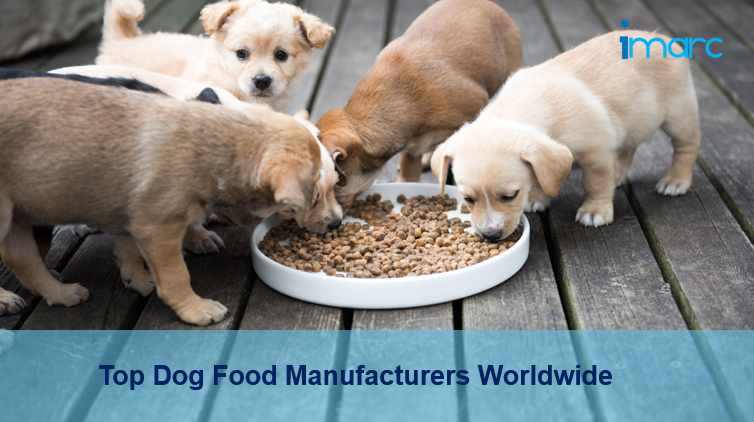 Request Free Sample Report: https://www.imarcgroup.com/dog-food-manufacturing-plant/requestsample
Top Dog (Pet) Food Manufacturing Companies in the World:
Mars Petcare, Inc.
Established: 1952
Headquarters: United States
Website: https://www.mars.com/made-by-mars/petcare
Mars Petcare is a leading provider of high-quality, science-backed nutrition and therapeutic health products for pets. The company produces and markets dry pet food, soft dry food, and biscuits under several brands, including Sheba, Nutro, Royal Canin, AniCura, Pedigree, Whiskas, and Wisdom Panel, among 50 other brands. Mars Petcare has over 85,000 associates taking care of pets across 80 countries worldwide. The company also acquired Procter and Gamble's pet food business in 2014 and Genoscoper Laboratories, a Finnish animal molecular diagnostics company, to manufacture various healthcare products for pets.
Nestlé Purina Pet Care
Established: 1894
Headquarters: United States
Website: www.purina.com
Nestlé Purina PetCare, a subsidiary of Nestlé, provides a range of industry-leading pet food, snacks, and cat food litter products based upon deep expertise in pet nutrition and health. The company's dog-based product portfolio includes dry and wet dog food, grain-free dog food, high protein dog food, senior and puppy dog food, and real chicken dog food. It also offers specific health solutions that deliver benefits such as early development, weight management, digestive health, and senior cognition. With a team of over 18,000 employees and 500 scientists and nutritionists, the company aims to develop products that deliver comprehensive nutrition to help ensure the long healthy lives of pets.
Hill's Pet Nutrition
Established: 1969
Headquarters: United States
Website: www.hillspet.com
Hill's Pet Nutrition, a private subsidiary of Colgate-Palmolive Company, primarily manufactures premium pet food. It offers dry dog food, wet dog food, dog treats, dog food pouches, cans, and trays which are marketed under brands, such as Hill's Prescription Diet d/d Canine Skin Support Potato and Salmon Formula, Hill's Prescription Diet Canine Small Bites Dog Food, and Hill's Science Diet Adult Advanced Fitness Original Dog Food. Moreover, the company also runs a Hill's Food, Shelter & Love program that provides pet food to shelter animals around the world.
Del Monte Foods
Established: 2013
Headquarters: United States
Website: www.delmontefoods.com
Del Monte Foods is one of the leading food manufacturers in the world. In 2014, the company renamed its pet products business as 'Big Heart Pet Brands' to manufacture, distribute and market branded pet food. It currently offers various products concentrated on improving the health and wellbeing of pets, which include Meow Mix, Milo's Kitchen, Pup-Peroni, Milk-Bone, Natural Balance, Canine Carry Outs, and 9Lives. Furthermore, the company aims to deliver quality, accessible pet food and treats as it believes that every pet has a right to balanced nutrition.
About IMARC Group: IMARC Group is a leading market research and consulting company that offers management strategy and market research worldwide. The company has done multiple projects on the global dog food industry and regional GCC, Saudi Arabia, UAE, North America, which has enabled clients to set up and expand their businesses successfully. Some of the company's offerings include:
Market Research
Plant setup
Plant Expansion
Marketing and sales
Procurement and Distribution
Innovation and Product Development